As more information becomes available regarding head injuries in sports, some traditional competitive outlets, like youth football, are seeing their popularity wane.
Where there is an ebb, however, there will invariably be a flow, and youth football's loss is other sports' gain.
Chief among them is water polo, which, according to data from USA Water Polo and the National Federation of High School Associations, is one of the fastest growing sports in the United States.
"There's a more discerning marketplace of parents looking for sports for their student athletes," said Chris Ramsey, chief executive officer for USA Water Polo. "Parents aren't just putting their kids in little league like they did when I was younger. There are a lot of people who want to play contact sports, but with some of the injury-related problems that have become more public in recent years, parents are looking for safer sports. Water polo has a low injury rate, which is appealing."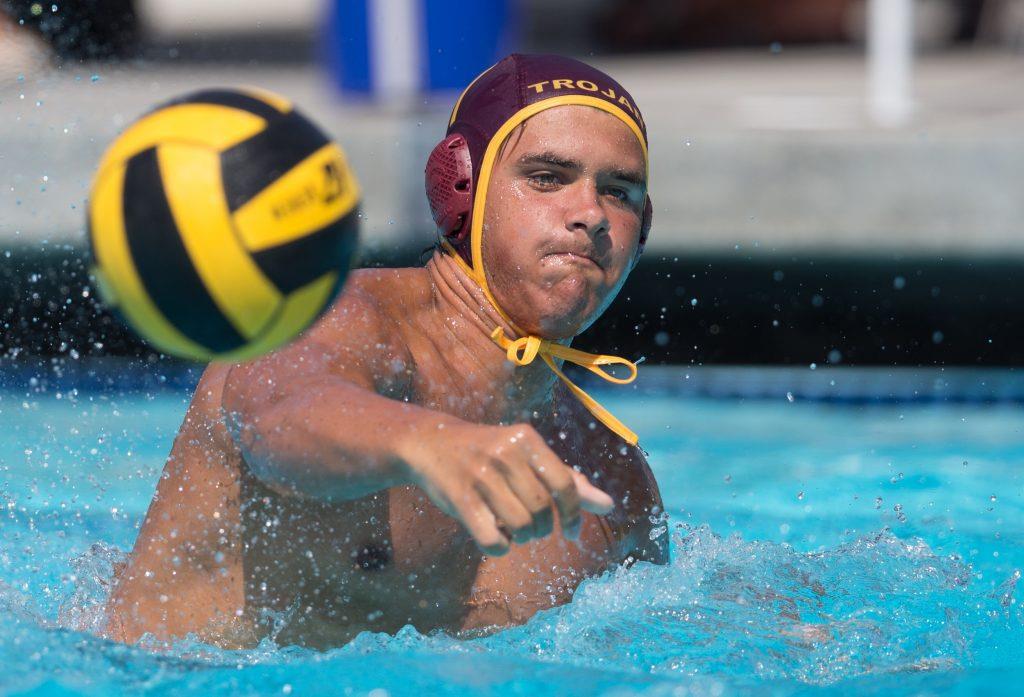 According to USA Water Polo, nationwide membership jumped 25 percent between 2011 and 2017, from 35,750 in 2011 to more than 45,000, and continues to surge upward to an all-time high. USA Water Polo records show high school-aged federation membership (ages 15 to 18) climbed from some 17,000 participants in 2012 to 19,099 in 2016, an increase of more than 12 percent, and shows no signs of slowing down.
"Our membership has almost doubled in seven years, and in addition to that, high school participation is up big-time," Ramsey said. "That's a powerful and positive trend."
While the fear of concussions can be attributed to a portion of water polo's enrollment increase, it isn't the entire reason a sport that has seen gradual growth over the past several decades is now firmly in the public's eye.
According to Ramsey, USA Water Polo's implementation of a development program called Splashball has played perhaps the most pivotal role in captivating the younger generation.
"We launched Splashball a few years back and it's our own version of T-ball," Ramsey said. "It's a way for more kids to sample the sport in a fun environment. We have a lot of competition early on. It's been a real driver of the sport."
Splashball is designed to introduce water polo to children between the ages of 5 and 12 years old. Its intent is to provide basic skills and understanding of the sport in a recreational format. Splashball aims to help children develop water safety skills, learn to swim and develop camaraderie and teamwork with their fellow competitors. Splashball has proven so popular, USA Water Polo is in talks with multisport organizations like the YMCA and JCC's of America to roll out the program nationwide, perhaps as soon as the summer of 2018.
"Our pyramid is strongest at 10 and under," Ramsey said. "It used to be strongest at 16 and under. We're seeing a lot more adoption of water polo in pre-high school years. We have a number of different Ys around the country that have been piloting Splashball programs. We're seeing these pilot programs are driving participation among Y members."
One favorable trait water polo has enjoyed throughout its history is a strong communal bond between past and present competitors. Thus, when the sport's youthful base begins to grow, not only are more competitors joining water polo, more are sticking around for years in advisory and coaching roles, helping others maximize their talents both in and outside the pool.
"The network of people who play the game is extraordinary," Ramsey said. "There is a tremendous group of people across the United States all supporting the sport and bringing leadership to the next generation. Water polo had double digit growth of coaches joining the federation for the past eight years and the professionalism of our coaches is remarkable.
"(Water polo) is a family-oriented environment that is reaching out to help kids reach their highest potential," Ramsey added. "These programs get people to sign up and stay engaged. Our retention is higher and the whole ecosystem is contributing to it. Parents understand the high caliber of our athletes is not just that they are athletes; they are highly educated scholar athletes who are using the discipline and other life lessons of our sport to succeed beyond water polo."
Just as the sport continues to see appreciable growth, the United States men's and women's water polo teams are also enjoying unrivaled success in their history on the Olympic level. While men's water polo has competed at the Olympics since 1900, the American team has never won gold in the modern era, and has only captured three silver medals in its history.
One of those silvers, though, came as recently as 2008 in Beijing, which gave water polo significant exposure to millions of American television viewers. Women's water polo has only been an Olympic sport since 2000, but the American women have proven to be quick learners as they won gold at both the 2012 and 2016 Olympics.
"I think winning a couple of silver medals in Beijing and the women following that up with two consecutive gold medals — no question those performances inspired a lot of people," Ramsey said. "I think another thing that has helped is that the media experience is better. High definition TVs give the Olympic games a more crystalline approach so you can see what's happening in the pool.
I liken it to hockey. In 1965, people watched hockey on black and white TVs and couldn't see the puck. Now they can see the sport with a much greater level of clarity. The same can be said for water polo, and we are poised to make further improvements in camera placement and instant replay."
This means viewers in states outside of California that haven't traditionally been exposed to water polo have found themselves intrigued by the sport. And while California remains water polo's epicenter, it has begun to flourish in states like Utah, Illinois, Texas, Florida, Michigan and Oregon.
"Right now, one of the big trends is growth outside of the state of California," Ramsey said. "The Pacific Northwest has seen explosive growth, and Ohio and Michigan have seen tremendous growth as well. The Midwest has been a swimming-dominated place for a long time; now a lot of swim coaches have begun to realize that water polo and swimming can be synergistic.
We used to not be able to get into a lot of pools in the Midwest, but now coaches are being open about ideas. Facility managers also realize that adding water polo means better utilization of aquatic complexes."
Cities like Riverside, California have embraced aquatic sports, including water polo, and built a facility to properly showcase the sport.
"The new aquatics venues in Riverside have changed the trajectory of water polo in Riverside and throughout inland Southern California," said Shaheen Roostai, director of the Riverside Sports Commission. "Riverside's community leaders recognized that a world-class aquatics complex would not only help swimming continue to thrive in Riverside, but it would launch the sports of water polo and diving to new levels.
After its opening in 2012, Olympic gold medalist swimmer Tyler Clary called the Riverside Aquatics Complex one of the top five aquatics complexes in the world. Shortly after, local high schools, located within minutes of the RAC, built several state-of-the-art pools, and Riverside proceeded to attract some of the nation's most elite water polo competitions.
"Now, our local and regional water polo club teams are thriving, and so too are our high school teams," Roostai added. "Hosting competitions such as the USA and Serbia game, USA Water Polo's Olympic development programs, and elite FINA tournaments brings about great pride in our community, especially the local water polo players and their families and friends, who rightfully feel like they are an important part of a growing sport, the toughest of tough sports.
This pride becomes infectious, as the community comes out to cheer on the athletes, and Riverside's young athletes get to meet great water polo athletes and watch them compete at the very highest level."
As water polo continues to entrench itself in the American consciousness, Ramsey has ambitious plans for the sport's expansion, in both the United States and beyond.
"We want to increase membership by 50 percent," Ramsey said. "We are actively looking for partners. We know we have an attractive product, but in some of these markets, it's going to take a two to three-year commitment to develop signature events, and we are looking for partners with iconic locations and facilities that are willing to make that commitment.
"We also have to do a better job of growing the sport internationally," Ramsey added. "Drowning is the third highest cause of unintentional injury death worldwide according to the World Health Organization — more than 360,000 are reported to die every year from drowning, with the highest rates in Africa.
It is also a serious problem in the USA, where at least 10 people drown every day, with higher risk in diverse and low-income communities, according to the Centers for Disease Control. Splashball and water polo can help make kids water safe, and we want them to start young, learn skills, and have fun."