Rise of the Megacilities
There's no denying the impressive impact of sports tourism these days; destinations are taking their sports inventories to the next level. These herculean sports venues, or what we like to call megacilities, have generated an estimated combined economic impact of more than $200 million to date. They open their doors to competitions of all calibers where players, coaches and spectators alike will have to pick up their jaws from the state-of-the-art floors and fields.
Spooky Nook Sports
Manheim, Pennsylvania
Opened June 3, 2013
Spooky Nook Sports was funded privately by its owner, Sam Beiler, for approximately $11.25 million. After traveling for his daughter's various sports tournaments across the country, the family decided to create an indoor facility that offers quality customer service, ideal playing and spectator conditions and additional activities during downtime.
The nation's largest indoor sports complex comprises more than 700,000 square feet under one roof. It offers 10 hardwood basketball courts, six tennis courts, four field hockey courts, 10 volleyball courts and six soccer fields, as well as a full-sized baseball infield and batting cage area. Its outdoor component features a water-based turf field and climate-controlled dome (one of only two of its kind in the world.) Other amenities include a 10,000-square-foot fitness center, climbing center, Clip n' Climb (the only one of its kind in the nation), meeting and banquet spaces, a food court and arcade. Spooky Nook Sports has an on-site hotel, The Warehouse Hotel, with 135 guest rooms and a 175-seat restaurant and bar, Forklift and Palate Restaurant.
For volleyball, Spooky Nook's top events are Martin Luther King (MLK) Kickoff Classic, which takes place in January, and Irish Rumble, which takes place in March. Blue Chip USA Invitational from July 5-8 is the main event for girls' basketball, and Hoop Group's Summer Jam Fest in July is the facility's top boys' basketball event.
With forecasted attendance of over 925,000 in 2015, Spooky Nook Sports continues to see strong growth and has created more than 400 jobs. In 2014, Spooky Nook contributed more than 10,000 room nights to area hotels and made a positive economic impact throughout Lancaster County and the surrounding community. Hotels, restaurants and area shops reported double-digit growth during peak times of the year in terms of traffic and revenue.
LakePoint Sporting Community
Emerson, Georgia
Opened November 2013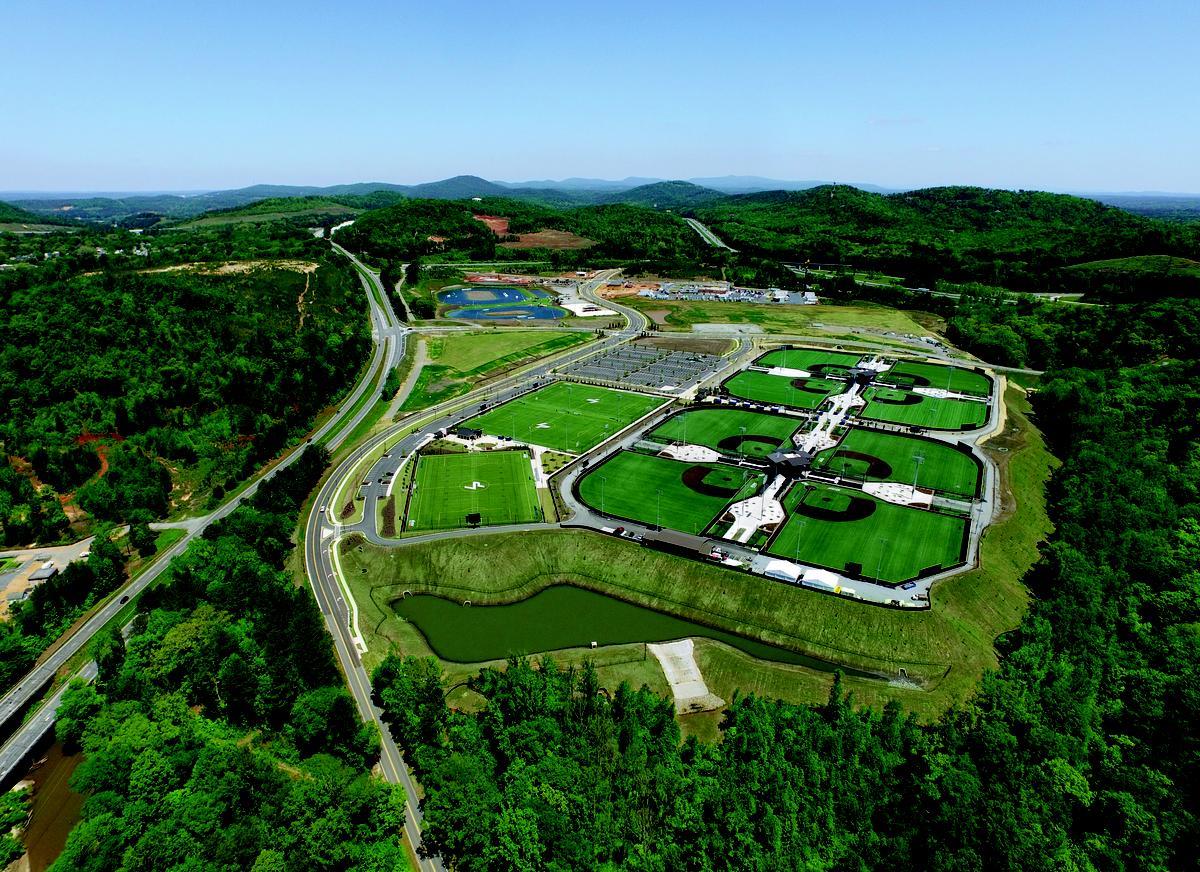 LakePoint Sporting Community was privately funded until it received a $32-million bond to support the next development phase: the indoor facility.
Currently, LakePoint's South Campus offers eight baseball fields, 16 batting cages, three soccer fields, three lacrosse fields, three football fields, 10 sand volleyball courts and Terminus Wake Park, the nation's largest cable wake park that allows for towed water sports without boats. On site there is an open-air pavilion, two 360-degree scout towers, fast-food restaurants, a baseball mini-mall and a Hampton Inn. With more than 1,300 acres nestled in the foothills of the North Georgia Mountains and adjacent to Lake Allatoona, LakePoint will feature five million square feet of sports venues and amenities including on-site hotels, restaurants, themed retail, bowling and ziplines. The indoor facility will be the next major economic development driver, allowing LakePoint to host a number of indoor sports including basketball, volleyball, wrestling, cheerleading and dance year round.
Major events LakePoint hosts are the World Woodbat Tournament (baseball), The Triple Crown Oct. 18-19, 2015 (wakeboarding) and 2016 Atlantic Sun Conference Championship (volleyball).
Currently yielding over one million visitors in its first year, LakePoint is on track to be one of the world's largest destinations for travel sports. To date, LakePoint's economic impact is $80 million in direct spending, $5.75 million in taxes and 1,500 jobs created. The average non-resident spends $122.15 per night, at a rate of a 14-person party size. The local community has seen a 10 percent year-on-year profit increase as a direct result of "The LakePoint Effect." For instance, in its first week of opening, a National Quick Service Restaurant served more than 3,000 customers. Upon completion of the indoor facility, the local community will see a rise in jobs, up to 200, and in visitor traffic, up to one million.
Round Rock Sports Center
Round Rock, Texas
Opened January 13, 2014
Round Rock Sports Center was funded by revenue bonds, city self-financing and hotel occupancy taxes for a total of $14.9 million.
Round Rock Sports Center spans 82,800 square feet of indoor space with 47,775 square feet of flexible, open space. Several configurations are available, including six high school basketball courts, 12 high school volleyball courts or three NCAA basketball courts. Other amenities include ceiling-mounted basketball goals; divider curtains; Bio-Cushion Classic maple flooring system; HD video wall for displaying brackets, promotional videos or live sporting events; 12 60-inch LCD scoreboard displays programmable by court or linkable by sport; upper-level, VIP-style spectator seating; a training room, tournament room, players' lounge and referees' lounge; three multipurpose rooms that can be subdivided into nine; and a concession service and seating area. There is seating for over 1,400 with a capacity of 3,053, and over 500 parking spots. In addition to its indoor features, Round Rock Sports Center has a covered pavilion with a multi-sport turf surface, playground, concession area and restrooms, and an open-air plaza with a play area and tailgating area.
The center's most notable events are Heart of Texas National Qualifier Wrestling, Joola National Table Tennis Tour and Austin Juniors Tour of Texas Power League Qualifier, which was hosted five days after the doors first opened and was the largest event Round Rock has hosted in terms of number of teams and spectators.
Round Rock Sports Center had seen 105,000 participants and 180,000 guests as of June 27, 2015.
Grand Park
Westfield, Indiana
Opened March 2014
Grand Park was municipally funded and received $45 million to create the venue.
Spanning more than 400 acres, Grand Park offers a total of 31 multipurpose fields, 120 by 90 yards each. Seven fields are synthetic, eight are lighted and two are stadium fields. The park also features 26 baseball/softball diamonds, eight of which are synthetic (four full-size and four junior-size). All diamonds have bleacher seating. Other amenities include seven concession stands with restrooms, state-of-the-art irrigation and drainage for rain play, 3,500 parking spaces and two 6,000-square-foot operations buildings. A 370,000-square-foot indoor facility set to open July 1, 2016 will house three full-size multipurpose fields, 115 by 75 yards each, with space for spectators. The facility will also include a 45,000-square-foot warm-up area, 30,000-square-foot mezzanine concourse for spectator viewing, a 3,500-square-foot meeting room, 1,500 square feet of additional meeting space, and food and beverage services.
Grand Park hosts a wide variety of sporting events—both big and small. Top events include National Cup Championship (soccer), US Soccer Regional Championships and Baseball Youth National Championships.
Grand Park is expecting 1.2 million visitors by the end of 2015. In 2014, the park saw 510,000 visitors from 48 contiguous states and Canada, and the direct, visitor-generated economic impact totaled $43 million.
Nathan Benderson Park
Sarasota, Florida
Opened to public June 7, 2014
Nathan Benderson Park (NPB), owned by Sarasota County, was funded through a public-private partnership. A portion of the public funding came from tourist development tax funding. The total cost to date is $35 million.
NPB began hosting events in 2009, but was officially opened to the public as a county park in 2014. The 600-acre park comprises a 400-acre lake and a 2,000-meter sprint rowing course. Amenities include coaching lanes, a wave attenuation system, starting huts and grandstands. The lake's perimeter is just over five kilometers and features a 15-foot-wide paved path. Regatta Island is the 30-acre event epicenter in addition to an athlete village, vendor village, boat launch, event headquarters, hospitality tent, ample parking and spectator viewing. Construction for a permanent finishing tower broke ground in August 2015.
Major upcoming events to be hosted at Nathan Benderson Park include the 2016 USRowing Olympic Trials, 2017 World Rowing Championships and 2018 NCAA DI-DII Women's Rowing Championships.
In the past year, NBP has generated $26.8 million in direct economic impact to the region and has filled 22,600 hotel room nights. This impact was generated from 33 events including regattas, stand-up paddleboard races, dragon boat races, a Pentathlon World Cup, triathlons, 5k races, and 31 different collegiate and club training sessions.
Rocky Top Sports World
Gatlinburg, Tennessee
Opened July, 2014
The $22-million project was funded through a joint venture agreement by the City of Gatlinburg (70 percent) and Sevier County (30 percent).
Rocky Top Sports World is an indoor/outdoor, multipurpose venue. The outdoor space features seven outdoor fields (six are synthetic turf and six are fully lighted) and its Championship Stadium field; the space is configurable for 13 youth soccer fields. Ample parking, bleacher seating, restrooms, picnic tables and a children's play area round out Rocky Top's outdoor offerings. The Rock is the name of its 86,000-square-foot indoor facility, which offers six hardwood basketball courts (plus four more on site) configurable for 12 volleyball courts (plus five more on site). The Rock includes three team rooms, an event planner workspace, message boards, bleacher seating and Champ's Grill for on-site dining.
Rocky Top Sports World hosts premier youth and amateur events, camps, special events and tournaments. Past events have included the Gatlinburg Labor Day Soccer Invitational tournament and Tennessee Miracle Basketball tournament in May. Rocky Top will also host the AAU 2018 5th Grade Girls National Basketball Championship.
Economic goals were set at $10 million in the first year of operation; Rocky Top Sports World officials report a $17.5-million impact since opening.  The venue has produced 44 multi-day events, surpassing targets by 69 percent.
Art Van Sports Complex
Rockford, Michigan
Opened August 2014 with inaugural season in 2015
The $7-million complex was funded primarily through donations from community leaders, corporate donors and individuals from the general public. The land was sold through local county government at a substantial discount.
The complex features eight fields in two quads with more than 400 parking spaces. Quad A includes one 385-foot and one 350-foot field, both fenced with skinned infields, and a 385-foot fenced field with a grass infield and stationary mound. Quad A also features a Miracle Field, which is used by players with disabilities, as well as covered dugouts, restrooms, concessions and bleacher seating with 100 seats per side of each field. Quad B includes four 300-foot fenced fields with skinned infields, portable mounds and covered dugouts. Each field has bleacher seating for 100 per side and there is a restroom and concessions building. The Championship Field is a 385-foot, fenced, lighted field with grass infields and stationary mounds, along with covered dugouts and grandstand seating for 1,000. Phase II, when complete, will add a third quad (Quad C), which will be similar to Quad B, and warm-up areas, parking for an additional 400 cars, a championship softball field and youth baseball fields with fence distances of 225 feet.
Top events in 2015 were NAIA – WHAC Softball Championships, USSA Global World Series and GameDay USA National Championships.
Art Van Sports Complex's first full year of tournaments exceeded expectations with 18 tournaments, which generated more than 650 teams; 8,000 participants (plus more than 20,000 family members); nearly 8,000 hotel room nights and an estimated economic impact of $3 million.
Myrtle Beach Sports Center
Myrtle Beach, South Carolina
Opened March 7, 2015
The $12.5-million Myrtle Beach Sports Center was financed through local government bonds; initial funding came as a part of a state grant.
The 100,000-square-foot Myrtle Beach Sports Center is configurable for eight basketball courts or 16 volleyball courts spread over 72,000 square feet of column-free space. Other amenities include Wi-Fi, a 12-screen video wall, meeting rooms, seven team rooms, telescopic bleachers, a private mezzanine for elevated viewing and a café with indoor and outdoor seating.
Its top events were Varsity Cheer-Spirit Sports, which takes place in the spring every year, Big Shots NCAA Certified Basketball and NTBA Boys National Championship, both occurring in the summer. Each event generated more than $2 million of economic impact and collectively accounted for over $200,000 in direct revenue for the Myrtle Beach Sports Center.
Myrtle Beach Sports Center has generated over $12 million of economic impact to Myrtle Beach and the Grand Strand Area. This number has surpassed the first year goal of $10 million of economic impact in five months of operation. Additionally, the facility has operated on the positive side of the balance sheet for its first five months. The center has seen 27,635 participants (coaches and players), and has sold 62,487 event day tickets (a combination of event passes and one-day tickets to spectators).
There's More To Come…
Ballparks of America
Branson, Missouri
Expected Open Date: Spring 2016
Sports: youth baseball (adding softball in Phase II)
Specs: 5 turf fields; on-site housing for 40 teams/coaches, includes meals for "stay and play" environment; replica stadiums for 10U-13U play; 150,000 square feet of retail space for arcade, indoor laser tag and climbing wall, trampoline park, a sports grill, museum and wood bat-turning facility
Funding: privately funded
Projected economic impact: 2,500 players, coaches and fans per week from March to November in Phase I; expected to triple in Phase III
RIVERSPORT Rapids
Oklahoma City, Oklahoma
Expected Open Date: March 2016
Sports: rafting, kayaking, canoeing
Specs: 11-acre whitewater center; recirculating channels pumping treated water creates class II-IV rapids; lower flow channel with conveyor system returns paddlers to top; freestyle channel will be highest-volume-pumped whitewater channel in the world; capacity 2,000; stage/area for live music performances; on-site restaurant
Funding: $45.2 million financed by MAPS3 (Metropolitan Area Projects: a 1-cent sales tax for quality of life additions to OKC)
Projected economic impact: an addition to the established Boathouse District; another tourism option during the 2016 USA Canoe/Kayak Whitewater Olympic Trials in May, Oklahoma Regatta Festival in October, Central Youth Rowing Championship in May, 2016 USA CK FLAT water slalom Trials and USOC Road to Rio stop May 6-8, 2016; has potential to generate more events
Foley Sports Tourism Complex
Foley, Alabama
Expected Open Date: April, 2016
Sports: lacrosse, soccer, football
Specs: 16 multipurpose fields; a championship field with TV-ready lighting, press box, and seats for up to 2,000 (expandable to 10,000); adjacent family-friendly entertainment development with on-site stores, dining and amusement park
Funding: $32 million for the outdoor facility (and indoor facility expected to open in 2017) from the City of Foley; the development through a cooperative district
Projected economic impact: 62 events booked for 2016 including extreme sports, indoor bowling tournaments, disc golf competitions and lacrosse tournaments
Sportscore Downtown
Rockford, Illinois
Expected Open Date: Summer 2016
Sports: basketball, volleyball, wrestling, pickleball, dance, cheer, adaptive sports
Specs: 105,000 square feet; continuous/unobstructed hardwood floors allow flexibility for eight indoor hard-court basketball courts, 16 volleyball courts or wrestling mats, 42 pickleball courts or other indoor hard-court sports; championship court; central entry/office and concession section; second-story mezzanine; approx. 523 parking spaces (500 additional spaces located within 1/4 mile); situated along Rock River in downtown Rockford located near Bypass 20 and East State Street, the main connector to Interstate 90
Funding: $24.4 million from Reclaiming First/WCRTFB Funding (12 percent), Rockford Park District (15 percent), City of Rockford (30 percent) and grant sources (42 percent)
Projected economic impact: $1.9 million annually of new tax revenue and $16.5 million annually of new private sector economic activity, and 225 jobs
Seminole County Sports Complex
Seminole County, Florida
Expected Open Date: May 2016
Sports: baseball, softball, football, soccer, lacrosse
Specs: 102 acres; 15 lighted athletic fields (four 385-foot to center; five 350-foot to center; six 315-foot to center); nine of the fields are synthetic turf; central pavilion; playground; restrooms; walking paths; food truck areas; picnic area; batting cages; bullpens; warm-up areas; bleacher seating with shade covers; three concession buildings; administration building
Funding: $27 million funded by the tourist development tax
Projected economic impact: five-year plan (2016-2020) shows a total of 184 events generating over 175,000 room nights and an approximate economic impact of $126 million
Rome Tennis Center at Berry College
Rome, Georgia
Expected Open Date: June 2016
Sports: tennis
Specs: 51 USTA standard courts including six NCAA regulation courts, three center courts for tournament and collegiate play and one exhibition court with seating for 2,000; 12 courts will be striped to accommodate 10U; 3,846-square-foot club house; all courts lighted with shade cabanas
Funding: $11.9 million will be totally funded by SPLOST (special purpose, local option sales tax) and will be totally paid for upon completion; the 30-acre site was donated by Berry College, the world's largest college campus with 26,000 acres of land (site is not contiguous to the college's main campus)
Projected economic impact: conservative estimate of $5 million; plans to host collegiate tournaments, USTA youth and adult tournaments, wheelchair tennis tournaments and professional tournaments
The Turf
Kent County, Delaware
Expected Open Date: Fall 2016; Full Tournament Schedule Spring 2017
Sports: soccer, lacrosse, field hockey, football, ultimate Frisbee
Specs: 85 acres; 12 lighted turf fields (13 in phase 2); field house with concessions, restrooms, office space and multipurpose room; ample parking
Funding: $20-24 million from bonds and state grant
Projected economic impact: $18-24 million
Summary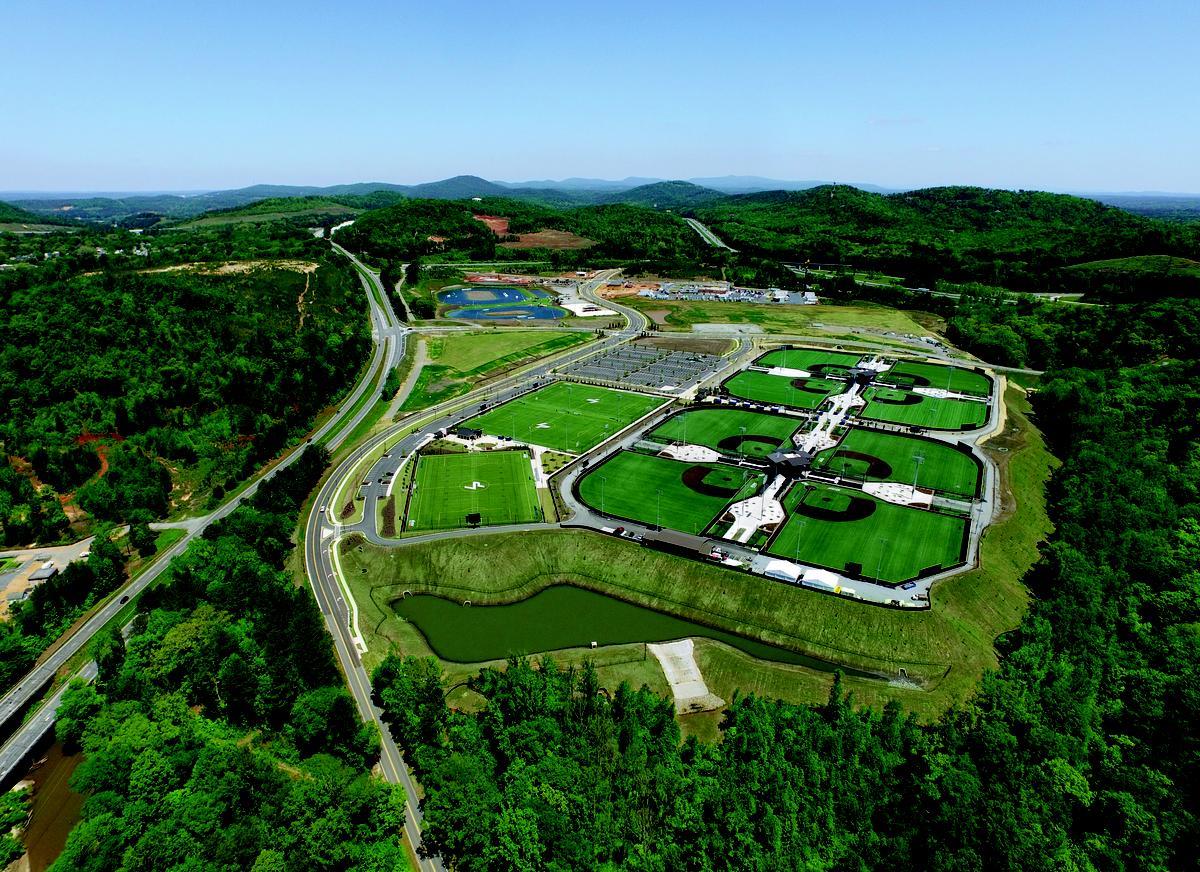 Article Name
Description
Game changing facilities generating staggering economic impacts. Here's the lineup of what Sports Planning Guide has officially coined as megacilities.