From the Atlantic to the Smokies, SPG takes a look at eight of the best golf clubs in North and South Carolina
Golf is not just a game. Golf is an experience like no other, allowing players and groups to take in both expertly landscaped and surrounding natural environments at their own pace, all while playing and learning together—devising the best course to conquer each hole. It's certainly a sport for thinkers, but also for those who just want to have a laid-back experience. This type of meshing of opposite ideals in harmony is what makes the Carolinas a perfect spot for the sport, as both North Carolina and South Carolina embody that free spirited, competitive nature. To celebrate this, SPG dives into eight of the best clubs and individual courses the Carolinas have to offer.
Alamance Country Club — Burlington, North Carolina
Receiving its name after beautiful Alamance County, North Carolina, the Alamance Country Club was created as an escape for families and friends to gather and vacation year after year. Located in Burlington, the largest city in the county, this country club features first-class facilities, a wide range of recreational options and a steady calendar of social activities to engage its members and guests.
Opened in 1946, this classic Donald Ross design is impeccably maintained to provide championship playing conditions throughout the season. In addition to a restaurant, other amenities include a practice range, two putting greens and a short game practice area. Men's and women's tournaments are available year-round, along with youth instruction led by PGA-Certified Professionals.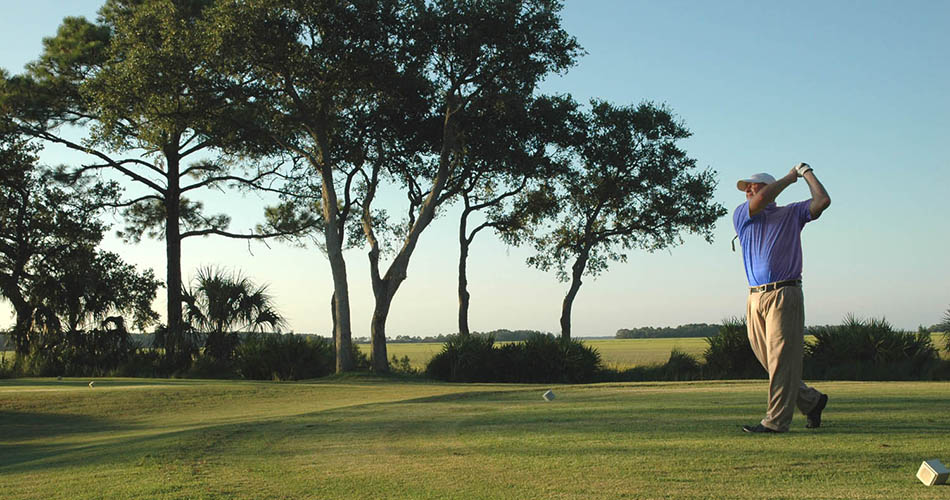 Dataw Island Club — Dataw Island, South Carolina
Dataw Island epitomizes Lowcountry golf, where two 18-hole courses take full advantage of the beautiful natural surroundings of the coastal Atlantic Sea Islands in Beaufort-Port Royal. Traverse grounds covered in live oaks that date back hundreds of years, as well as Civil War-era ruins, starting and ending with the sublime Southern-style Clubhouse.
Tom Fazio's Cotton Dike course was renovated in 2011 and features emerald fields and fairways with a winding creek. Arthur Hills' Morgan River course takes full advantage of the unique marshland. Both courses are suitable for all skill levels, and the club offers lessons for adults and youths when tournaments are not being played.
Dunes Golf and Beach Club — Myrtle Beach, South Carolina
Set along the scenic Myrtle Beach oceanfront, the legendary Dunes Golf and Beach Club offers over 75 years of rich history. Its 18-hole, world-renown Robert Trent Jones golf course is consistently ranked among the top 100 in the United States across all major media outlets. In addition to the exceptional staff and community here, traveling groups could also attend major tournaments as many have taken place at Dunes.
Extensive youth golf programs are available at Dunes, with over 600 participants enrolled. Programs feature PGA and USPTA Professionals, allowing young players the best learning opportunities. It's also worth noting that not only is the golf course award-winning, the culinary team at the club house is as well. With all of the amenities, Dunes makes for a perfect outing for all ages.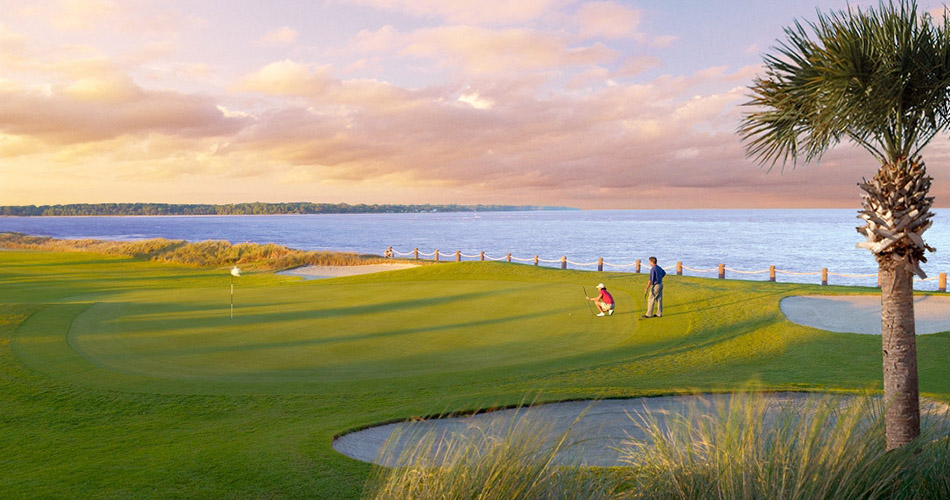 Fripp Island Resort — St. Helena Island, South Carolina
Fripp Island is home to a pair of glorious golf destinations in the Ocean Point and Ocean Creek courses, both at Fripp Island Resort. Set against the lively backdrop of the Atlantic Ocean on 10 of its 18 holes, Ocean Point offers sweeping vistas designed by George Cobb. Located on the south end of the island, the Ocean Creek course provides panoramic views of the Great Salt Marsh and freshwater lakes, while rolling dunes make for challenging play.
A major bonus here is right in the name—these two courses are located within a top-notch resort. Groups of all ages and skill levels will be able to enjoy plenty of amenities, such as a range of dining options from the simple to romantic getaways, arts and crafts activities, boating and more. For inexperienced and young players, golf instruction is available on-site.
Greenville Country Club — Greenville, North Carolina
Originally built as a nine-hole course in 1923, Greenville Country Club has since expanded into a prominent 18-hole club in the Carolinas. This move was thanks to golf architect John Lafoy, whose design track record includes working with George Cobb on the remodeling of Augusta National, engineering a major renovation in 1993. It has since become a prominent host, with Greenville's ECU Lady Pirates intercollegiate Golf Tournament taking place annually every autumn.
Playing 6,227 yards par 71 from the championship tees, the course with its tree-lined fairways and champion Bermuda greens offer a challenge for all skill levels. In addition to the course, full-service pro shops, private lessons for adults and youths, practice ranges and more are just some of the amenities that Greenville Country Club has to offer.
Lake Junaluska Golf Course — Waynesville, North Carolina
Located in Haywood County, Lake Junaluska Golf Course is a 68 par course nestled along its lake namesake, providing groups incredible views of the surrounding Great Smoky Mountains. The course itself provides challenges for all ages and skill levels, and younger players will be able to take advantage of instructional programs to be able to tackle the course with more confidence.
An on-site pro shop is available, featuring a range of equipment for everyone. Tournaments are also featured at Lake Junaluska, so it would be wise to book the course in advance. Featuring more than just golf outings, Lake Junaluska is also a prominent group getaway for those who enjoy boating, fishing or just getting away to enjoy nature.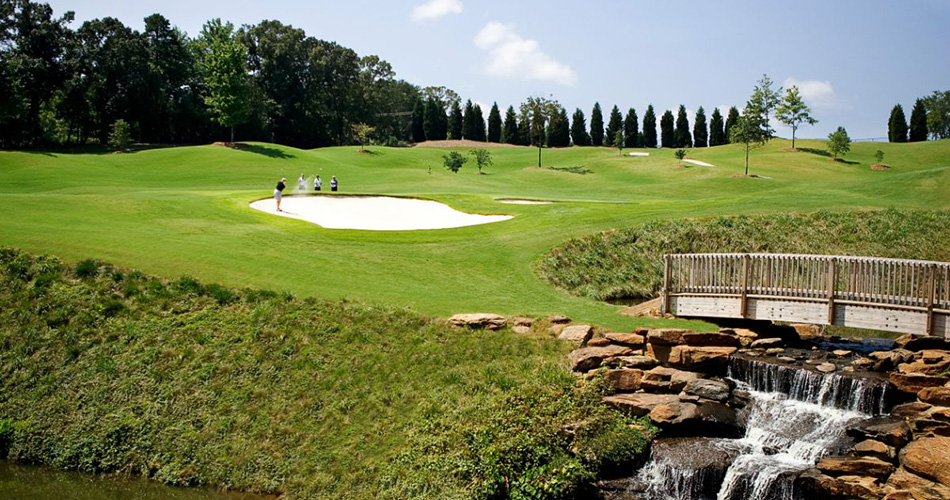 May River Golf Club — Bluffton, South Carolina
The Beaufort-Port Royal area is certainly rich with quality golf courses, and May River Golf Club is often ranked among the best both state and nationwide. Created in 2005, the 18-hole Jack Nicklaus Signature design was named the best new course of the year in South Carolina. It's no wonder, considering the course layout, with its ancient oaks and how it winds through the May River Forest neighborhood. The 7,171-yard masterwork invites players of every skill level to face its unique set of challenges.
May River is part of the 20,000-acre Palmetto Bluff, providing amenities like dining, wine, the arts and entertainment to make this group outing the complete package. The site also includes Palmetto Bluff Farm, where authentic farming practices of the Lowcountry of South Carolina celebrate and collaborate with local farmers, hunters, fishermen and craftsmen.
Rock Barn Country Club & Spa — Hickory, North Carolina
With a foundation tracing back to the early 19th century, this gorgeous country club—located in Hickory, out in the foothills of western North Carolina—has a storied history, one which grew to include golf in 1966 when it added The Rock Barn Club of Golf to its grounds. Today the club features two championship golf courses which have yielded praise from Golf Digest.
The Jackson course has something for all skill levels, while the Robert Trent Jones course was the home for the Senior PGA Championship Tour for 12 years. As the name implies, the club has a wonderful spa to enjoy, along with dozens of other amenities including a fitness center, outdoor aquatic center, tennis facility, restaurants and events exclusive for members.
Main photo: Golfing at dusk in Beaufort