Chicago-based startup Plasia preps elite coaching and education for middle school and high school-level athletics camp experience
Benedictine University in Lisle, Illinois is set to host Nike Champ Camp, the first-ever flagship event spearheaded by Plasia. Taking place June 14–17, Champ Camp will punch its ticket as a premier athletics camp, focusing on track and field athletics with event specific training, educational breakout sessions, nutrition and more. The camp will also cover Plasia's unique platform to enable amateur athletes to engage, monetize and comply with confidence under the new Name, Image and Likeness (NIL) legislation.
"The DuPage Sports Commission has collaborated with Plasia on a couple projects within the last year, focusing on creating and bringing unique experiences for the DuPage County community," said Igor Bakovic, director of sports at DuPage Sports Commission. "The sports commission was involved throughout the early stages of Champ Camp and looks forward to welcoming the athletes and coaches to Lisle and Benedictine University in June."
Participating camp athletes will receive elite-level DI coaching from 2023 regional assistant coach-of-the-year award winners and gold medalists. The list of coaches includes Kareem Jackson, associate head track & field coach at the University of Wisconsin-Madison, Brenton Emanuel, assistant coach at the University of Nebraska, Aaliyah Brown, 2017 World Championship gold medalist, and Justin Gatlin, eight-time global championship 100m medalist with five Olympic medals.
"Every athlete's journey is personal and filled with moments that define their strengths on and off the field," said Gatlin. "Our focus as coaches is to deliver big takeaways during this camp. It is a great opportunity to guide and inspire the next generation of student-athletes to optimize in their name, image and likeness."
Plasia pledges a commitment to building and nurturing young athletes. Derek Drew and Marquell Oliver co-founded Plasia upon recognizing the need for a training camp focused on skill development and helping these talents better understand and utilize NIL as it continues to evolve. Through their partnerships with coaches, Nike Champ Camp is uniquely positioned to offer invaluable insights and resources which will enable long-term success for student athletes.
Nike Champ Camp will be available to student athletes in two categories: ages 11–13 (Middle School) and 13–18 (High School). Athletes will not only be grouped by age, but also ability and track & field experience. All sessions will be co-ed. For more information, visit the official Nike Champ Camp website.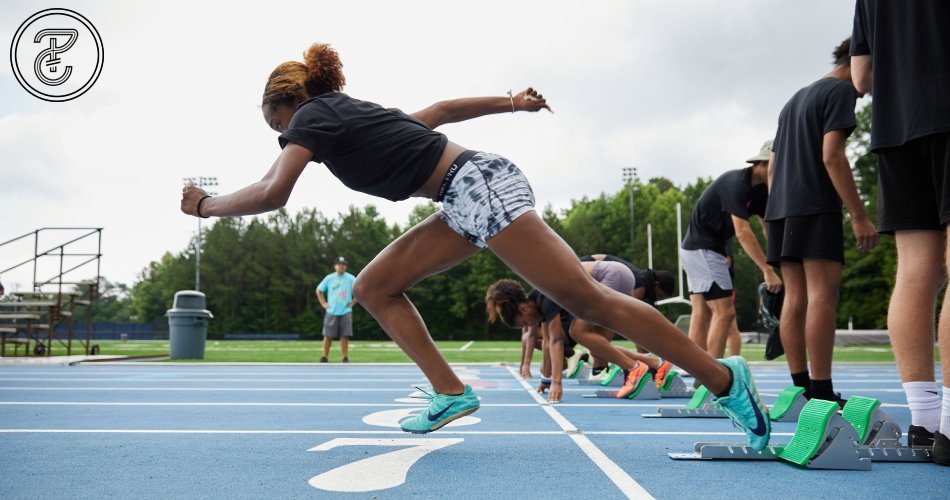 Camp Coaches
Kareem Jackson, University of Wisconsin-Madison
The honor of 2023 NCAA Division I Indoor Track & Field Men's Assistant Coach of the Year (Great Lakes Region) was awarded to Coach Jackson during his second year as associate head coach at Wisconsin. Under his coaching, Lawrence Johnson achieved a seventh-place finish in the 60 meters at the 2023 NCAA DI Indoor Championships. Additionally, his athletes contributed 13 points to the Badgers winning the team title at the Big Ten Indoor Championships.
Brenton Emanuel, University of Nebraska
In his second year at Nebraska, Coach Emmanuel was named the 2023 NCAA Division I Indoor Track & Field Men's Assistant Coach of the Year (Midwest Region). His success was exemplified by the two Cornhusker athletes he coached, Darius Luff and Brighton Senior, who went on to qualify for the 2023 NCAA DI Indoor Championships. Luff placed third at the NCAA meet, while at the Big Ten Indoor Championships, the pair put on a spectacular show with a 1-2 finish. In addition, Nick Bryant was guided by Emmanuel to a Big Ten title in the 600-meters, setting a school record of 1:15.37.
Coach Aaliyah Brown, World Champion
Aaliyah Brown, a highly acclaimed American track and field athlete, boasts an exceptional career filled with numerous accomplishments. Since high school, she has consistently excelled in the track and field arena. In 2015, she played a crucial role in leading the University of Texas to an NCAA national championship in the 4 x 100-meter relay and has subsequently secured various national and international accolades.
Brown became a leading sprinter in 2019 by contributing to Team USA's triumph in the 4×100 meter relay at the World Championships in Doha. This remarkable feat, coupled with her sustained dominance throughout the season, earned her the prestigious title of World Champion.
Coach Justin Gatlin, Olympic & World Champion
Justin Gatlin is a world-renowned American sprinter. He is a five-time Olympic medalist, having won gold in the 100m at the Athens Olympics in 2004 and two silver medals at the Rio de Janeiro Olympics in 2016 in the 100m and 4x100m relay events. Gatlin's impressive career includes numerous World Championship titles, winning gold in the 100m at the Helsinki 2005, Osaka 2007, and Beijing 2015 events. He also won the 200m gold medal at the Athens 2004 Olympic Games.
Overall, Gatlin's remarkable career and numerous accomplishments have solidified his status as one of the greatest sprinters ever. His contributions to the sport of track and field are unparalleled, and he continues to inspire generations of athletes worldwide.