Discover nine of the best mega facilities across the U.S.
Sport is a part of many people's lives. Whether you play as a hobby or professionally, mega facilities across the United States have brought sports tournaments and events to a whole new level. In this feature, SPG covers the most expansive and mesmerizing sports complexes that will leave you eager to visit and book your next event.
• Cedar Point Sports Center
• Elizabethtown Sports Park
• Foley Sports Complex
• Grand Park Sports Campus
• IMG Academy
• Lakepoint Sports
• Mercyhealth Sportscore Two
• National Sports Center
• Rise Indoor Sports
Featured Mega Facilities
Cedar Point Sports Center — Sandusky, Ohio
Cedar Point Sports Center is a sports destination like nowhere else. It's great for a variety of sporting events – from practices to large tournaments. The 145,000 square feet facility offers 20 volleyball courts, 10 basketball hardwood courts, Championship Arena with retractable seating and 9,500 square feet entertainment center.
Sports Force Parks at Cedar Point Sports Center is the pride of a facility created for outdoor sports. It includes five lighted fields, eight youth diamonds and four full-size diamonds for baseball, 39 soccer fields of any size and lighting, 11 synthetic turf softball diamonds with spectator seating, bullpens and batting cages, five lighted fields and eight full-size synthetic turf fields for lacrosse. As for leisure after training, the facility offers their Putt-in Bay Miniature Golf, a variety of playgrounds and parks, restaurants and cafes and a plenty of shops.
Another great addition to the location is their Adventure Center that has a variety of climbing walls and a ninja course. And probably the biggest bonus of Cedar Point Sports Center is that it's located near the Cedar Point Amusement Park which is the biggest in the world.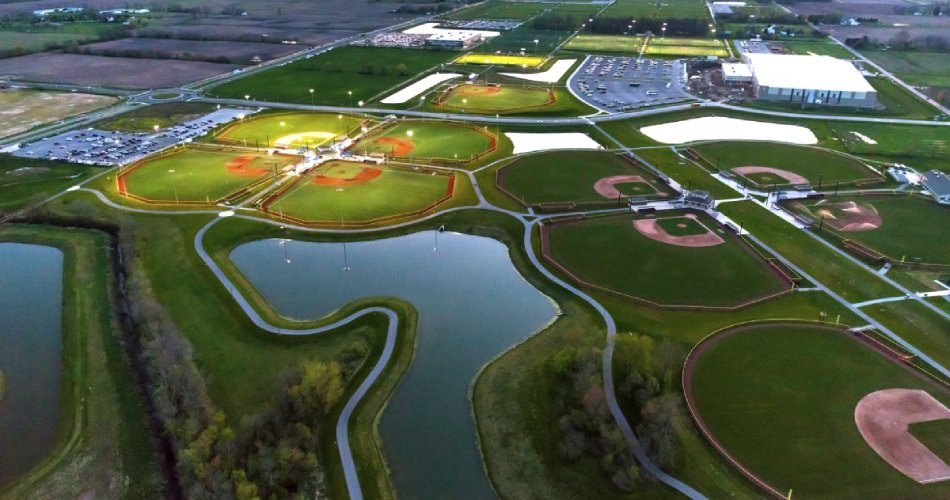 Elizabethtown Sports Park — Elizabethtown, Kentucky
Over the years, Elizabethtown Sports Park became the Midwest's premier facility for outdoor youth sports tournaments. It is a home for leagues like NFL Flag, EYSA, EABC, EAYF, Heartland Fast Pitch, and Youth Kickball League. The facility has a lot of great sporting events scheduled for spring-summer 2023. Some of them are the NFL Flag Super Bowl that will happen on May 13th, and KYSA American Cup on June 10-11th.
Elizabethtown Sports Park's territory includes 12 natural turf fields for soccer/field hockey/lacrosse, three quads with 12 synthetic turf lit diamonds, two synthetic turf championship fields, the Cecilian Bank Miracle Field. The facilities are equipped with locker rooms, stadium lawn seating, and meeting rooms. There are also three pavilions that are perfect for events, ceremonies and meetings. Besides sporting accommodations, the facility is equipped with convenient parking, vendor areas, playgrounds, restaurants and hotels.
Foley Sports Complex — Foley, Alabama
Foley Sports Complex is a state-of-the-art facility that has become a favorite for many, and hosted quite a few big sporting events, including USSSA Baseball World Series and the Alabama Soccer Festival. Their 100-acre site includes the Ralph Schumacher Soccer Complex and Raymond C. Christensen Memorial 5-plex used for both baseball and softball. Complexes include 10 baseball fields, measuring from 200 to 250 feet, and five soccer fields. In addition, the facilities provide concessions, pavilions and hospitality areas.
Foley Sports Complex is a beautiful facility and has a great location. There are a few parks and museums, shopping centers, a farmers market, restaurants, golf club and even immediate care nearby. And the best part is that the complex is located just 11 miles from the beach, where you can spend time after training and tournaments.
Grand Park Sports Campus — Westfield, Indiana
Located in Hamilton County, just outside of Indianapolis, Indiana, Grand Park Sports Campus is a 400-acre facility that is worth visiting. There are 31 multipurpose outdoor fields and 26 diamonds that are great for soccer, lacrosse, baseball and other sports. The campus also has three indoor event centers. Among them is the huge 377,000-square-foot Grand Park Events Center. It includes three full-size synthetic fields, four locker rooms, a meeting room, full-service restaurant and pub. The facility serves as the home for the Indiana Soccer Association, Indiana Fire Juniors and Methodist Sports Medicine.
Grand Park's 88,000-square-foot Pacers Athletic Center is also a great pride to the campus. Since opening in January 2016, the facility quickly became a hotspot for youth sports. The athletic center has eight indoor courts that welcome athletes to play basketball and volleyball, as well as futsal. Tournaments at this facility are being sponsored by big brands like Nike, Under Armour, USA Basketball and many more.
IMG Academy — Bradenton, Florida
Since opening in 1978, IMG Academy has become the world's leading sports education brand. This unique institution supports young athletes in their journey to become professionals. Along with their boarding school and campus, the academy provides online courses and coaching with a focus on personal development.
This mega-complex features over 60 tennis courts, over 20 multi-sport fields and an 18-hole golf course. The Academy also has eight convertible basketball courts, weight rooms totaling more than 10,000 square feet of space and a 5,000-seat outdoor stadium.
IMG Academy annually attracts nearly 200,000 athletes, coaches and spectators from 100 countries. The facility also offers the Legacy Hotel, which is a boutique hotel that is great for people who prefer modern luxuries. The hotel offers 150 rooms, fine dining and the beautiful beaches of Florida's Gulf Coast surrounding the area.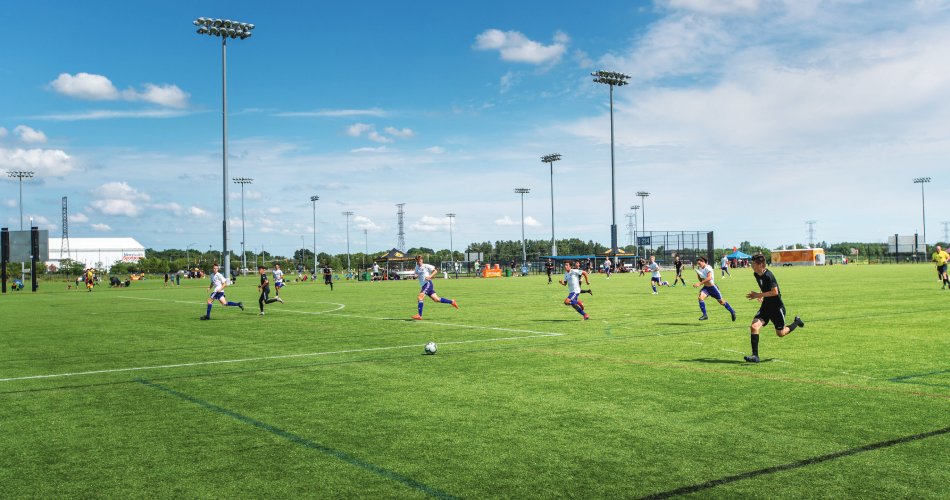 Lakepoint Sports — Emerson, Georgia
Lakepoint Sports is one of the best travel and youth sport destinations in the country. This 1300-acre facility can be a host of any kind of sporting event. Along with the 170,000-square-foot Champions Center, the megaplex includes eight Major League-sized baseball fields, three multipurpose fields that are great for soccer, football, rugby and lacrosse, as well as a 10-court beach volleyball pavilion. Lakepoint Sports campus also offers two hotels and a few dining options on-site.
With their mission to promote youth sports and support young athletes, Lakepoint Sports offers a variety of camps and activities. During summer, young athletes can enroll in soccer, basketball, running and rugby among many other camps to their liking. The camps have programs for youths at any skill level and are created to promote a healthy relationship with sport.
Mercyhealth Sportscore Two — Loves Park, Illinois
This 180-acre mega facility in the Rockford area has been nationally recognized for hosting soccer, volleyball, rugby, pickleball, Ultimate, football, basketball and adapted/wheelchair sports. This Rockford area venue has been designed for tournaments, camps and leagues year-round.
Mercyhealth Sportscore Two features 26 outdoor soccer fields, including six turf and lighted fields, three sand volleyball courts, a playground, ample parking, tournament staging area and more. Their 60,000-square-foot Indoor Sports Center features three multipurpose fields, five basketball and volleyball courts, the Skybox restaurant and sports bar and a sports equipment store. The venue is a great fit, not only for sports events but also for weddings, festivals, expos and more.
National Sports Center — Blaine, Minnesota
National Sports Center is the world's largest amateur sports facility. The facility has a big history of hosting major national and international Ultimate events. Currently the facility hosts three leagues organized by Twin Cities Ultimate League — a Tuesday co-ed recreational league, Thursday co-ed advanced and men's leagues.
A huge territory of the National Sports Center allows it to have many sporting and event facilities. Among those are 52 natural grass fields that are perfect for soccer, rugby, lacrosse, and many more. They also have the outdoor NPC Stadium that has a seating capacity of 5,500. The stadium is adjacent to NSC Sports Expo — an indoor complex with two full basketball courts and two volleyball courts. The space design allows it to be converted to an indoor synthetic field for soccer and lacrosse.
Another impressive indoor facility on site is the Super Rink, which has eight sheets of ice under one roof. It is a home to U.S. Women's Olympic Hockey Team and is the largest ice arena complex in the world.
Rise Indoor Sports — Bermuda Run, North Carolina
If you are looking for a place to play indoor sports, Winston-Salem's Rise Indoor Sports is a perfect pick. It is one of the largest and most accessible indoor complexes in the Southeastern United States. With over 123,000 square feet of regulation courts, Rise Indoor Sports strives to provide the best experience for everyone from general public to professional athletes. The complex also offers summer camps for youth of any sport experience, and even senior fitness programming to promote active lifestyle for people of any age groups.
The facility offers 28,000 square feet of indoor turf, a 8,300-square-foot performance training center and a 6,000-square-foot cardio and fitness studio. This space also includes 12 volleyball courts, eight high school regulation basketball courts and pickleball courts. Besides sporting accommodations, Rise has concessions with indoor and outdoor dining, community meeting rooms and the Atrium Health/Wake Forest Baptist Rehab Center.
By Marta Kotsur
Main image: IMG Academy has plenty of space for young athletes to play and improve their game.