SPG takes a look at eight outdoor stadiums in the Southeast United States, each boasting something unique to please any fan of any sport
The American Southeast has a lot to be proud of, including delicious cuisine, its southern hospitality and, of course, amazing sporting events. But like everywhere in the United States, sports tourism is not dominantly driven by the pros but rather by youth—around $4 billion more than the NFL in 2019 alone, in fact. This means that each destination needs variety in their stadiums, and the American Southeast has just that as it caters to everything from football to soccer, rugby and more. SPG has picked out eight outdoor stadiums to provide that variety, not only in what is offered but also in their construction, sizes and locales, making each a truly unique highlight.
Bentonville Tiger Stadium — Bentonville, Arkansas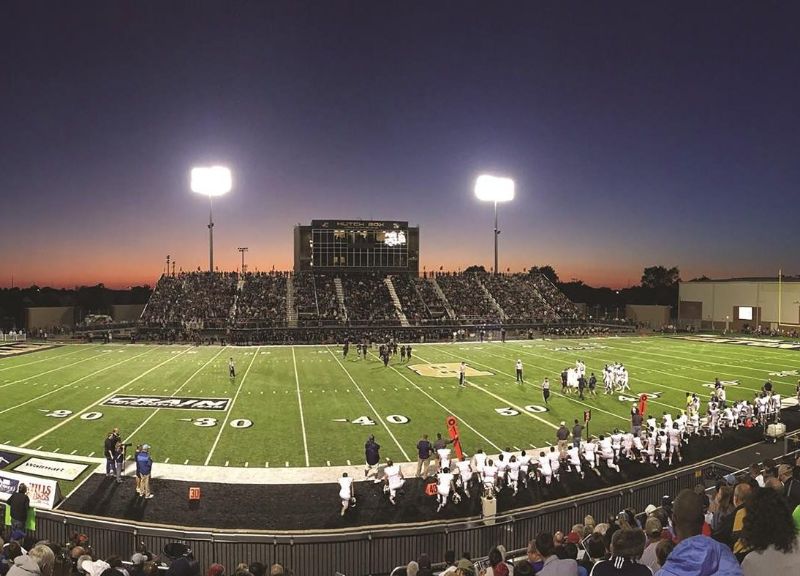 Part of the greater Tiger Athletic Complex, one of Arkansas' premier sporting facilities, Bentonville Tiger Stadium is a 232,000-square-foot outdoor stadium with a seating capacity of 6,000. Built for football games, it can also be used for a number of other sports like rugby and soccer, though the on-site soccer and track stadium nearby can also accommodate. Tiger Stadium also features a press box and a high-quality synthetic field.
Although the main hosts at the complex and its main stadium are high school Bentonville Tigers athletics, the site as a whole beams with a college-like atmosphere. With so much at one's fingertips in one location, it's a great destination for event planners to host big tournaments. To get there, I-49 is the most direct and quickest route. If you're traveling from out of state, Bentonville Municipal Airport is just five minutes away.
FAU Stadium — Boca Raton, Florida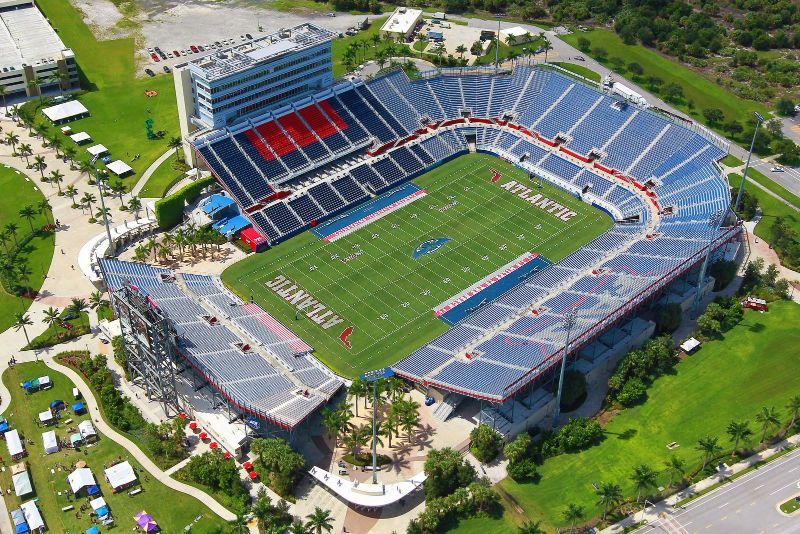 Located on the campus of Florida Atlantic University (FAU) in Boca Raton, Palm Beach County, Howard Schnellenberger Field at FAU Stadium is a premier venue for multiple sports. Opened in 2011, the stadium features a capacity just shy of 30,000, 24 executive suites and natural Celebration Bermuda grass. The stadium's main stand is built with superior spectator viewing in mind, bringing fans closer to the action.
In addition to FAU athletics like football and soccer, the stadium has also been home to lacrosse, Men's and Women's International soccer games, exhibition soccer games between elite clubs and more. No matter how far you're traveling, getting to FAU Stadium is a breeze with its location next to I-95 and across from Boca Raton Airport.
Fifth Third Bank Stadium — Kennesaw, Georgia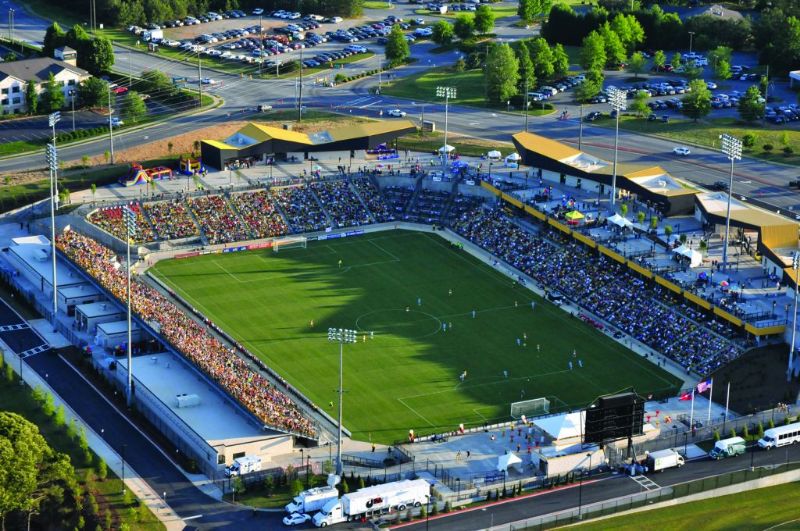 Part of the Kennesaw State University Sports and Entertainment Park in Cobb County, Georgia, Fifth Third Bank Stadium is an 8,318-capacity venue built with multiple sports in mind. The bowl-shaped stadium and its expertly-designed stands for optimal viewing are perfect for soccer and rugby. Located just north of the Kennesaw Town Center, there's plenty to do before and after games for the whole family.
Fifth Third Bank Stadium is home to Kennesaw State University athletics programs for soccer, lacrosse and football, and hosts MLS side Atlanta United's reserve team. The stadium has also been used for USA Eagles International rugby matches, such as Rugby World Cup qualifiers. Situated between I-75 and I-575, it's easy to drive to the stadium. For out-of-state travelers, Cobb County International Airport is nearby.
IMG Academy stadium — Bradenton, Florida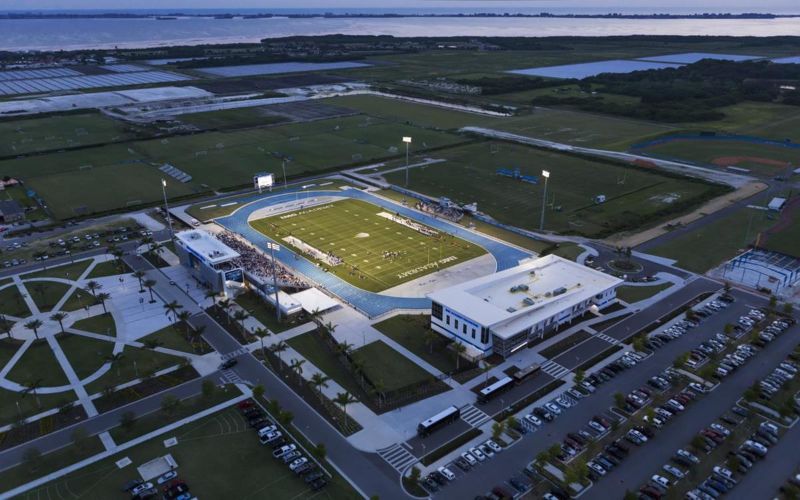 IMG Academy preparatory boarding school is Bradenton's premier sports training destination, as well as one of the best sports performance and events facilities as a whole. While the main draw is the academy and its programs, attracting hundreds of thousands of athletes and coaches from across the globe, its main stadium has a seating capacity of 5,000 with state-of-the-art lighting, turf field, superior track and more.
The IMG Academy stadium is capable of hosting any outdoor sports event. Players will feel the same energy that a number of prestigious alumni of the academy felt when they first began their sports careers, including the likes of former LA Galaxy forward Landon Donovan and 2022 first round draft pick Evan Neal, offensive tackle of the New York Giants. The closest interstate is I-75. The nearest airport is Sarasota Bradenton International, less than 20 minutes away.
M.M. Roberts Stadium — Hattiesburg, Mississippi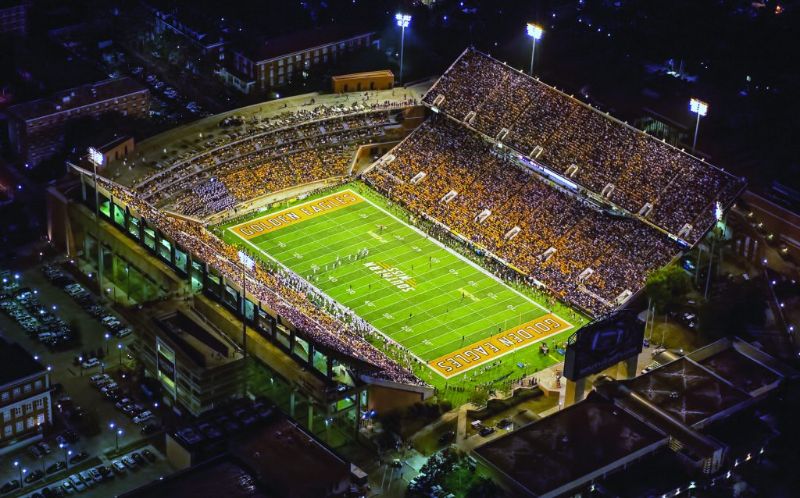 The University of Southern Mississippi campus is home to M.M. Roberts Stadium, a premier Magnolia State college sports outdoor stadium with a capacity of 36,000. Opened in 1932, the stadium has plenty of history and renovations behind it, with the last having taken place in 2008 which expanded to its current capacity, along with 33 suites, premium seating options and a state-of-the-art scoreboard. Shaw Sports Momentum Turf is the current field of choice.
M.M. Roberts Stadium, also known as "The Rock," has been the home of the university's Golden Eagles football program for almost a century. While famous for football, the stadium is also capable of hosting other major sports events like rugby. To get there, I-59 is a short drive from the university campus. The nearest airport is Hattiesburg Bobby L. Chain Municipal, about 20 minutes southeast.
Segra Field — Leesburg, Virginia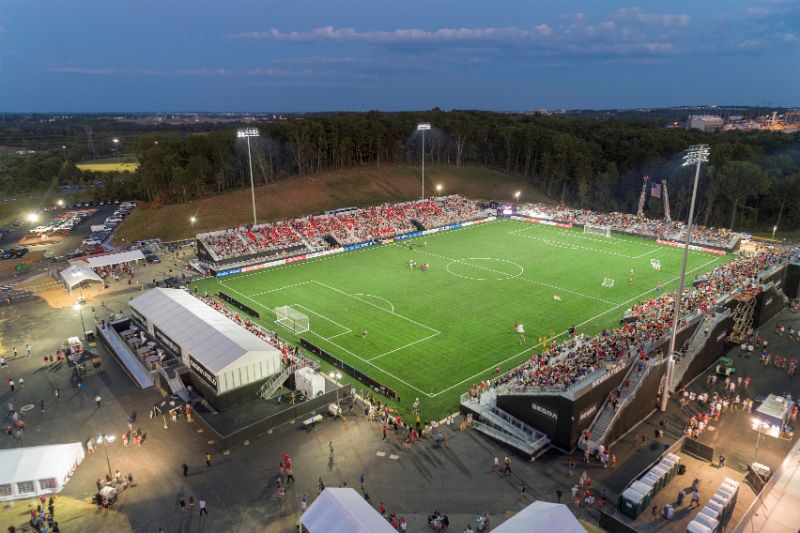 Located in Loudoun County, Virginia, Segra Field is a new, state-of-the-art outdoor stadium on the grounds of Philip A. Bolen Memorial Park. Opened in 2019, the stadium has a capacity of 5,000 and features FieldTurf Revolution field, eight suites for group outings and is next to Loudoun Soccer Park for additional practice space and tournament-ready fields with Musco Lighting. Although a soccer-specific stadium, Segra Field is more than capable of hosting multiple outdoor sports events.
Segra Field was originally built as the home of USL Championship side Loudoun United, an affiliate of MLS franchise DC United. Since then, the stadium has expanded its hosting capabilities, now featuring NWSL side Washington Spirit and Old Glory DC of Major League Rugby. Getting to Segra Field is pretty easy, being close to Route 267 and about 20 minutes northwest of Dulles International Airport.
TicketReturn.com Field — Myrtle Beach, South Carolina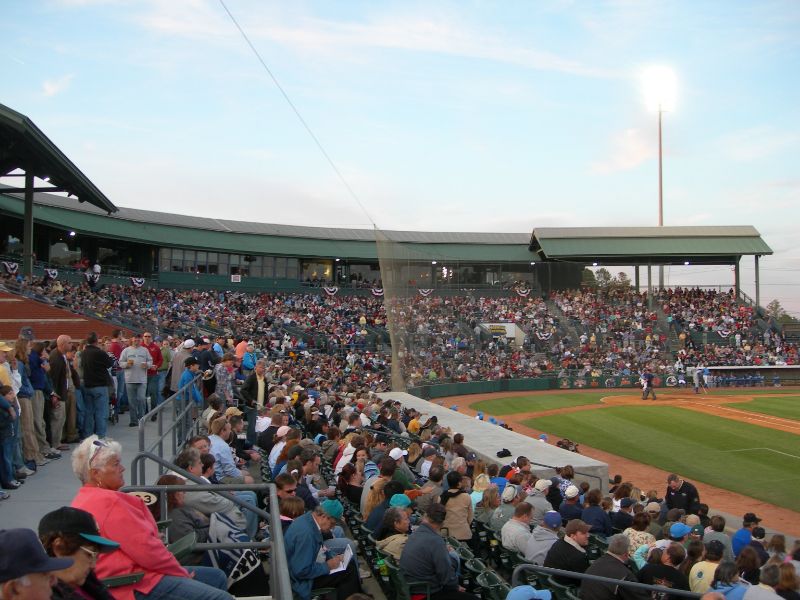 Enjoy sports fun under the sun at TicketReturn.com Field in Myrtle Beach. Although the stadium was originally built with baseball in mind, it's certainly capable of hosting other major events and has even been the location of filming for HBO series Eastbound & Down. Opened in 1999, TicketReturn.com Field features a capacity of 6,599, or up to 10,000 with playing field seating, and is conveniently located near amenities like shopping centers, restaurants and beautiful beaches.
The stadium is home to multiple teams, including the Myrtle Beach Pelicans of the Carolina League and Coastal Carolina Chanticleers of the NCAA. Since opening, it has also been the finish point of the annual Myrtle Beach Marathon. TicketReturn.com Field is located near Route 17, not far from the heart of Myrtle Beach. For out-of-state travelers, Myrtle Beach International Airport is only a 15-minute drive south.
Truist Stadium — Winston-Salem, North Carolina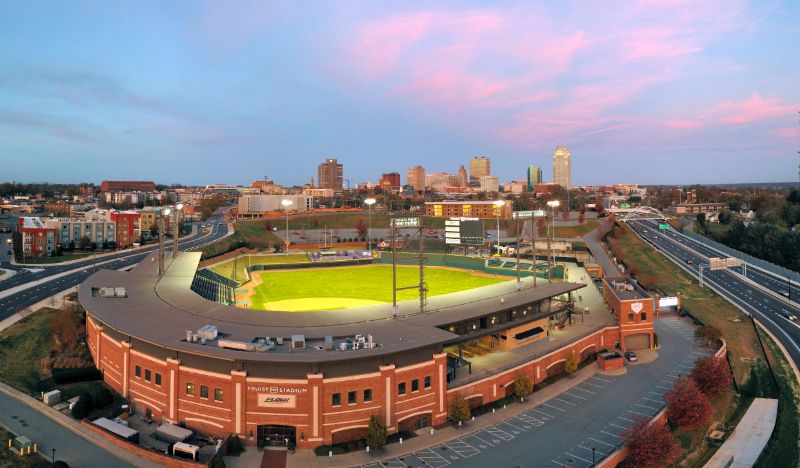 Located in downtown Winston-Salem, Truist Stadium is a beautiful, modern outdoor stadium close to all the action both on the field and off. Opened in 2010, it features 5,500 stadium-style seats, 16 luxury suites on the Club Level, a 200-foot LED outfield wall scoreboard with video and animation capabilities and more. Amenities like concession stands at the stadium are combined with local shopping, restaurants, a university and more, all within a short distance.
Truist Stadium is home to the Winston-Salem Dash of the South Atlantic League, a club that has been around since 1905 and a minor league affiliate of the Chicago White Sox since 1997. Getting to the stadium is a breeze, being located directly next to a Route 421 exit. For those traveling from afar, Smith Reynolds Airport is less than a 10-minute drive north.
By Christopher D. Silbernagel