The best facilities to play soccer across AZ, OR and WA
With summer approaching, it's a great time to plan upcoming sports tournaments. If you're into soccer, SPG's in-depth look at some of the top soccer facilities out west will surely help you find the perfect place to play. This list combines eight facilities in the Western U.S. that not only are amazing for soccer, but also are great for entertainment and relaxation with plenty of amenities on-site and nearby.
Bell 94 & Scottsdale Sports Complexes — Scottsdale, Arizona
The Bell 94 & Scottsdale Sports Complexes (SSC) are 37.5- and 71-acre facilities respectively, designed to be state-of-the-art competitive sport field venues, offering tournament level playing conditions. These complexes accommodate a variety of sports, including soccer. Both facilities have six lighted international fields at 225′ x 360′, and Scottsdale Sports complex also has four additional non-lighted regulation fields at 187′ x 300′.
SSC has plenty of parking space, two hotels within a mile, many highly rated restaurants and bars and more. SSC recently hosted the Youth Alliance of Arizona Youth Soccer League Games in the beginning of March, 2023. From April 14-16, SSC will host the Arizona Soccer Association Youth Soccer Tournament, along with Bell 94 from the same dates, as well as the Smash Mouth Football Youth Flag Football Tournament from April 28-30.
Bell 94 Sports Complex is accommodated with great parking, so you won't have to worry about reserving a spot. The complex has a great location surrounded by many cafes and fast food restaurants, gas stations and even the Pump It Up kids amusement park, all within a two mile radius. Arizona Soccer Association Youth League Games took place here in January 2023, and some interesting youth soccer events will take place in Spring, such as the Desert Cup Youth Soccer Tournament and ASA State Cup Championships throughout April.
Bell Bank Park powered by Legacy Sports — Mesa, Arizona
Bell Bank Park is a $300 million, 320-acre multi-use facility powered by Legacy Sports. It includes 24 soccer and lacrosse fields with high-tech scoreboards, individual speaker systems and artificial turf cooling system. This major player among the nation's top soccer facilities offers a variety of services, such as fitness and performance centers, peak athletic recovery center, Phoenix Children's Sports Medicine and Urgent Care and many more.
In December, 2021, the facility hosted the Arizona Soccer Showcase, which is one of the best events for High School Competition in the country. Bell Bank Park has a huge restaurant and bar, and even on-site hospitality and VIP suites, so there's no need to worry about finding a hotel. However, there are also a few restaurants and hotels a short car drive away, so there are plenty of options available.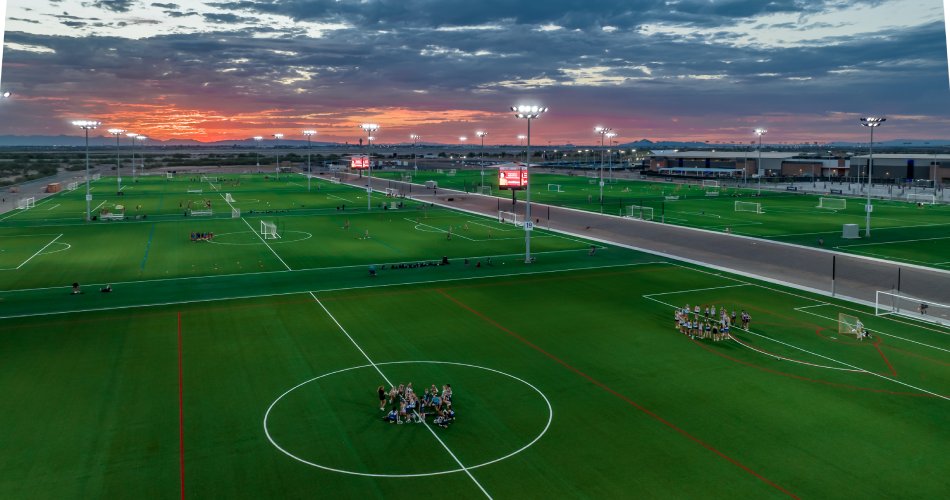 Lithia & Driveway Fields — Medford, Oregon
Lithia & Driveway Fields is the largest park with FieldTurf in the country. The facility features four 94,000-square-foot soccer fields, measuring 60 x 90 yards, and Gary H. Wheeler full-size stadium field, which is perfect for soccer tournament championship games.
Since opening in 2008, it has already hosted over 47,000 sports games. From May 26-29, 2023, the facility will host the Rogue Memorial Challenge, one of the largest soccer events in the United States. By the end of the summer, on August 24, 2023, Phoenix High and South Medford High School Jamborees will also take place at Lithia & Driveway Fields.
Lithia & Driveway Fields has plentiful parking, a playground and paved walking trails. There are a number of quality, reasonably priced hotels around the area, as well as many options to grab something to eat.
Howard M. Terpenning Complex — Beaverton, Oregon
Located in Tualatin Valley, Howard M. Terpenning Complex is a beautiful 92-acre venue, belonging to Tualatin Hills Park & Recreation District, receiving around 650,000 visitors each year. It has many fields, including two synthetic turf at 360' x 210', and three varying grass fields at 330' x 165', 345' x 210' and 330' x 210' to make it one of the top soccer facilities around. In fact, during the Summer of 2023, Oregon Adult Soccer Association plans to host their Summer Legacy tournament at the district.
The complex also has a jogging path, which is perfect for running, walking and cycling. There are also many things to do for entertainment, such as visiting an aquatic center, resting at the 10-acre natural area or even playing roller hockey. A great plus is that the complex is bus accessible. There are a few popular fast food chains nearby, as well as hotels, retail stores, supermarkets and more.
Pioneer Sports Park — Salem, Oregon
Privately owned by Capital Futbol Club, the 37-acre Pioneer Sports Park has continued to develop over the years into a strong soccer tournament contender. In spring of 2022, the club completed construction of Ed Davison Field — one of only 20 FIFA Quality PRO rated fields in the United States. The complex has eight fields, each featuring well-maintained perennial rye grass surfaces, including John Chambers Turf Field, which is a 110 x 70-yard field configurable to 7v7 and 9v9, as well as Ed Davison Field, which is configurable for up to three 11v11 soccer fields.
In June, 2023, Pioneer Sports Park will host the Capital Cup Tournament. The dates are June 16-18 for U13-17, and June 23-25 for U8-12. For amenities, the park has large paved and gravel parking, office spaces, wi-fi and water fountains available. Nearby, The Yard Food Park is a great spot for food and drinks.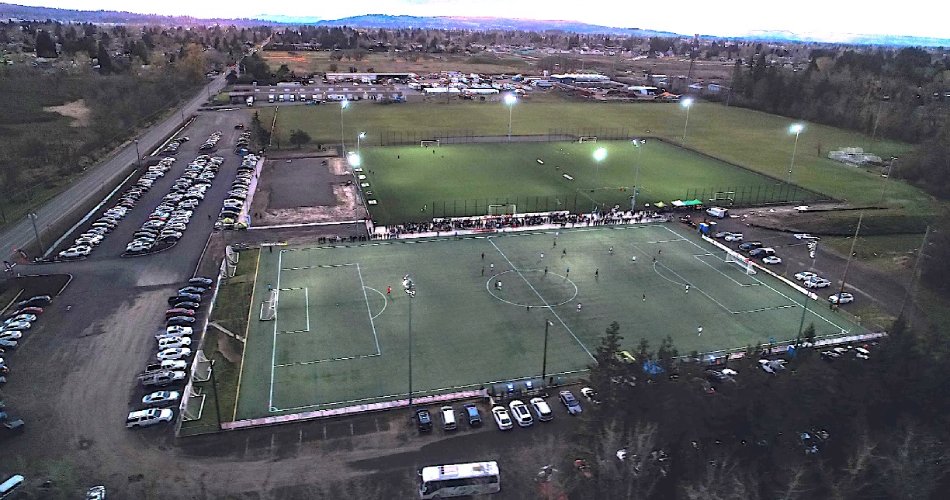 Starfire Sports — Tukwila, Washington
Located on the Seattle Southside, the 54-acre Starfire Sports Complex is home to 11 outdoor soccer fields. In addition to six synthetic turf fields, with measurements ranging from 30 x 50 yards to 75 x 120 yards, the highlighted Starfire Sports Stadium features a 4,500-spectator capacity perfect for championship games. This top soccer facility has a centrally located concessions stand, paid parking as well as two restaurants on-site.
The Winter Warmer indoor tournament took place in December 2022. With Spring approaching, there will be many outdoor soccer events, such as the youth Spring Classic from June 16-18 and Starfire Sounders FC Cup in July.
Sozo Sports Complex — Ahtanum, Washington
Yakima Valley's Sozo Sports Complex saw its sixth year of development in 2022, when it continued to make progress on the Sozo Arena, a 90,000-square-foot indoor facility. The complex also has 13 outdoor multipurpose fields that are perfect for soccer. Amenities include paid parking, restrooms, water fountains and more. There are also a plethora of hotels within a 10-mile radius, as well as gas stations, restaurants and supermarkets.
On May 20-21, Sozo Sports Complex will host Yak Attack 2023 — one of the largest youth 5v5 tournaments in the region. This year will mark the 20th anniversary since Yak Attack's first launch in 2003. The theme in 2023 is cartoons, and costumes are encouraged.
By Marta Kotsur
Main image: Fans attend a game at Seattle Southside's Starfire Sports—one of the top soccer facilities for tournaments.