With spring just around the corner, are you stuck asking "Where are the best baseball fields near me?"
Event organizers will be looking for the top spots to host their tournaments throughout summer and autumn. While there are many unique, high-quality facilities in Illinois that are great for hosting baseball, some in particular stand out with a stronger emphasis on America's Pastime. Ranging from quiet central locales to bigger cities and 'burbs, here are eight of the best baseball fields in Illinois.
Rantoul Family Sports Complex — Rantoul, Illinois
Located in Champaign County, Rantoul Family Sports Complex is a new state-of-the-art facility in the Midwest, featuring eight baseball and two little league/challenger fields. Rantoul hosted its first baseball tournament on its all-turf fields back in April, 2020. This great opener featured over 1,000 athletes from all over Illinois, including one team from Cedar Rapids, Iowa.
Traveling by car, I-57 connects to Champaign County from Chicago, and I-74 connects west to Bloomington and east to Indianapolis. Along with over 800 parking spaces for easy access, Rantoul also features an on-site splashpad to help refresh between games.
Evergreen Hollow Park — Effingham, Illinois
Evergreen Hollow Park in Effingham is a charming spot. Although the facility only features one lighted baseball field, it's a perfect diamond for hosting high-caliber games. On-site amenities are plentiful throughout its 42 acres, featuring an outdoor swimming pool, a scenic tree walk as well as a playground accessible to children of all abilities.
Effingham is located south of Champaign from I-57, and east of St. Louis and west of Indianapolis via I-70. Evergreen will host the annual Memorial Day Wood Bat Classic, which takes place from May 27–29, 2022. The tournament is available for 8U through 14U.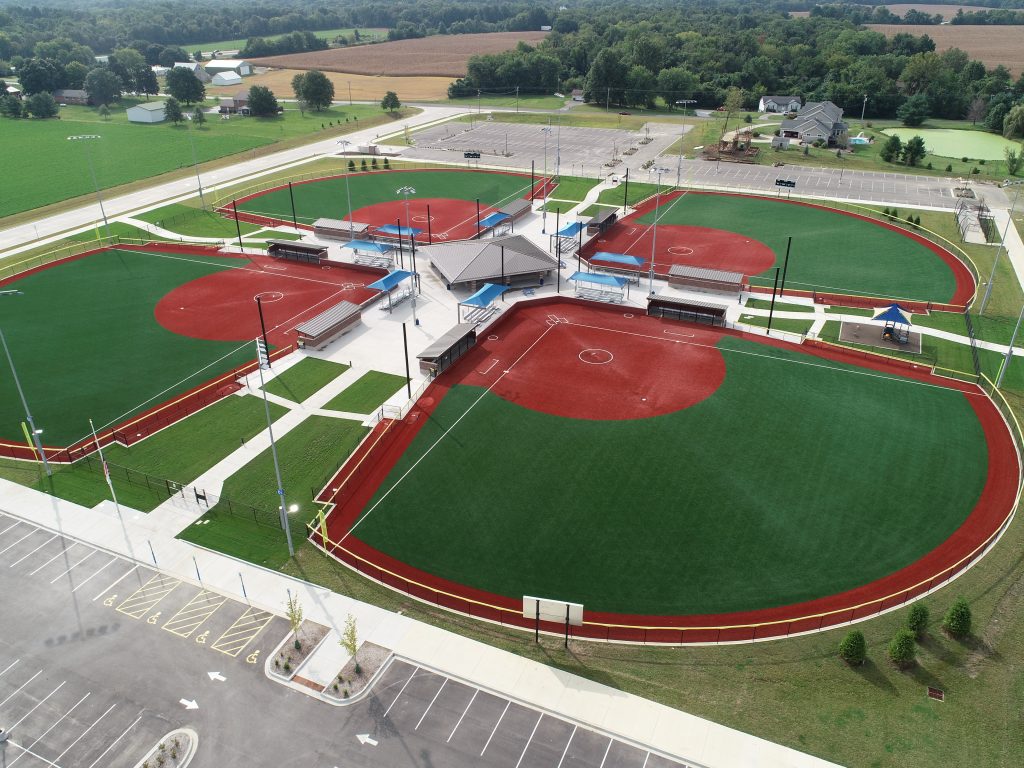 Plummer Family Park — Edwardsville, Illinois
Located just across the border from the city of St. Louis, the Great Rivers & Routes region's Plummer Family Park is a prime example of natural meeting modernity. This new facility in Edwardsville features four lighted, fully synthetic turf baseball fields, along with paved walking trails to enjoy the natural backdrops during downtime.
Upcoming 2022 tournaments are still open for registration, which include the Best of the Midwest from May 13–15, and the 9U Elite Trilogy Turf Series from June 10–12. Plummer is accessible by car from I-55 as well as I-70/270 and has multiple airports within 35 minutes driving distance.
Future Champions Sports Complex — Jacksonville, Illinois
West of Springfield in nearby Jacksonville, Future Champions Sports Complex is not your ordinary park. Featuring six all-turf infields, this makes games virtually rain-out proof, allowing the facility to be readily available most of the year. Each baseball field ranges in measurements, with the largest at 315 feet down the lines and the smallest at 180. All six fields feature lights along with professional sound systems and electronic scoreboards.
There are many tournaments set for 2022 at Future Champions already, including TBR World Series qualifiers, and their website provides up-to-date field news and live streams. The easiest way to access Jacksonville by car is via I-72 through Springfield where an I-55 connection can be made north or south.
Southland Center — Lynwood, Illinois
Located south of Chicago in Lynwood, just west of the Illinois-Indiana border, is the newly improved Ho-Chunk Southland Baseball at Southland Center. This facility features five baseball fields, three for adults at 320 feet from home plate to center and two for youth at 300 feet, with covered pavilion as well as professional grounds crew to deliver you the best experience.
Upcoming tournaments include the Spring Slam Fest from April 29–May 1, and Memorial Day Matchup from May 27–30; both of which will feature silver teams only. Southland Center is easily accessible by car with a quick jump off of I-294/94.
Spartan Park — Chatham, Illinois
There's a lot of history in Springfield, Illinois' capital, but when you're not out enjoying the sites, baseball is ready for the cards. Located in nearby Chatham, Spartan Park features four 315-foot down the lines fields with synthetic turf infields and natural grass outfields. These baseball fields can all have temporary fencing placed to adjust to 200 down the lines.
Some of the upcoming tournaments include April Fools Slugfest from April 1–3, and the A/AA only Can of Corn Classic from April 8–10. Spartan Park is less than a 20-minute drive from Springfield and is accessible by car via I-55.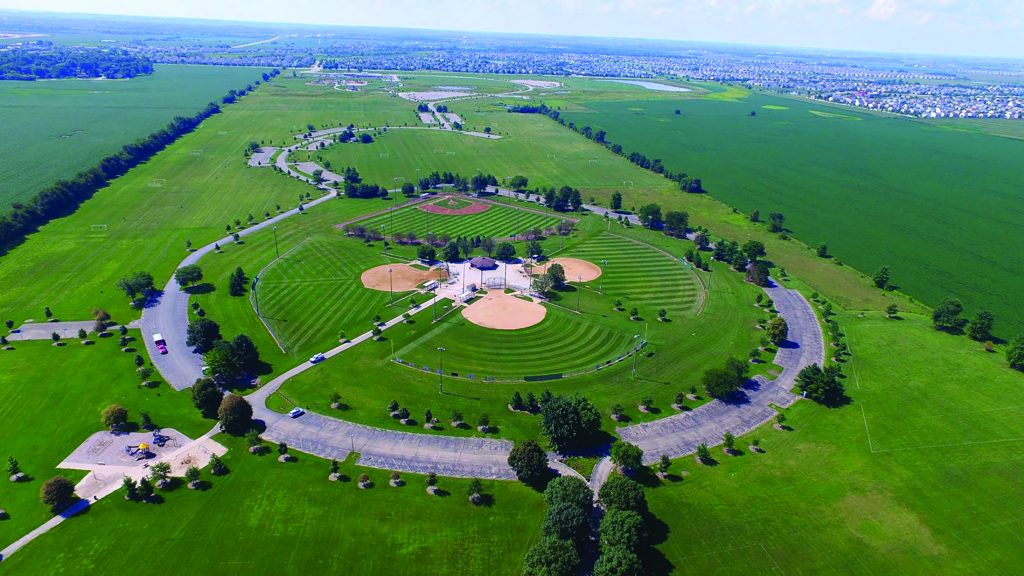 Stuart Sports Complex — Montgomery, Illinois
The Aurora Area's Stuart Sports Complex is widely known for being one of the largest soccer venues in the country, but it also features eight quality fields perfect for baseball. The longest outfield fence on location measures in at 350 feet while the smallest is at 245. All fields feature lights—five of which have scoreboards. In addition to these diamonds, the surrounding area has plenty on offer for the family. Amenities include a playground with splashpad, garden plots and beautiful Jericho Lake. There's also plenty of parking with 1,300 spaces.
Two notable summer events featured in 2021 were the annual youth and adult Rally in the Valley baseball tournaments. Stuart Sports Complex is located in Montgomery, only a few minutes from Downtown Aurora and I-88.
Vernon Hills Athletic Complex — Vernon Hills, Illinois
If you're in need of a large number of diamonds for your baseball tournament, Lake County's Vernon Hills Athletic Complex is ready to accommodate. Just north of Chicago, the facility features 11 baseball fields. Most of these fields are lighted and have electronic scoreboards, grass infields and elevated pitchers mounds.
As home to the Cougars traveling baseball team, youth baseball tournaments are plentiful with spring 2022 at multiple levels and ages already set to begin in April. Vernon Hills Athletic Complex is easily accessible by car via I-94 from both Chicago and Milwaukee.
By Christopher D. Silbernagel
Main photo: Future Champions Sports Complex