The latest and upcoming sports facilities across Illinois will bring more than just excitement to the state and its communities
Illinois is well-known for its spectacular sports stadiums and complexes. All across the Land of Lincoln, sports tourism has made its indelible mark on the economic growth and development of local communities. In addition to the stalwarts—the big players, if you prefer—the latest state-of-the-art facilities are now here and new ones are on the horizon that not only bring more excitement, they will even change the way we play.
FMC Natatorium at Ty Warner Park
Completed at the end of 2020, FMC Natatorium is a premier venue for aquatic sports. Located at the southeastern corner of Ty Warner Park in Westmont, DuPage County, the natatorium serves as a major host for regional as well as national meets and other events. The 71,000-square-foot natatorium features a 50-meter Olympic-size Myrtha competition pool along with a training pool. While the seating capacity is set at 1,200, the second level of the facility offers additional standing views of the competition.
Four locker rooms in total, two for men and two for women, along with meeting rooms are all accessible from the pool deck on the first floor. The second level also houses a state-of-the-art strength and conditioning room, swim shop, concession stands, an entertainment room and more. Being located at Ty Warner Park, there's also plenty of fun to be had on the outside grounds with a landscaped play spot for children, featuring a delightful spray fountain.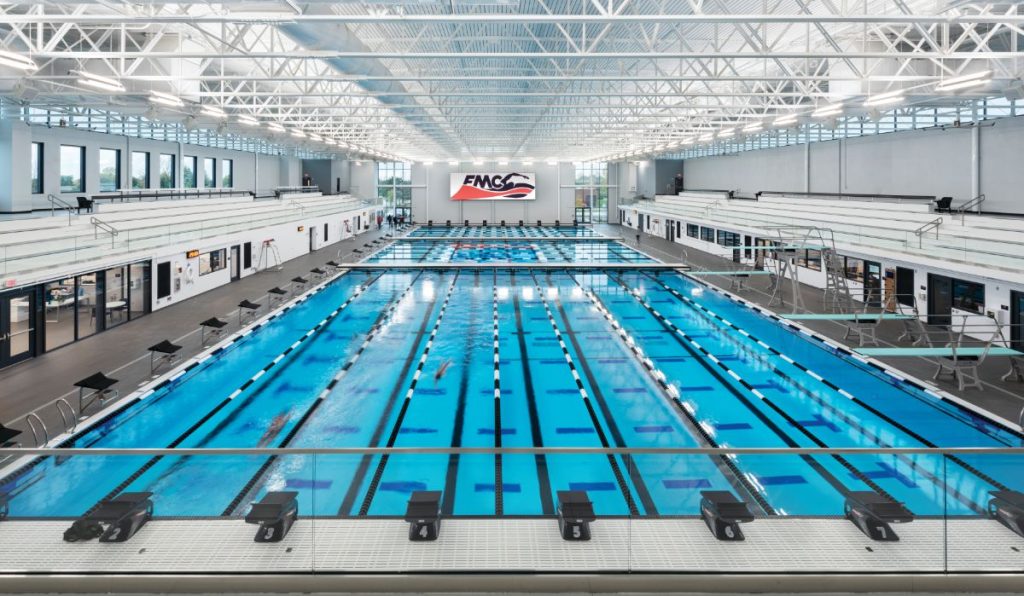 Rantoul Family Sports Complex
Located just north of the University of Illinois at Champaign-Urbana, Rantoul Family Sports Complex is a state-of-the-art complex with all turf fields for multiple sports. The village-owned facility's impressive resume includes ten fields for baseball and softball, two of which are specifically for Challenger baseball and T-ball, as well as eight multipurpose fields for sports like soccer, rugby, lacrosse and more.
Opened in March, 2021, Rantoul's premier sports complex kept the enormity of sports tourism well in mind by building 800-plus parking spaces for guests. The facility is the first of its kind as a major sports complex in Champaign County, which aims to bring in major sporting events and tournaments throughout each year. Considering its location between Chicago, Indianapolis and St. Louis, it's a prime meeting spot for all three major cities and their youth programs to converge.
Scheels Sports Park at Legacy Pointe
With construction beginning in 2023, and set to open in Summer 2024, Scheels Sports Park at Legacy Pointe will bring even more sports tournament excitement to the Springfield area. The megaplex will feature eight synthetic turf fields that can be configured into multi-use diamonds or full-sized multi-purpose fields, a 170,000-square-foot indoor sports dome and more. The indoor sports dome will not only feature one of the multi-purpose fields for baseball, softball, soccer and other sports, but also courts for year-round play.
On-site construction began in Spring 2022 and the facility will open near the Scheels sporting goods store, the official name sponsor of the park. Scheels Sports Park at Legacy Pointe is the first major post-pandemic project for Springfield and Sangamon County. Its key central location will be able to help draw in sports events from across the state as well as nearby states like Indiana, Iowa and Missouri.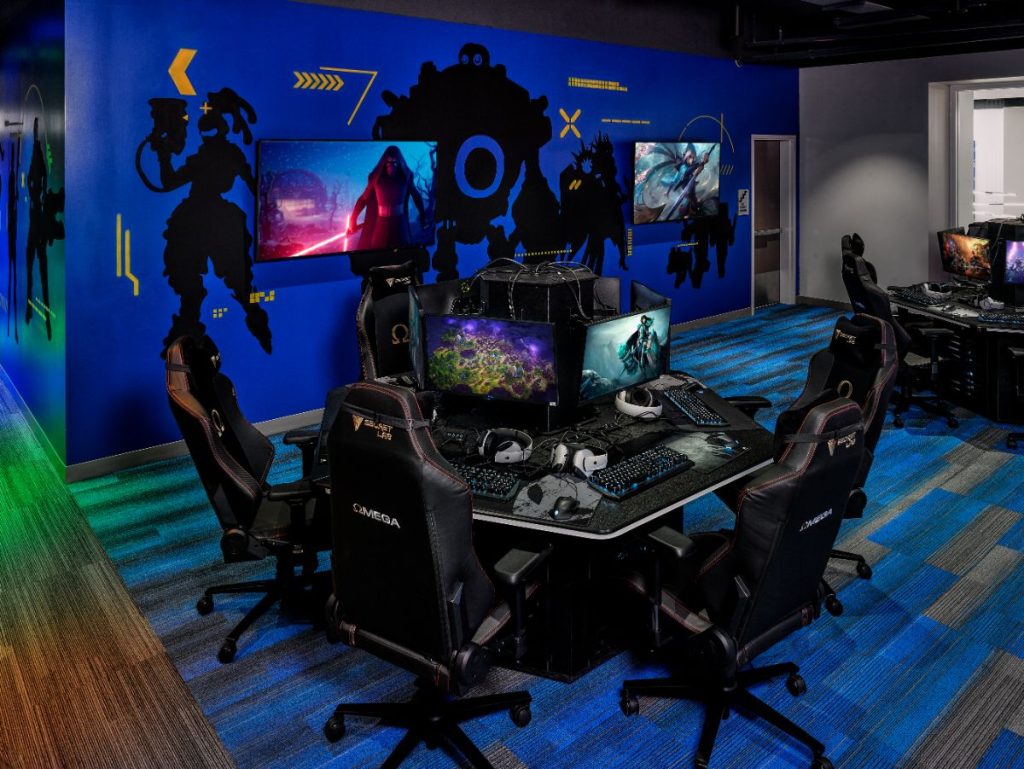 SURGE Esports Stadium
Through their joint venture Smash Interactive, Scott Greenberg and Chris Lai laid out plans for a $30 million, 108,000-square-foot video gaming stadium to be built in the Chicago Bronzeville neighborhood. The 1,040-capacity indoor stadium called SURGE was approved by the City Council in early 2021. In addition to hosting major esports events, it will also be a virtual reality hangout for the community and also act as the headquarters of Smash Interactive.
The importance of SURGE was clearly taken into account when it was approved. Leading up to the proposal, the Illinois High School Association recognized video gaming as an emerging sport, coinciding with $16 million in esports scholarships across the country in 2018–19. The site's development will also include restaurants, and its location across I-55 from McCormick Place convention center will not only bring more interest to the area, the center's influx of visitors will draw more attention to SURGE and esports as a whole.
Wintrust Sports Complex
Just a short walk from Midway Airport, Wintrust Sports Complex has been a bright spot for a multitude of competitions, events, athletes and families in Chicago Southland since opening in Autumn 2021. Located in Bedford Park, the complex features 116,000 square feet of space overall with something for everyone. In addition to a championship hardwood court, the space can be configured into eight courts for high school basketball or 16 for NCAA volleyball.
In addition to the courts, esports has a place to shine with a dedicated gaming lounge for events and get-togethers. Concessions can be found on both levels of the complex, with a full-service kitchen restaurant and bar on the second floor, along with an on-site athletic training area, laser tag room and an arcade on the first floor. With this much variety in one location, the complex serves as a major entertainment hub for traveling athletes as well as the local community.
---
By Christopher D. Silbernagel
Multiple sports are often simultaneously being played on Rantoul's multipurpose fields. Photo courtesy of Visit Champaign County.