SPG takes a look at eight great new and newly renovated pickleball courts that picklers need to experience
Pickleball is one of the fastest-growing sports in the United States, with many dedicated indoor and outdoor centers to the tennis, badminton and ping pong hybrid popping up nationwide each year. This spike in popularity can be attributed to many things, particularly how easy pickleball is to pick up and play and the positive community the sport and its organizers have created. With many centers to play, each with their own membership ops, SPG takes a look at eight that stand out with unique features and locations for picklers.
Bell Bank Park — Mesa, Arizona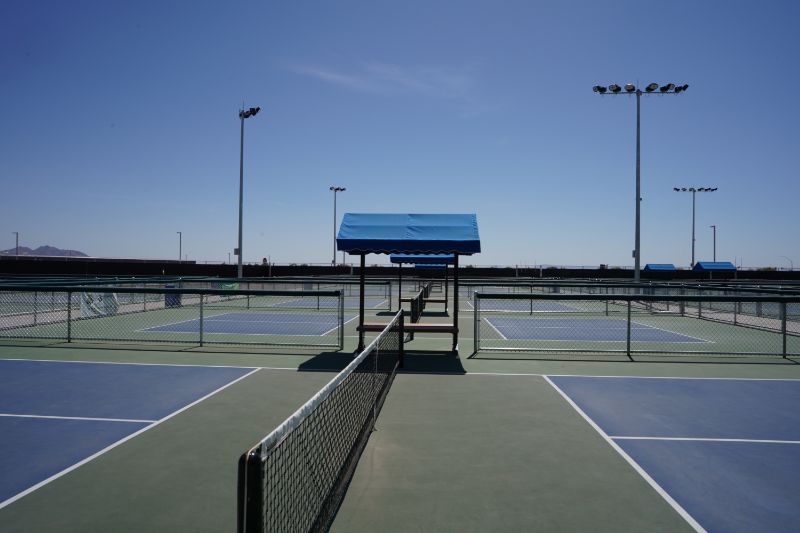 Located in Mesa, Bell Bank Park by Legacy Sports USA is an impressive $300M, 320-acre multi-use family sport and entertainment complex with outdoor and indoor team athletic facilities. Opened in early 2022, the complex has a dedicated pickleball area, featuring 41 courts which include four Medal Courts with spectator stands and 1 Stadium Court with a 2,500-seat capacity.
Bell Bank Park has premium lighting for every game, whether it's outdoors or indoors. Amenities are abundant with on-site recovery, fitness and performance centers, food and beverage vendors, ball machines for rent and more. Like all of the facilities featured here, Bell Bank Park also has a membership program for free court use and other benefits.
Within just a few months after opening, Bell Bank Park hosted USA Pickleball's Southwest Regionals, and there are plenty more tournaments on the cards. In addition, the complex has daily leagues, clinics and camps including Pickleball for Juniors. For those new to the game, lessons are available as well.
Bell Bank Park is about a 30-minute drive from downtown Mesa, and is next to Route 24, with an easy connection from Route 202. Its prime location adjacent to Phoenix-Mesa Gateway Airport also makes out-of-state travel a breeze.
Club Pickleball USA — Orem and Sandy, Utah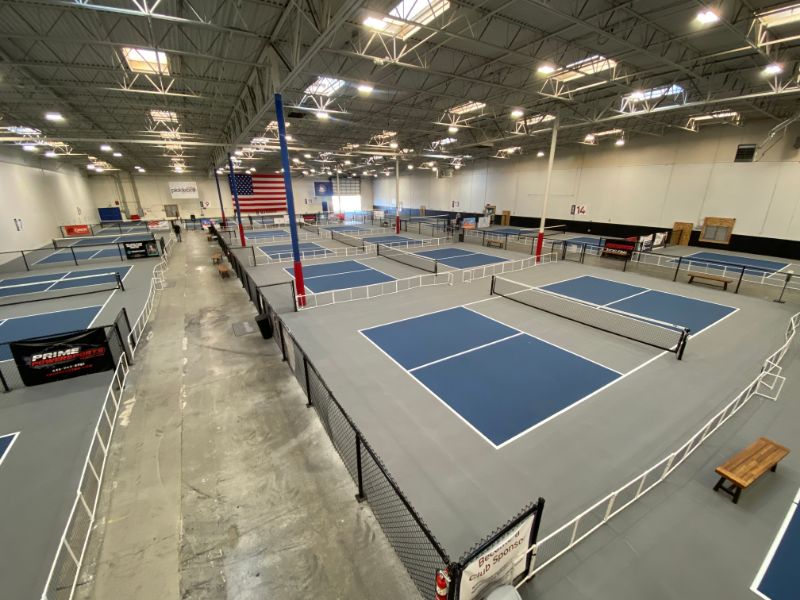 The Beehive State is home to Club Pickleball USA (CPUSA), with two prime locations about 30 minutes from one another. The original Orem location opened in early 2021 and features 15 courts. The Sandy location, which will open on June 4, 2022, will add 12 to bring the total to 27 outdoor surface courts with permanent nets—eight of which are Championship Courts.
In addition to high-quality LED lighting and high ceilings, CPUSA's new Sandy location will provide even more amenities, including a Pro Shop and party lounge. The Sandy location also has two additional covered outdoor courts planned.
Within a short time, CPUSA already has the largest body of players for a dedicated pickleball club in the country at over 13,000. The on-site CPUSA Training Academy is run by three-time Nationals Medalist and PPR Certified Coach and Clinician Suzee Anderson. There are also many events and tournaments on the cards, including youth camps, round robins, Major Money Ball and more.
Getting to CPUSA's two facilities is a breeze with both located directly along I-15. The Sandy location is only 15 minutes from downtown Salt Lake City, while Orem's is 10 minutes from downtown Provo. For out-of-state travelers, regional airports are within a short drive from both locations.
East Naples Community Park — Naples, Florida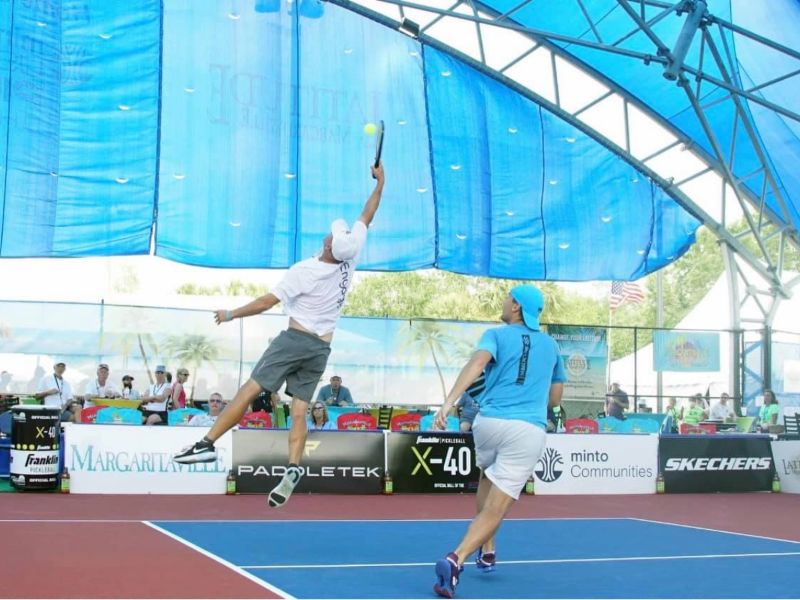 Representing Naples, Marco Island and The Everglades, Florida's Paradise Coast, East Naples Community Park is not a new facility—in fact it's widely known as the established pickleball mecca of the world. What's new then are recently completed Spring 2022 upgrades which have brought in more specialized amenities.
Along with its staggering number of pickleball courts, currently at 64, the park now also features an on-site Collier County Pickleball Pro Shop, high-quality locker rooms, office and storage space and more. Providing that traditional "community park," East Naples has a beautiful picnic area and a lighted exercise trail around the lake.
Pro and amateur events are abundant at East Naples, which has been the home of the U.S. Open Pickleball Championships each Spring since 2016. Pickleball Academy of Southwest Florida operates out of East Naples, with 11 designated teaching courts for groups of all skill levels. Camps and weekly clinics are also available via the academy.
East Naples Community Park is located near Route 41, though I-75 will get you there as well if you're traveling from further away by car. Naples Airport and downtown Naples are about 15 minutes away from the park, making for easy out-of-state travel and local entertainment access.
Mercer Bucks Pickleball Club — Ewing, New Jersey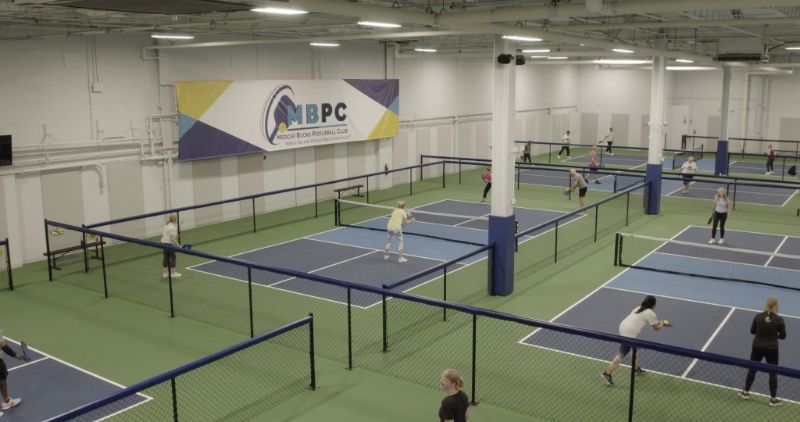 Mercer Bucks Pickleball Club (MBPC) opened on February 18, 2022, and currently serves the New Jersey and Pennsylvania communities of Mercer and Bucks counties. This dedicated indoor pickleball facility, which is the largest in the Northeast, features nine Pro-Cushion courts, making for play that's easier on the joints and excellent ball response.
MBPC has fenced courts to eliminate ball spray, specialized LED lighting and soundproofing to remove the echo canyon that some indoor paddle and sports facilities can generate. Other amenities include an automatic ball machine, private event room and Merch Nook for gear, demos, gifts and more.
As an indoor facility, MBPC removes all potential weather-related concerns with a climate-controlled environment. On-site professional instruction is available for all skill levels, assisting players to reach their goals. There are also many events and tournaments happening year-round, such as round robins and leagues among others, with opportunities to book your own court.
MBPC is located in Ewing Township, just northwest of Trenton, New Jersey, which straddles the border with Pennsylvania. With a short distance drive to I-295, this key location makes it easy to get to MBPC. For those traveling from afar, Trenton-Mercer Airport is less than 10 minutes away.
Pickleball Kingdom — Chandler, Arizona
Pickleball Kingdom opened May 2, 2022, to great fanfare in the city of Chandler. The fully air-conditioned facility features 15 indoor courts with outdoor surfaces of the highest caliber, perfect for tournaments and pick-up games of any size. This provides players with the luxury of guaranteed pickleball play away from intensely hot weather.
The Kingdom, as it's known for short, also features an event room as well as a mezzanine to overlook the action on the courts, take a break or have something to eat. In addition to an on-site Pro Shop, a party room, high-quality locker rooms and other amenities are also available for members and visitors.
Pickleball lessons are available at the Kingdom, as are special events like team-building functions and competitive tournaments. Being a brand-new indoor facility, the kingdom has many tournaments on the cards which will be announced over the coming months.
Getting to Pickleball Kingdom is easy thanks to its excellent location near Routes 101 and 202 as well as I-10. Downtown Chandler is also roughly 10 minutes away. For all out-of-state travelers, there are a few airports to choose from with Chandler Municipal only 15 minutes out.
Pictona at Holly Hill — Holly Hill, Florida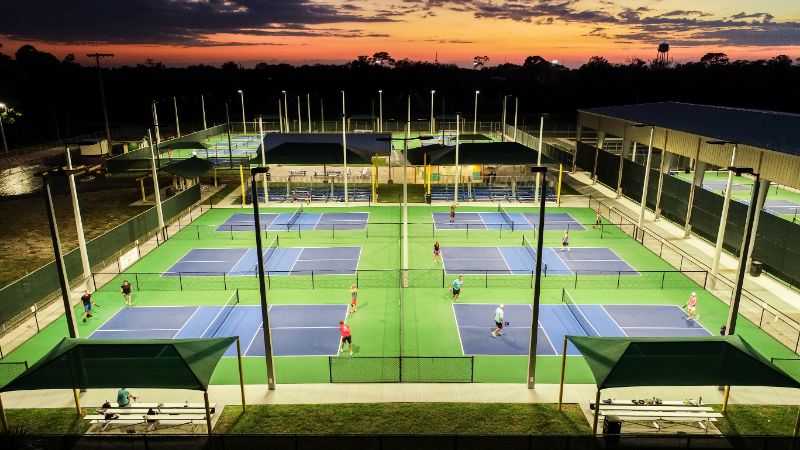 Pictona at Holly Hill may not be a new facility, but their current expansion will make for a new and improved experience for everyone. Located in Central Florida, Pictona currently has 24 courts, eight of which are covered for indoor play away from the elements. Fences separate each court, all of which are laid out expertly for optimal indoor viewing from the skybox.
When the expansion process at Pictona 2 wraps up in October 2022, the facility will feature 25 additional courts, bringing the total at Pictona to 49. Five of these new courts will be covered, bringing the total covered to 13. In addition, a Championship Stadium with seating up to 1,200 spectators will also be built.
Amenities at Pictona are abundant, with a player shop, restaurant, club house, game room and more available. The facility is widely known for hosting quality tournaments, such as the 2022 Florida Cup State Championship, but the renovations will also allow for training for pickleball instructors, refs and admins of pickleball programs worldwide.
Pictona is located just five miles from Daytona Beach and the Daytona International Speedway. The easiest way to get there is via I-95, though out-of-state travelers will be happy to know that Daytona Beach International Airport is only about 15 to 20 minutes away.
RECS — Clackamas, Oregon
Located in Clackamas, a suburb of Portland, RECS (Recreate, Exercise, Compete, Socialize) is a 22,000-square-foot recreational facility with a strong pickleball game. Launched in 2022, the state-of-the-art facility features nine cushioned indoor courts with permanent steel net systems, perfect for holding tournaments and events of all sizes.
For those in need of new equipment, the on-site Pro Shop has everyone covered. Additionally, the Players' Lounge provides craft beer and fresh menu items. For larger events, RECS will also accommodate by bringing in local food trucks for athletes and audiences.
RECS has hosted a number of events featuring pro pickleball players and traveling camps, recently having held a Pro Mixed Doubles Team Challenge on May 21. There are a number of ways to experience pickleball at RECS, including clinics and private lessons, weekend social nights and more.
Within close proximity to I-205, RECS is easy to get to by car, and roughly only 20 minutes from Portland. For those traveling from out of state, Portland International Airport is also about 20 minutes away.
Two Rivers Pickleball Club at Jewel Basin Center — Bigfork, Montana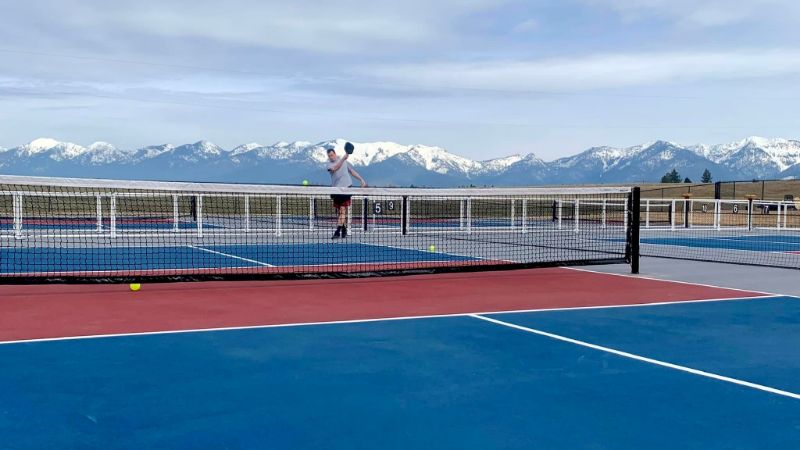 Having opened just under a year ago in Bigfork, Montana, Jewel Basin Center is home to Two Rivers Pickleball Club. The center, which is also built to host live music, features 10 dedicated pickleball courts with identical outdoor surfaces. Four of these courts are indoors, each of which have great natural and LED lighting for games at any time of day.
The 2,000-square-foot Overlook Terrace divides the indoor and outdoor court spaces, providing a great spot to relax after or between games and incredible views. The center also has great amenities for members, including the on-site Third Shot Bar, two conference rooms, high-quality locker rooms with large lavatories and showers and more.
Along with membership packages, the center plays host to pickleball events and tournaments as well as elite camps from pros like Daniel J. Howard. From August 26–28, the Crown of the Continent tournament will take place, featuring Women's, Men's and Mixed Doubles.
This world-class center in "The Last Best Place" is near Flathead National Forest as well as Flathead Lake, one of the cleanest natural lakes in the world. Routes 35, 82 and 83 will get you there by car. If you're traveling from afar, Glacier Park International Airport is only a 30-minute drive away.
By Christopher D. Silbernagel
Main image courtesy of RECS.