There are a lot of factors to consider when planning a sports event away from your hometown: you need a location teams and their families can easily get to, facilities capable of accommodating the size and scope of the matches and family-friendly activities that will appeal to everyone of all ages and interests. Event planners can find all this and more in South Bend Mishawaka where small town hospitality crosses paths with the opportunities and quality experience you would find in a metropolitan city.
As the future host for events such as the 2019 NHL Winter Classic, the 2019 USA Hockey Nationals and the 2019 Midwest League Minor League Baseball All-Star Game, the city has proven why it makes for the perfect destination for sports teams. Teams and fans will be charmed by South Bend's scenic riverbank sights and ability to leave visitors with amazing memories of their time spent there.
Notable Recent/Upcoming Events
2019 NHL Winter Classic (January 1 ,2019)
2019 USA Hockey Nationals (April 3-8, 2019)
2019 U.S. Senior Open (June 24-30, 2019)
Annual Events – HockeyTime Productions, AYOP, LPGA Symetra Tour, and more
CVB/Sports Commissions Services Offered
PR/Media Assistance
Signage
Site Visits
Transportation Assistance
Lodging Services
Grant Programs
Welcome Bags/Gifts
Itinerary Development
Event Planning Assistance
Meetingmax Online Housing Service
South Bend Bucks incentive
Click on tab to see more information about a specific facility
Compton Family Ice Arena
Experience all the victories, teamwork and bonding memories of competition in a state-of-the-art facility when you choose Notre Dame's Compton Family Ice Arena to host your next sporting event. The 212,000-square-foot building houses its 4,500-seat, NHL-sized Charles W. "Lefty" Smith Jr. Rink suited for competitions and the 350-seat, Olympic-sized Olympic Rink perfect for warm-up drills and practice. The arena is equipped with four concession stands, eight restrooms and locker rooms for teams and officials. Both the arena and the nearby Joyce Center have available parking spots for team buses and spectators.
Sports: Ice hockey, figure skating, broomball, curling
Byer's Softball Complex
Phil St. Clair Park's Byer's Softball Complex is another example of what makes South Bend, Indiana a classic and dynamic city to bring any kind of sports team to. This facility's five well-maintained diamonds not only will ensure your players can play to the best of their ability each game, but also have won the James Farrell Award of Excellence 15 times. The complex has a concession stand, restrooms and bleachers for visitors' convenience, as well as plenty of space for lawn chairs spectators can bring as they cheer on their favorite softball stars.
Sports: Softball, baseball
Four Winds Field
The members on your team with dreams of turning their sports passion into a profession will be thrilled to play on the Four Winds Field, home to the South Bend Cubs minor league baseball team. The 5,000-seat stadium's eight parking lots, free shuttle service from the parking lot to the main entrance, natural turf outfield and team store located in a renovated synagogue will quickly show visitors why Ballpark Digest named the stadium the Best Ballpark in 2017. No need to worry about keeping your team and fans fueled either, as the site hosts concession stalls ranging from traditional stadium burgers, chicken tenders and ice cream to specialties like poutine, a mac and cheese hot dog and chili cheese nachos.
Sports: Baseball
Jr. Irish Soccer Complex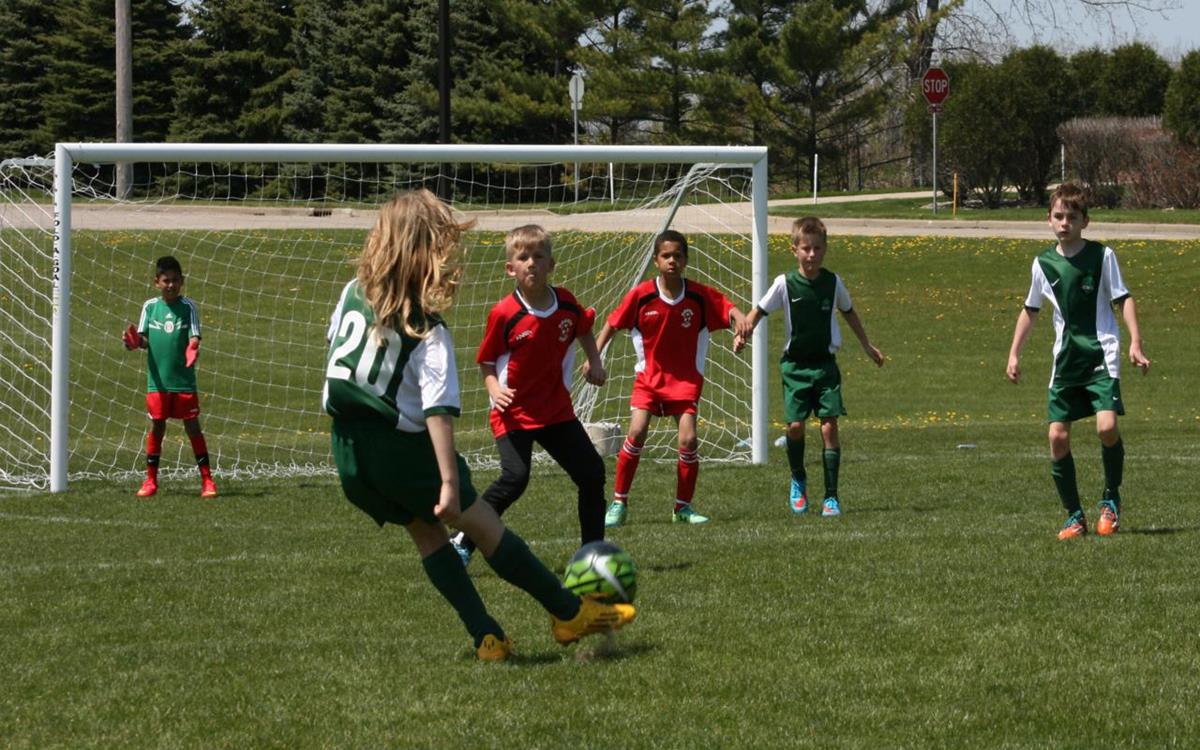 Located right by the South Bend International Airport, the Jr. Irish Soccer Complex offers convenient access in and out of the city for teams traveling by plane. This outdoor complex contains 12 soccer fields of natural turf playing surface, making it ideal for larger soccer tournaments requiring multiple simultaneous games and extra practice or warm-up space.
Sports: Soccer, lacrosse
Warren Golf Course
Set to host the highly-anticipated 2019 U.S. Senior Open, Notre Dame's Warren Golf Course makes for a prime location coveted by golf event planners. The course's facilities and 18 holes span over 250 acres of well-maintained grounds. Players golf on natural, native grass and among areas of preserved, wooded wildlife habitats. Although currently closed for construction, the driving range is scheduled to reopen by early August 2018 with improvements to its practice tee and target greens. Afterwards, celebrate your team's success at The Warren Grille, serving traditional golf course fare and specialty sandwiches.
Sports: Golf
Century Center
Sports event planners looking for a location that has it all will find their wishes granted at the Century Center on the St. Joseph riverbank. This convention center features over 100,000 square feet of flexible event space and 380 parking spaces to accommodate your next tournament or competition. Not only does the building connect via the herb garden Green Sky Bridge to a DoubleTree by Hilton Hotel, restaurant and Starbucks shop, but it also connects to a Courtyard by Marriott hotel by underground tunnel to put lodging and refreshment right at your team's fingertips.
Sports: Multi-use indoor space, wrestling, cornhole, martial arts and many more
Rolfs Aquatic Center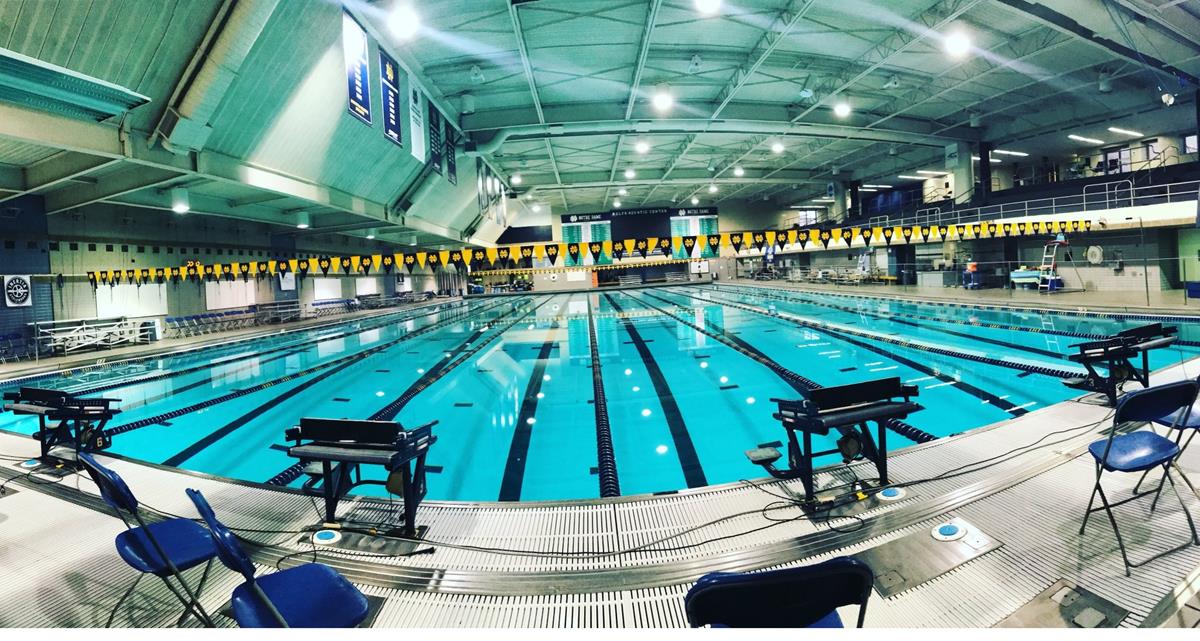 Your aquatic sports team is sure to make a splash at the Rolfs Aquatic Center located on Notre Dame's campus. This sophisticated facility seats 400 people in its 45,000-square-foot-space to watch the events taking place in its Olympic-sized swimming pool. In-pool features include adjustable bulkheads that divide the pool into different configurations, two two-meter diving boards and two three-meter diving boards. The natatorium also features modern technology like a video replay board for spectators to relive all the action in the pool below and deckside infrared heat lamps to keep swimmers warm in between events.
Sports: Swimming, diving, water polo
Things to do in South Bend Mishawaka
South Bend, Indiana offers more than just state-of-the-art sports facilities. It also offers the opportunities to make those unforgettable memories that will build teamwork and camaraderie among your team members that will transfer onto the court or field.
Your thrill-seeking teammates can take advantage of unique attractions like the East Race Waterway, the first man-made white water rafting course in North America, to form teams and work together to race against opposing teammates while keeping their own from capsizing. Players whose sweet tooth is insatiable after hours of exhausting games are likely to find a stop at The South Bend Chocolate Company for a tour of the factory and a look at the store's chocolates and sweets the perfect reward. A tour around the University of Notre Dame's campus experiencing the rich athletic tradition or a day at Four Winds Field watching the South Bend Cubs minor league baseball team play will inspire the most dedicated sports enthusiasts on your team to dream about a future in sports. And when the coaches and trip chaperones need to take some time for themselves, they can head to the newly opened Four Winds Casino – South Bend to try their luck at their collection of slot machines.
Planner Perspective
Great location, hotel selection and an abundance of first rate athletic facilities make south bend a great choice for tournament planners! My organization operates several weekend events each season in South Bend each year and have experienced great success. The hotel selection is abundant and reasonably priced which make it ideal for large tournament weekend.  The proximity to marketplaces such as Chicago, Detroit and Indianapolis make it a quick and convenient destination. The visitors' bureau does everything possible to insure that the welcome mat is rolled out for prospective organizers. Overall, I would be hard pressed to find another area that offers so much to my patrons.
Hockey Time Productions: Tony Prpic
The South Bend Mishawaka area has been a vital location to the success of our events for a number of years now.  The facilities, hotels, and surrounding atmosphere in the area have attracted teams from around the country to the tournaments we host locally.  South Bend Mishawaka is one of the top two or three locations we focus on nationally!
Pastime Tournaments: Tom Davidson
How to Get to South Bend Mishawaka
By car: South Bend's central location means it is conveniently accessed by all reaches of the country. Southern teams can reach South Bend through U.S. Route 31 which passes just west of the city by its airport. Teams coming from the east or west can utilize U.S. Route 20 or I-80/I-90 which both pass through the city and span from coast to coast.
By air: Recently expanded from just regional service to include international flights, South Bend International Airport is becoming a leading provider of travel to and from the area. Allegiant, American, Delta and United Airlines all operate out of the airport and offer direct service to 12 domestic locations.
Contact Information
Company Name: Visit South Bend Mishawaka
Sports Sales Manager: Nick Kleva
Title: Sports Market Development Manager
Telephone: 574-400-4021