Where 2 Play Western Region
Find the hottest soccer and lacrosse facilities in the Southern United States!
Download Issue
Western Soccer & Lacrosse
From stunning desert oases to fabulous coastlines along the Pacific, there's a unique destination at every turn in America's West. Imagine enjoying a soccer or lacrosse tournament with a range of backdrops, all nearby plenty of places for family fun.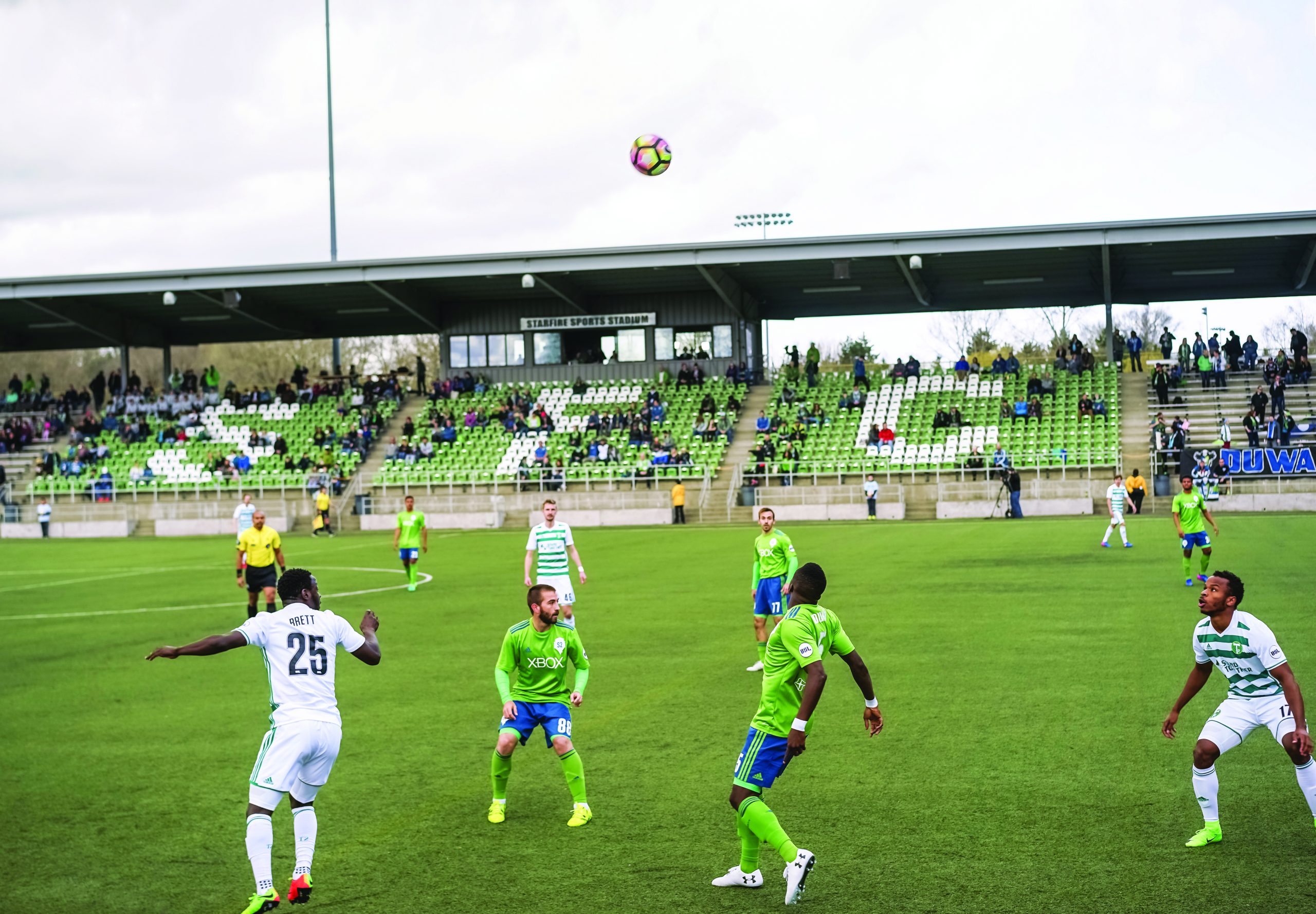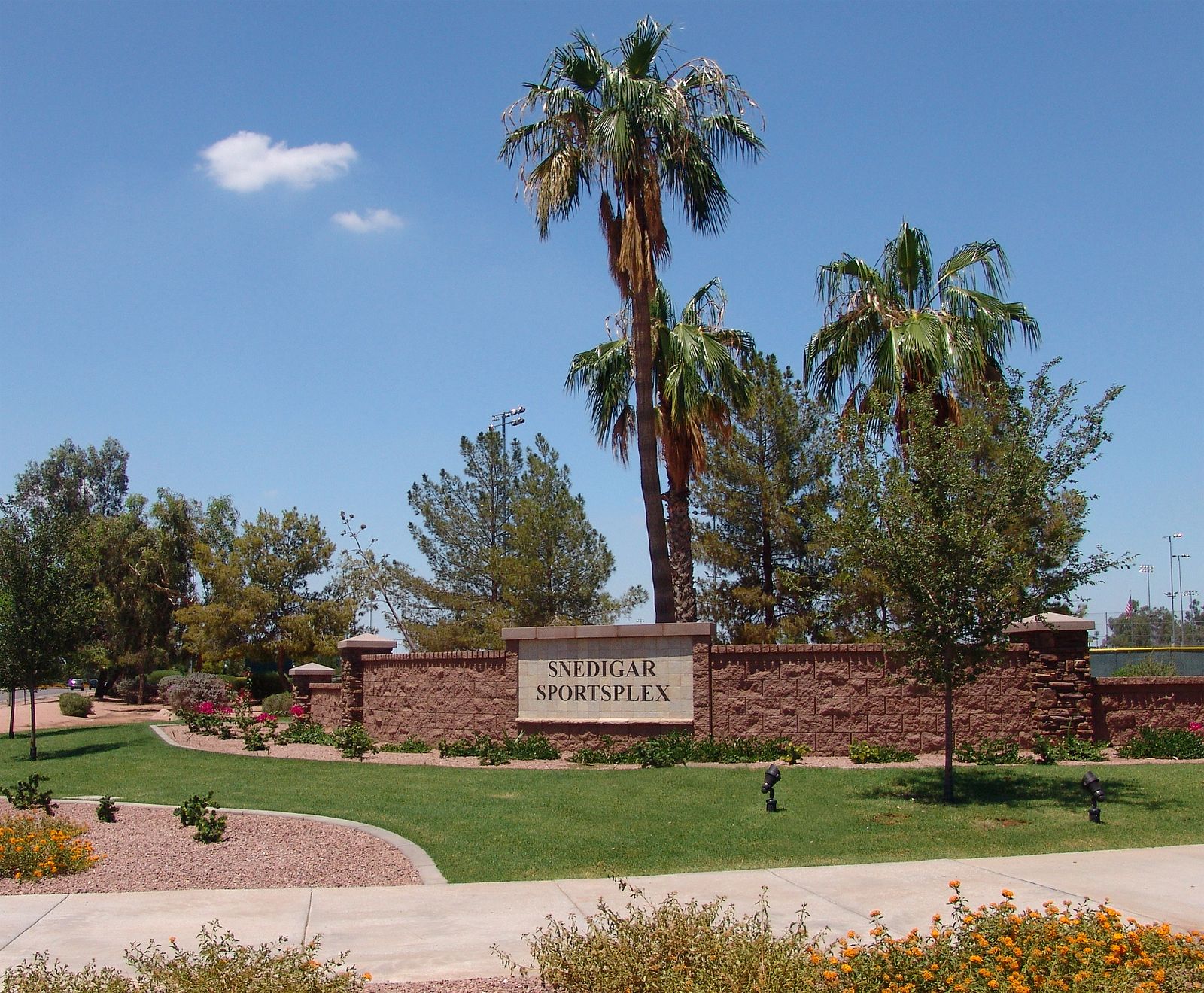 Snedigar Sportsplex
Chandler, AZ
Named after fallen Chandler Officer James Snedigar, the facility is an impressive 90-acre sports complex located in South Chandler. There is plenty of space for soccer and lacrosse tournaments of all sizes, with 12 multipurpose fields available. For families, the complex also features a playground, dog park, pavilions and relaxing walking trails.
Tumbleweed Park
Chandler, AZ
Located in South Chandler, Tumbleweed Park is a 250-acre master planned park that is an excellent venue for soccer and lacrosse events, festivals and more. In addition to the Chandler Tennis Center, the park features 11 multipurpose fields for tournaments, nine of which are lighted. There are also 14 covered ramadas and a 2.5 acre play structure.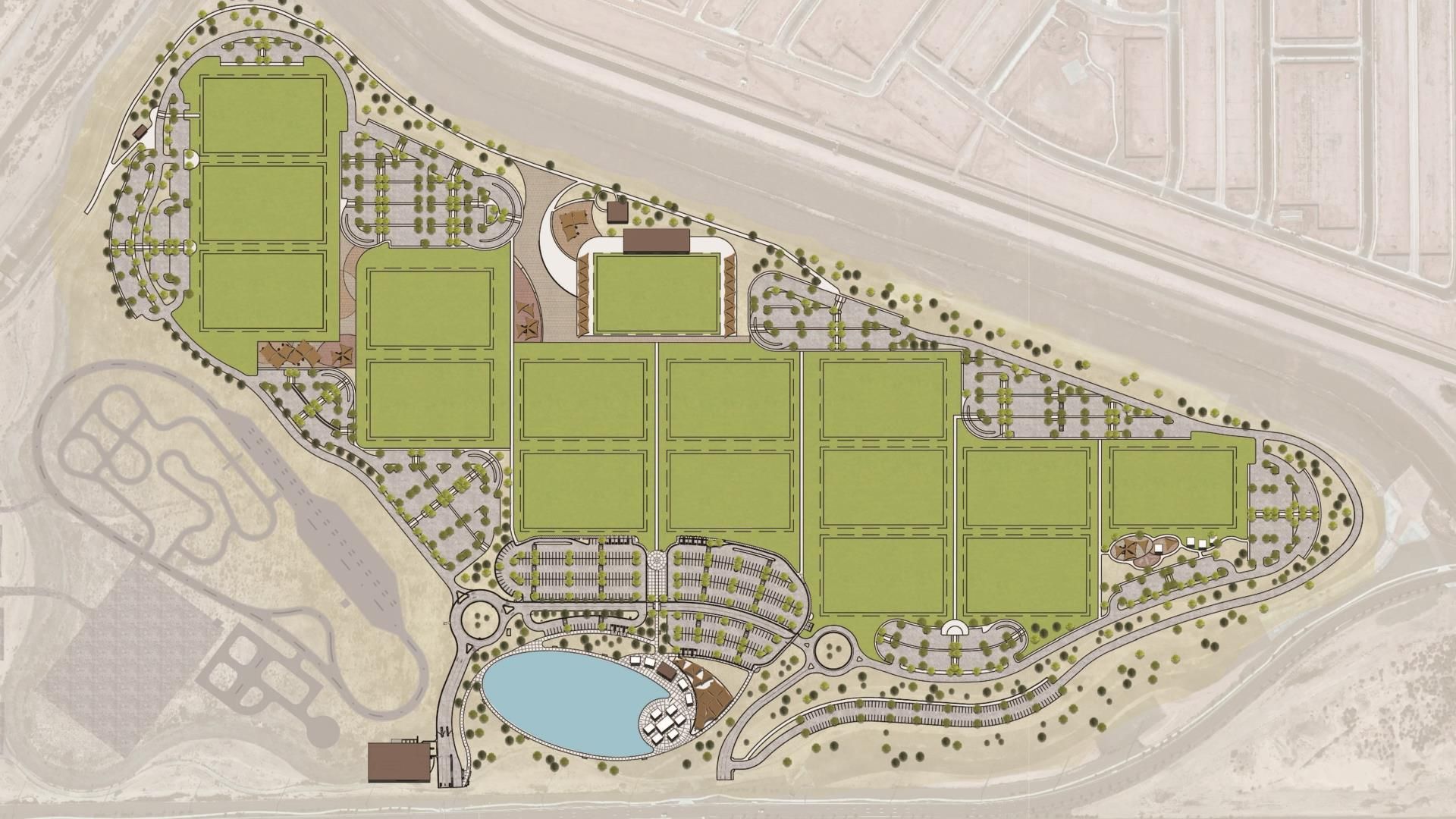 Desert Sky Park
Gilbert, AZ
This new park features four multipurpose fields, a fitness course, a kids' playground and a lake with plenty more to come. When construction is complete, Desert Sky Park has the potential to incorporate 16 fields including a Championship Field with integrated shade and seating, a sensory playground, plaza areas and more.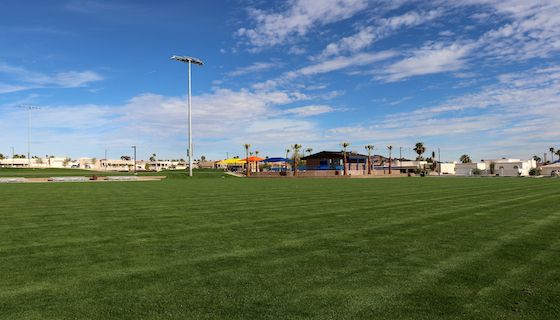 Cypress Park
Lake Havasu, AZ
Cypress Park has beautiful lake views and plenty of space to enjoy soccer, lacrosse, family playtime or just lying on the sprawling grass and taking in the sun and sights. This soccer tournament-friendly park hosts the only regulation 73-yard-wide soccer field in the city and other various sized soccer fields as well, ready for the next soccer or lacrosse event.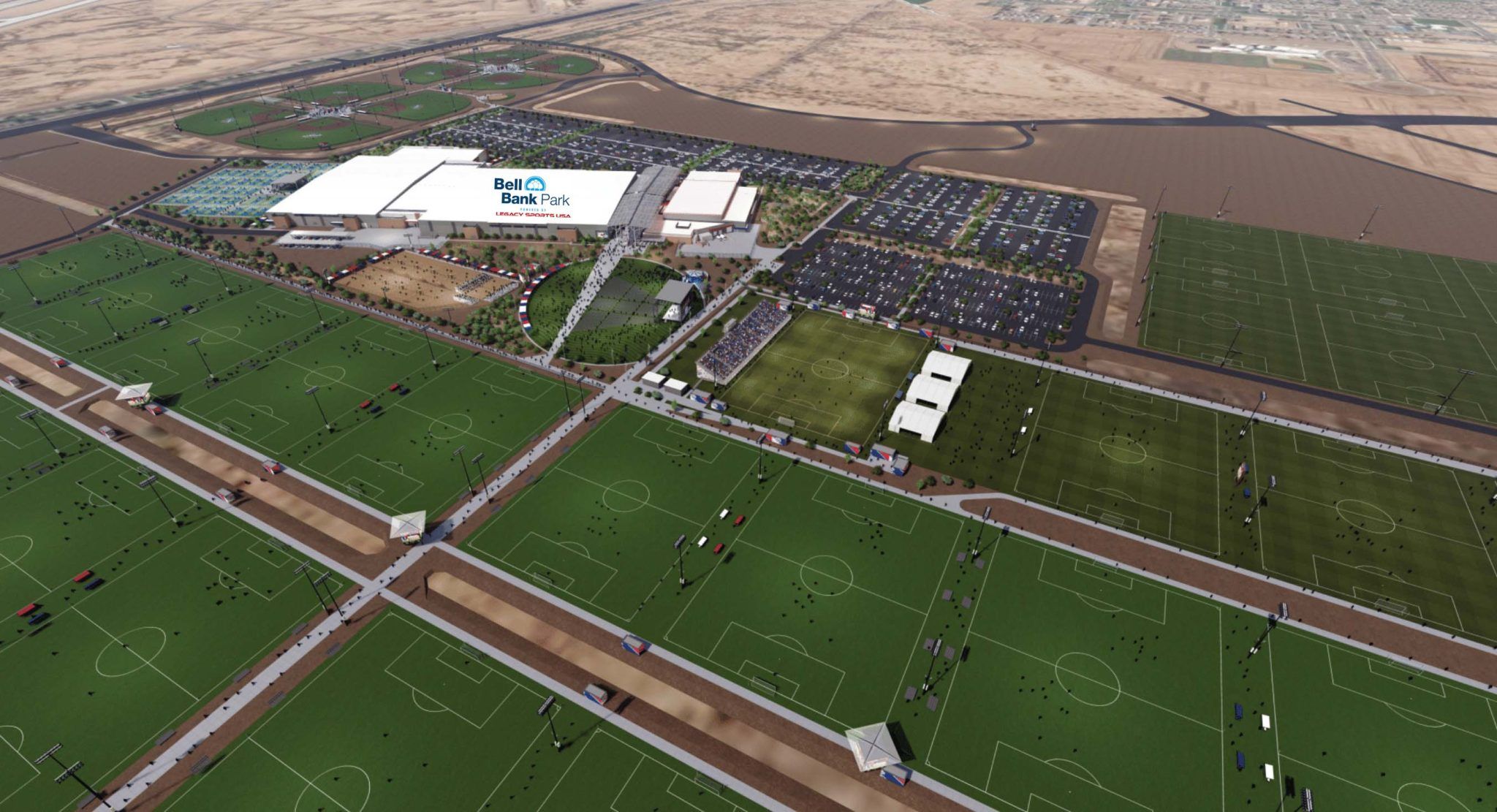 Bell Bank Park powered by Legacy Sports
Mesa, AZ
Bell Bank Park, powered by Legacy Sports, is a $300M, 320-acre multiuse family sport and entertainment complex of outdoor and indoor athletic facilities. The park features 35 turf fields and a 5,000-capacity stadium that's perfect for championship games. The park also features a 40,000-square-foot multi-purpose arena for indoor soccer.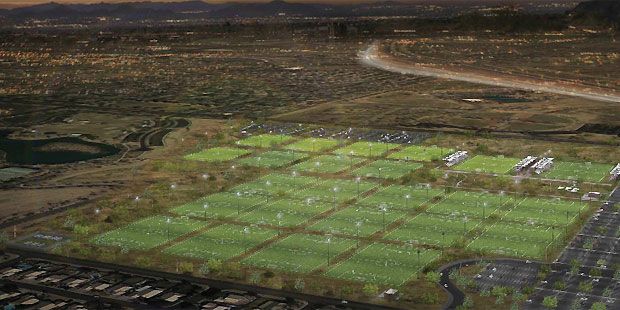 Red Mountain Soccer and Baseball Complex
Mesa, AZ
Located in northeast Mesa, Red Mountain features six professionallygroomed soccer fields that can also be utilized for lacrosse. A $30 million expansion of the complex, to be completed in 2024, will add 10 new regulation-size fields, six of which will be for youth soccer and lacrosse, along with expanded parking and more.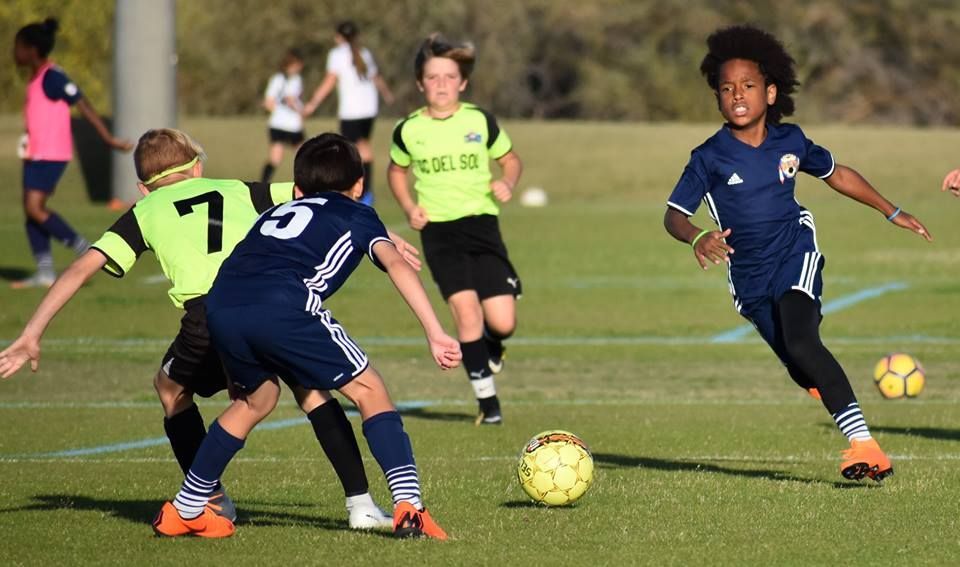 Reach 11 Sports Complex
Phoenix, AZ
Reach 11 is an ideal complex for all athletes to play, regardless of skill level. This massive venue features 18 lighted, multipurpose fields, 17 of which are grass and one artificial turf playing surface which is perfect for athletes comfortable playing in any environment. On-site concession facilities are plentiful.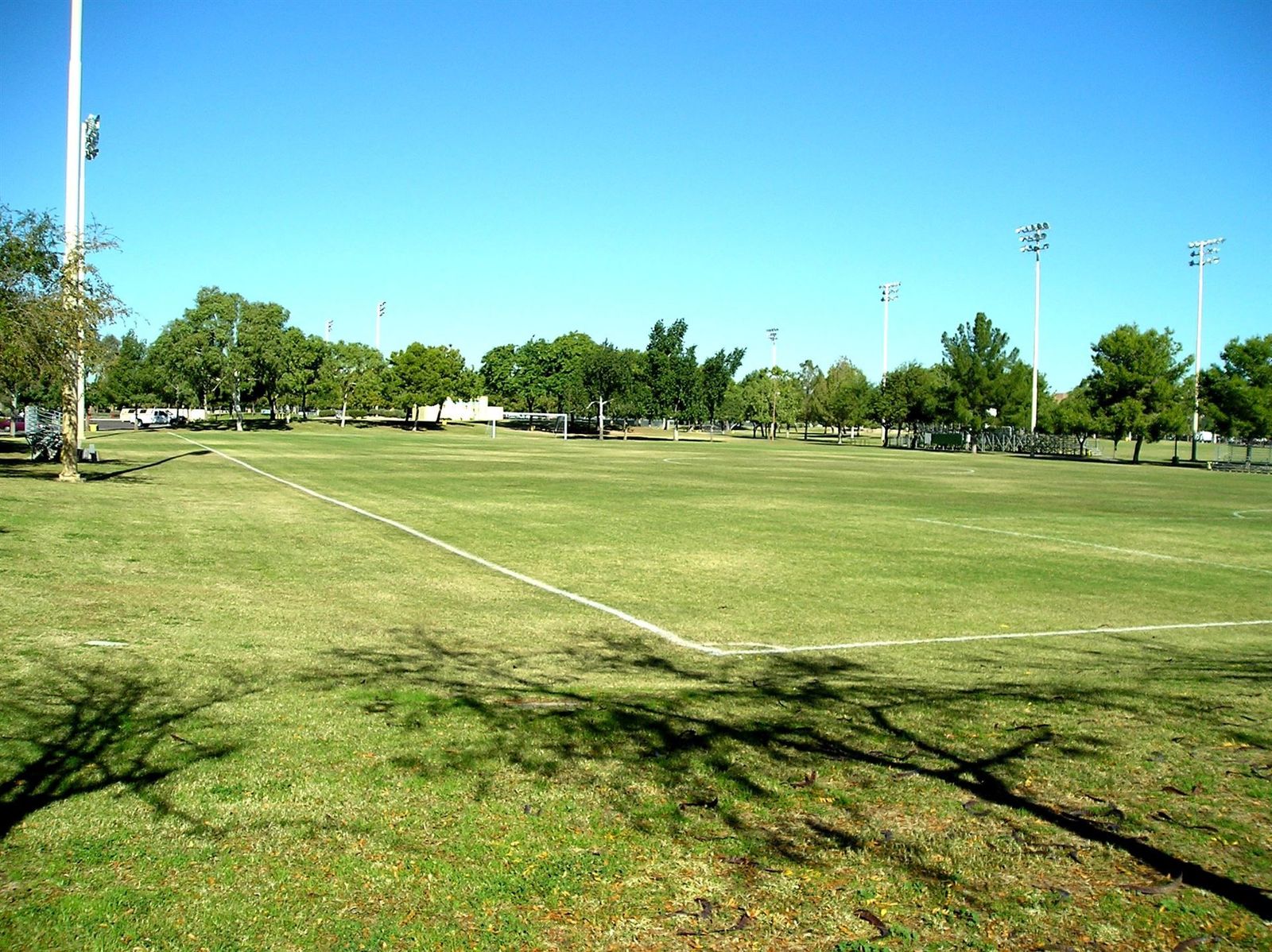 Rose Mofford Sports Complex
Phoenix, AZ
The Rose Mofford Sports lighted complex is perfect for late night competition of any kind. Featuring four soccer fields that can also be used for sports like lacrosse and rugby. For family fun, the complex is also home to a large dog park, perfect for relaxing walks and play.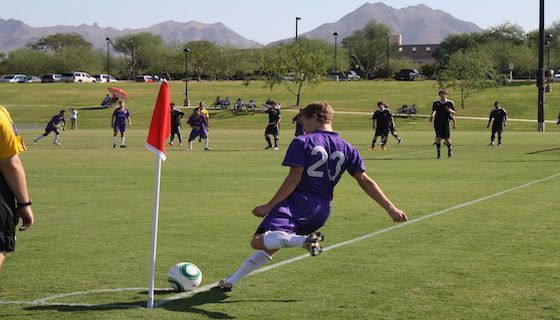 Bell94 & Scottsdale Sports Complexes
Scottsdale, AZ
The Scottsdale Sports Complex features six international sized fields, four of which are lighted, and four regulation-sized unlighted fields. The Bell94 complex, which opened in 2022, features six additional international-sized fields, five of which are lighted and ready for tournaments.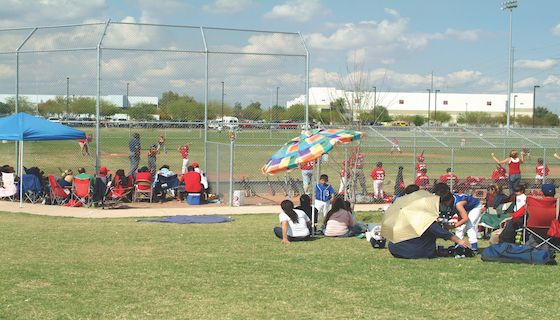 Tempe Sports Complex
Tempe, AZ
Built in 2005, Tempe Sports Complex is a 60-acre facility for sports tournaments and recreational activities. The complex includes seven multipurpose fields, all of which are well-suited for soccer and lacrosse, among other outdoor team sports like rugby. The complex also features many other fun options, including a large dog park great for families to enjoy.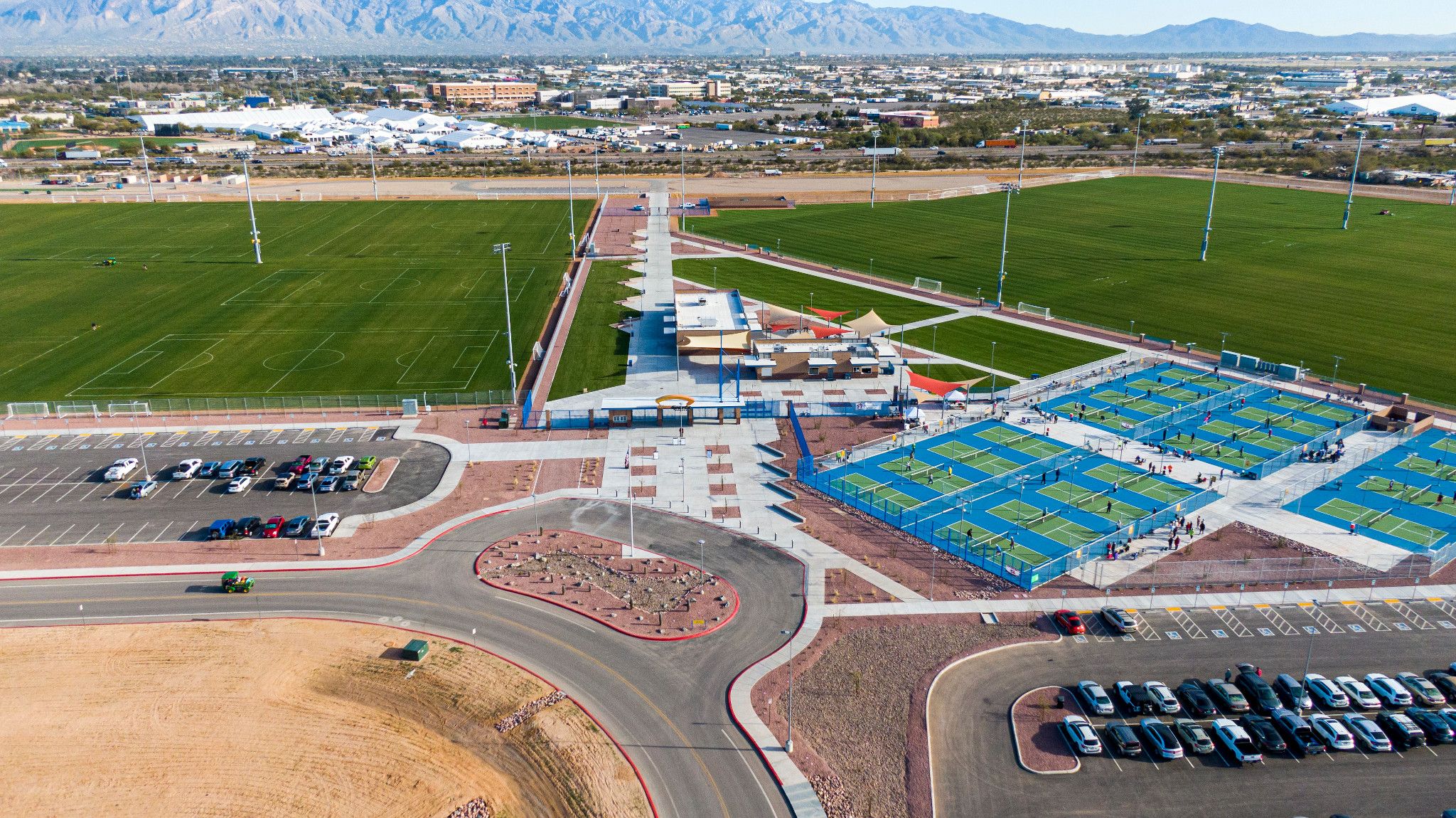 Kino Sports Complex
Tucson, AZ
Kino provides facilities for both professional and amateur level sports, as well as cultural events. As the largest entertainment venue in Southern Arizona, the complex is equipped to host tournaments, training sessions, fundraisers and more. The South Complex subsection includes accommodations for soccer, lacrosse, rugby and more.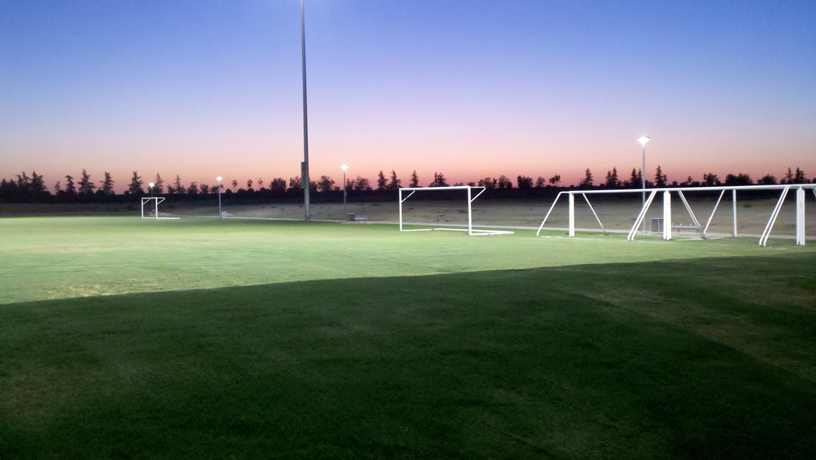 Kaiser Permanente Sports Village
Bakersfield, CA
With construction and renovations done throughout most of this decade, Kaiser Permanente has become one of the premier facilities throughout the western region. The complex boasts 12 soccer fields for any size tournament, a playground, concession stand, plentiful restrooms, walking trail, two ponds and ample parking.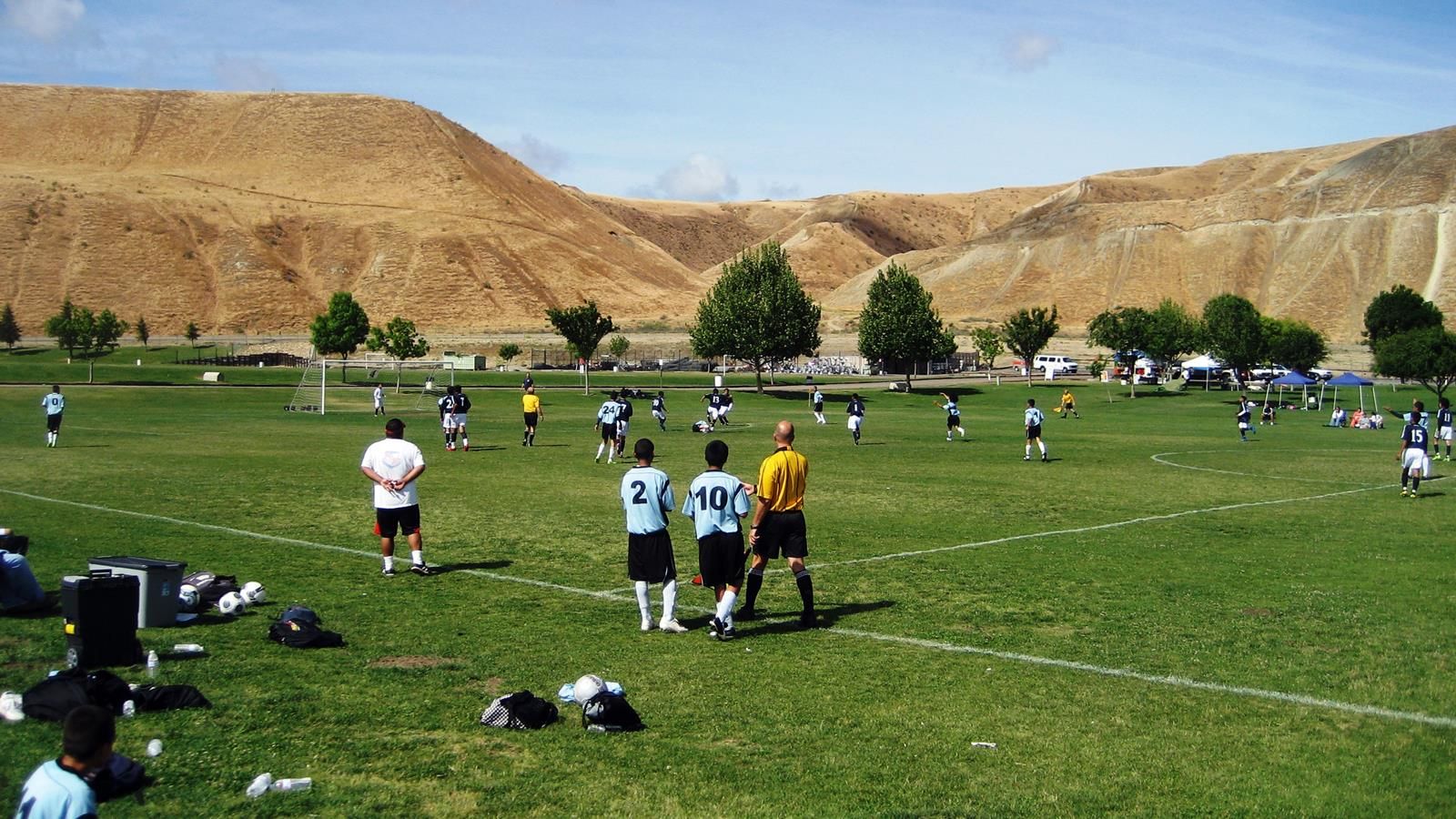 Kern County Sports Park
Bakersfield, CA
Spread across 86 acres with parking for more than 5,000 vehicles available, Kern County Soccer Park is a main fixture on any sports planner's list. The park is home to 24 regulation-size soccer fields, with four snack bars, eight built-in restrooms and more. All fields are lighted and a central headquarters building is available for use, primed and ready for the next lacrosse or soccer tournament.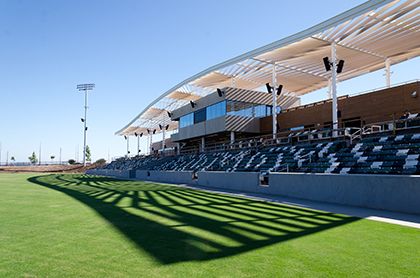 Orange County Great Park Sports Complex
Irvine, CA
Orange County Great Park has everything a sports planner wants, beginning with a championship soccer stadium with full amenities and seating for 2,500. The complex includes six lighted grass fields, a natural grass flex field, which can hold four natural grass full-size soccer fields and an additional six synthetic turf fields, which can also be used for lacrosse.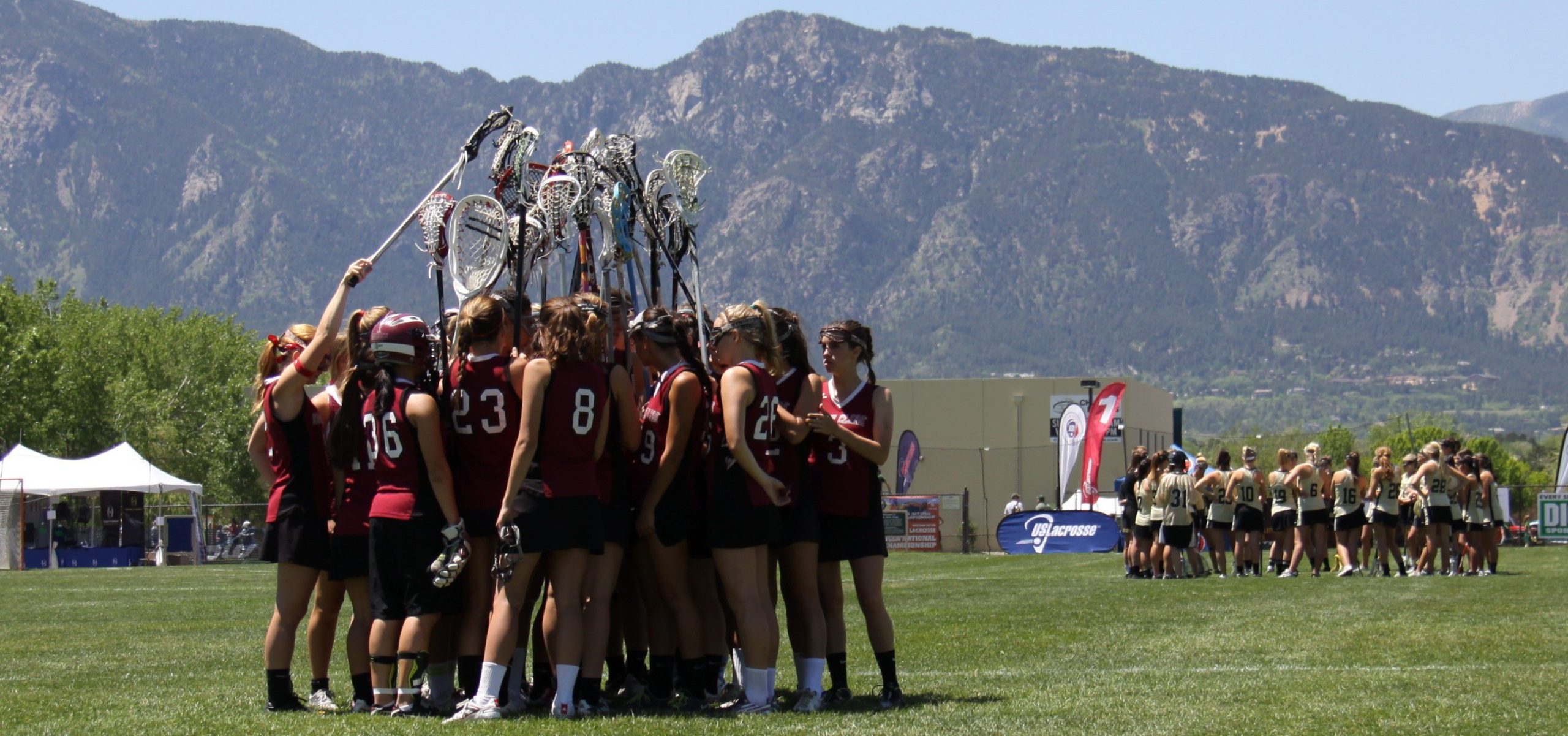 El Pomar Youth Sports Complex
Colorado Springs, CO
El Pomar hosts some of the most competitive soccer and lacrosse tournaments in the United States, including those presented by USA Lacrosse, Colorado Rush Soccer and Adrenaline Lacrosse. The complex offers a unique sense of flexibility, with eight natural grass soccer and lacrosse fields, a championship-sized artificial lighted turf field, on-site staff and a full concessions area.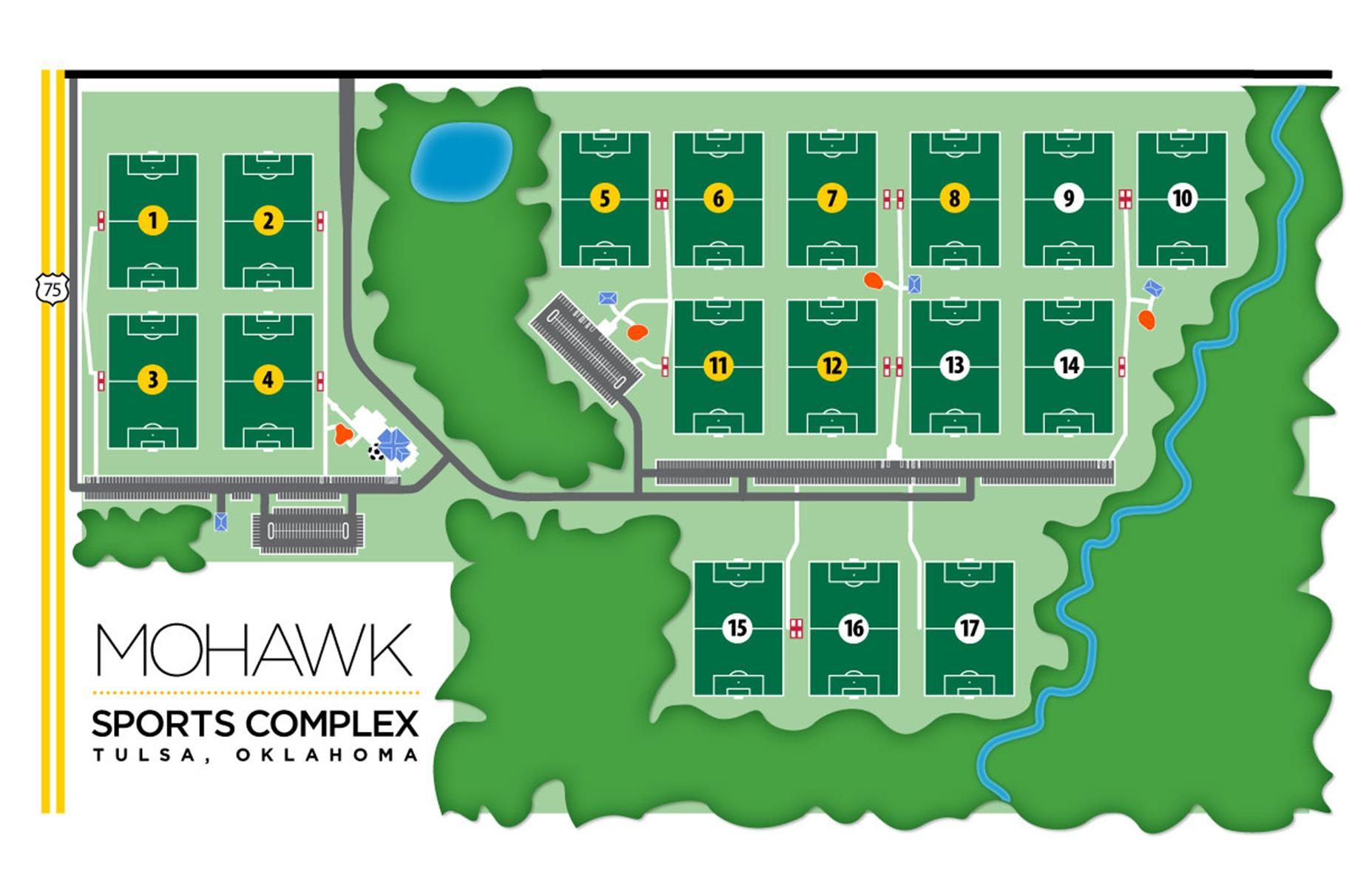 Mohawk Sports Complex
Tulsa, OK
This impressive venue is one of Oklahoma's premier sports complexes. Mohawk features 18 international size fields, 10 of which are lighted, a natural turf surface with advanced irrigation and drainage systems, plenty of spectator seating and a modern concession building. It also features a team warm-up area between fields and designated tournament headquarters and meeting room space.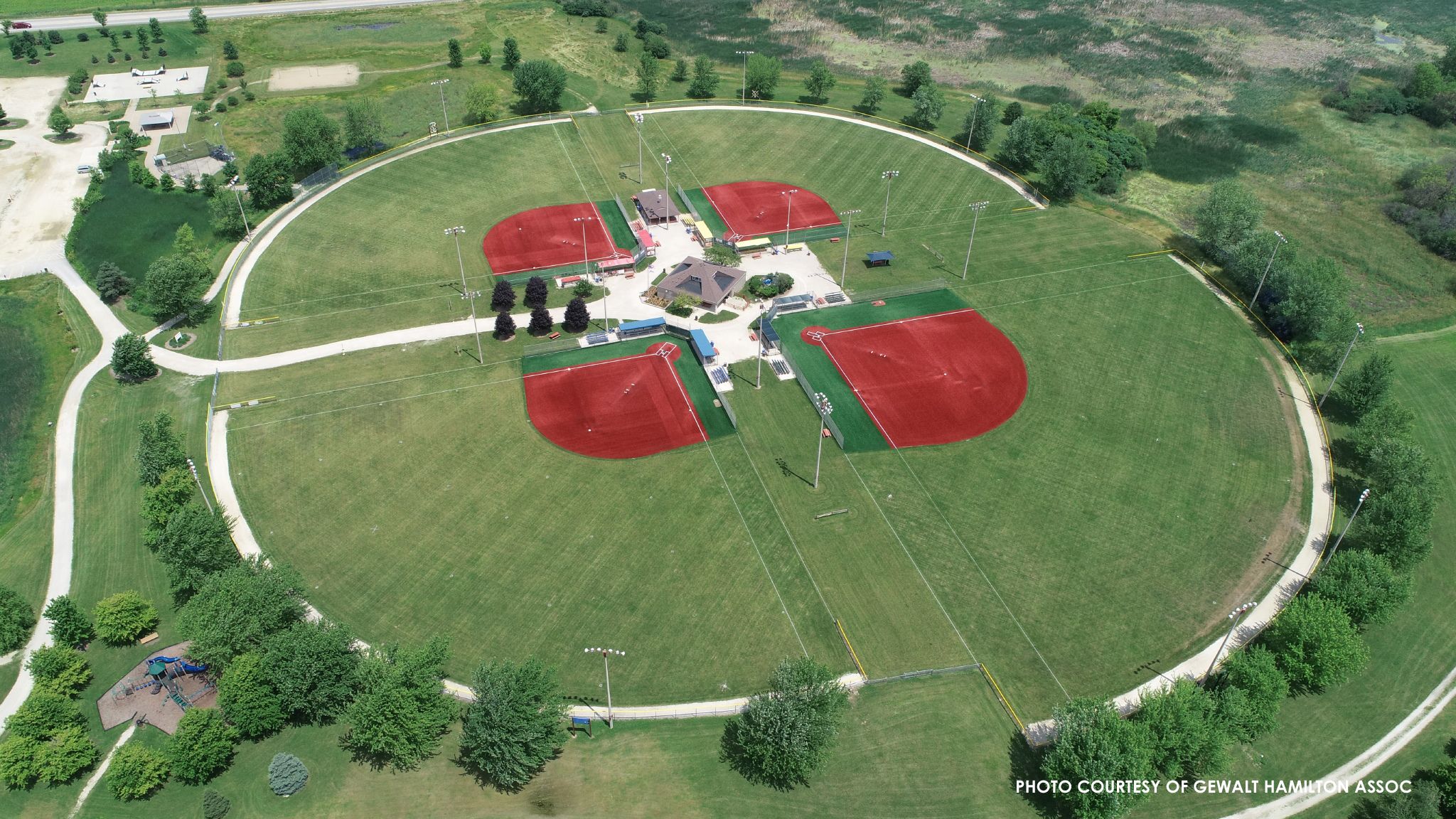 Corvallis Parks & Recreation
Corvallis, OR
Corvallis Parks & Recreation has your tournament covered with quality and quantity. Parks and Rec's Crystal Lake Sports Fields complex features an impressive display of outdoor fields, with up to 10 multipurpose options that can be used for soccer, lacrosse and rugby. Fields can be reserved April through October, weather and conditions permitting.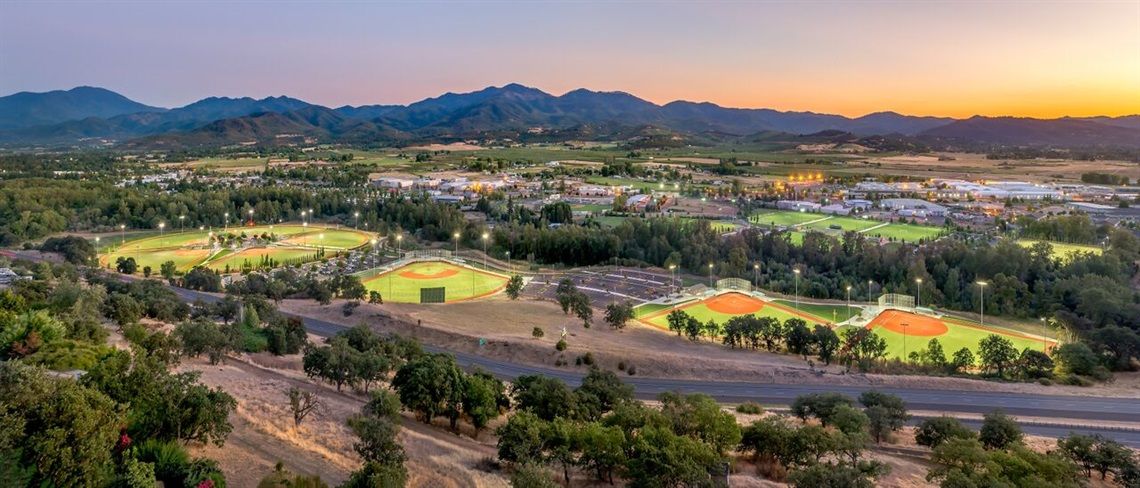 Lithia & Driveway Fields
Medford, OR
Lithia & Driveway Fields has hosted more than 47,000 youth and adult games and has generated more than $120 million in economic impact. Spanning 132 acres, it boasts 5 multipurpose fields for soccer and lacrosse. If it's not already clear that this place is a planner's fantasy facility, some other amenities include FieldTurf synthetic grass, Musco lighting and Daktronics scoreboards.
Pioneer Sports Park
Salem, OR
Home of the Capital Futbol Club, Pioneer Sports Park (PSP) comprises of eight full–size fields ideal for hosting large tournaments bolstered by a suitable climate. This tournament-ready complex showcases two FIFA Quality PROrated fields with three turf fields and hosts the Capital Cup Soccer Tournament annually in June.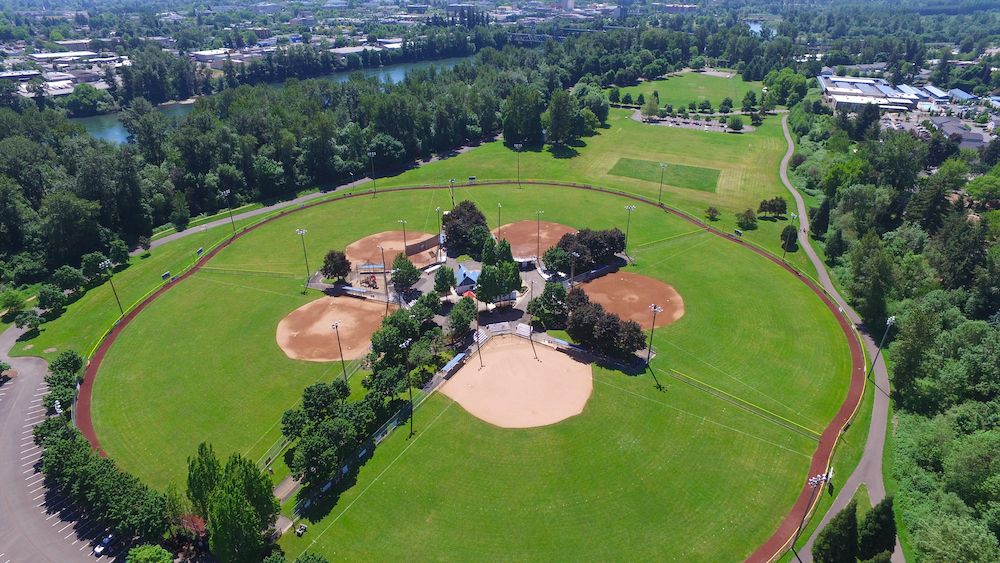 Wallace Marine Park
Salem, OR
Although renowned for its softball complex dubbed "Softball City, USA," within, Wallace Marine Park also boasts five multipurpose fields for soccer and lacrosse that fill the middle of the park, accommodating different levels of play. The park also has a playground with plenty of picnic tables and portable toilets.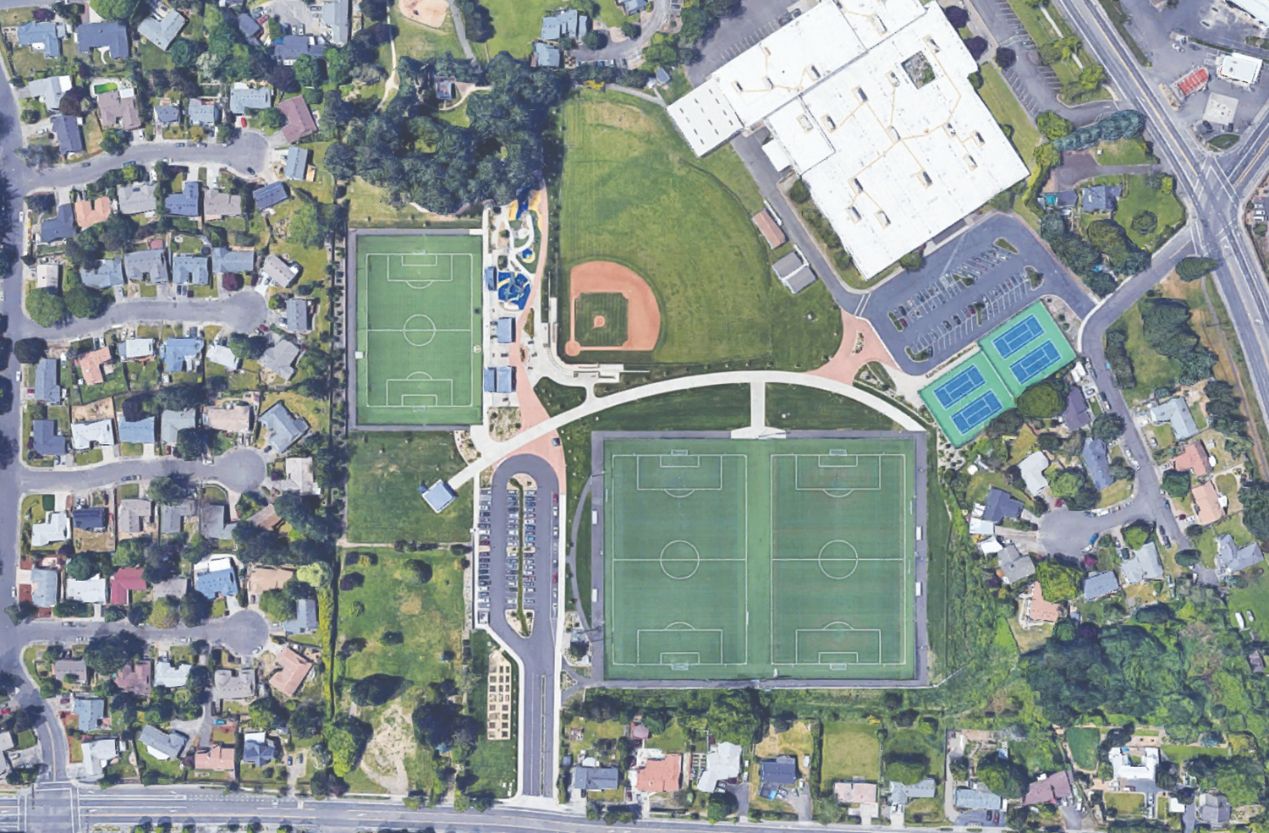 Mountain View Champions Park
Aloha, OR (Tualatin Valley)
This park was designed to be fully accessible to people experiencing disability with special design features such as wider pathways, no steps and the first synthetic sports field in Oregon created for athletes of all abilities. The park also features a synthetic turf pod with two full-sized multisport fields.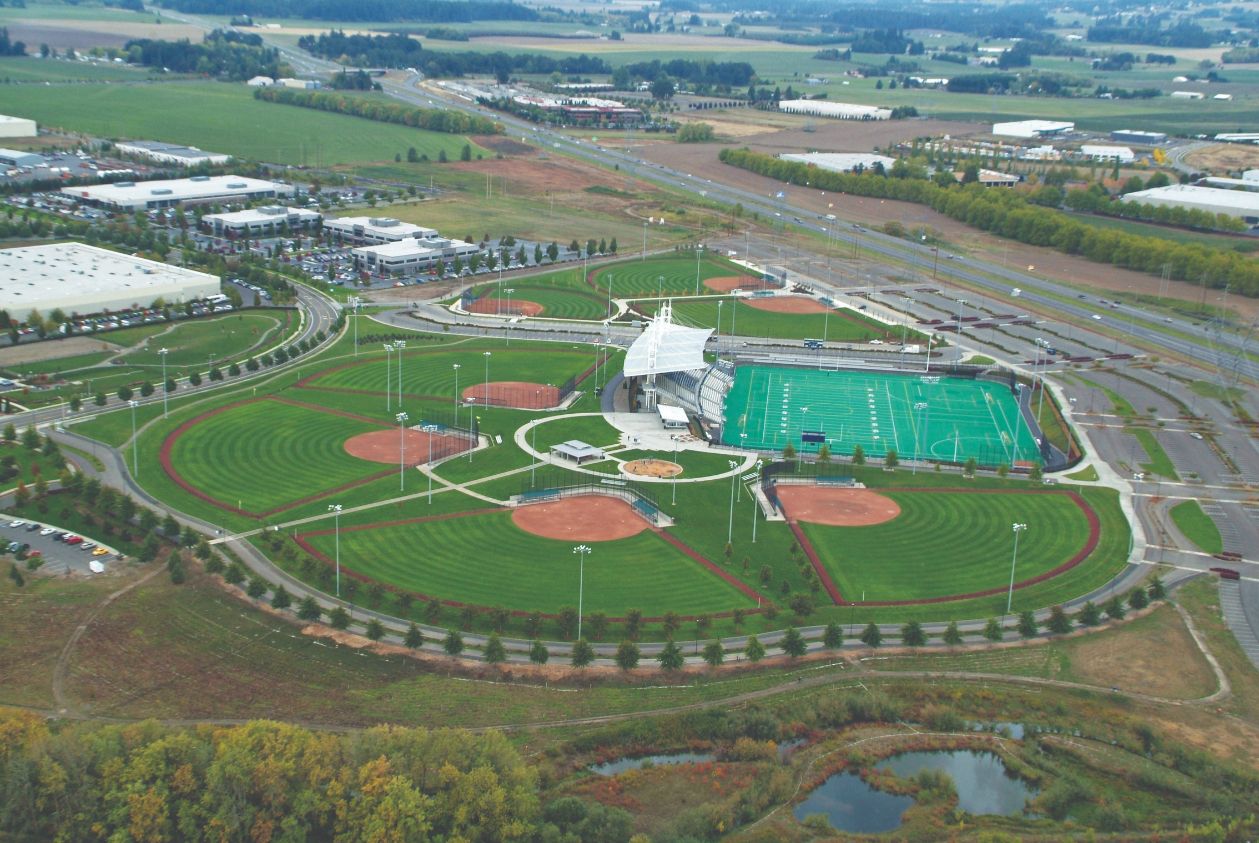 Gordon Faber Recreation Complex
Hillsboro, OR (Tualatin Valley)
With over 90 acres to play, Gordon Faber Recreation Complex began development in 1999 and today includes the 7,000-seat Hillsboro Stadium, home to Portland State University Football and Women's Soccer. Although much of the space is suited to the diamonds, the stadium can be split for tournaments and events suitable for soccer and lacrosse.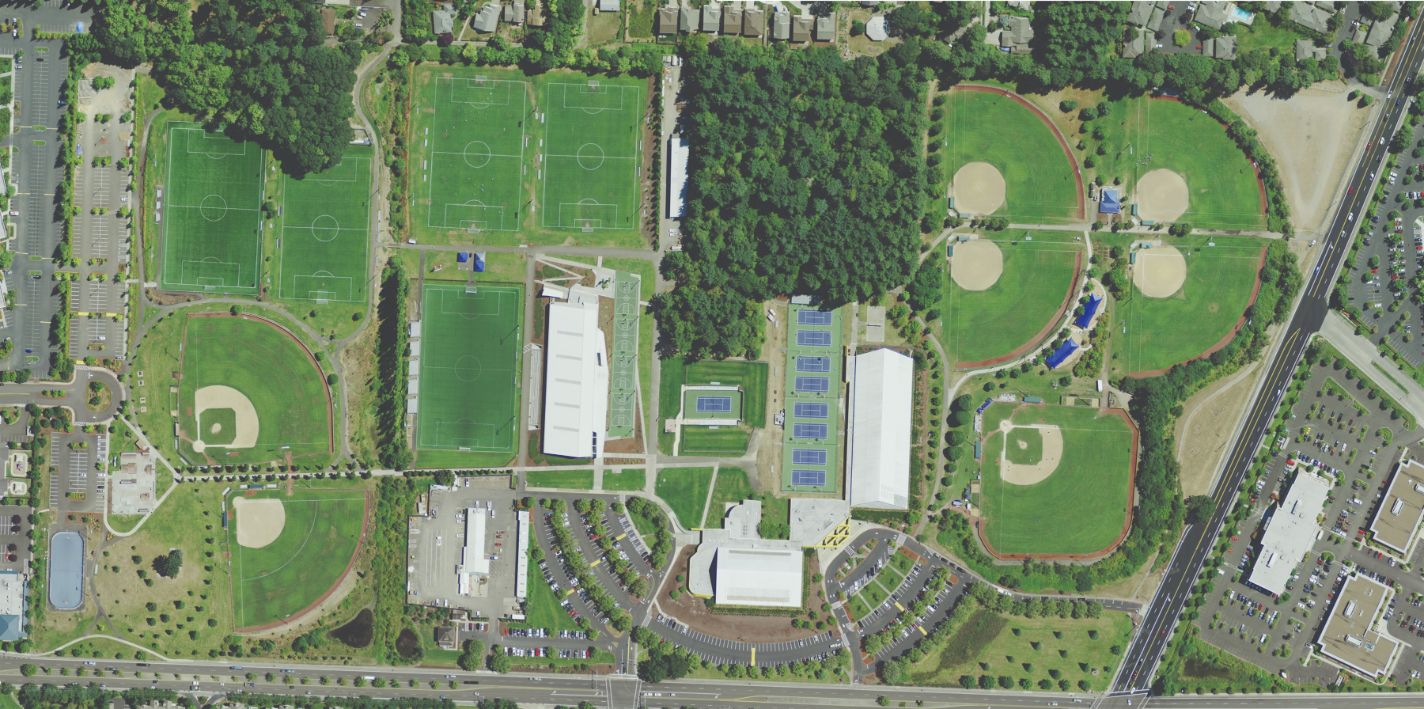 Howard M. Terpenning Complex
Beaverton, OR (Tualatin Valley)
This 92-acre complex receives an estimated 650,000 visitors per year. Named for visionary Howard M. Terpenning (the district's GM from 1959-1992), this complex includes five multipurpose fields for soccer, lacrosse and other outdoor team sports. Along with plentiful parking, the complex also features a wonderful 10-acre natural area.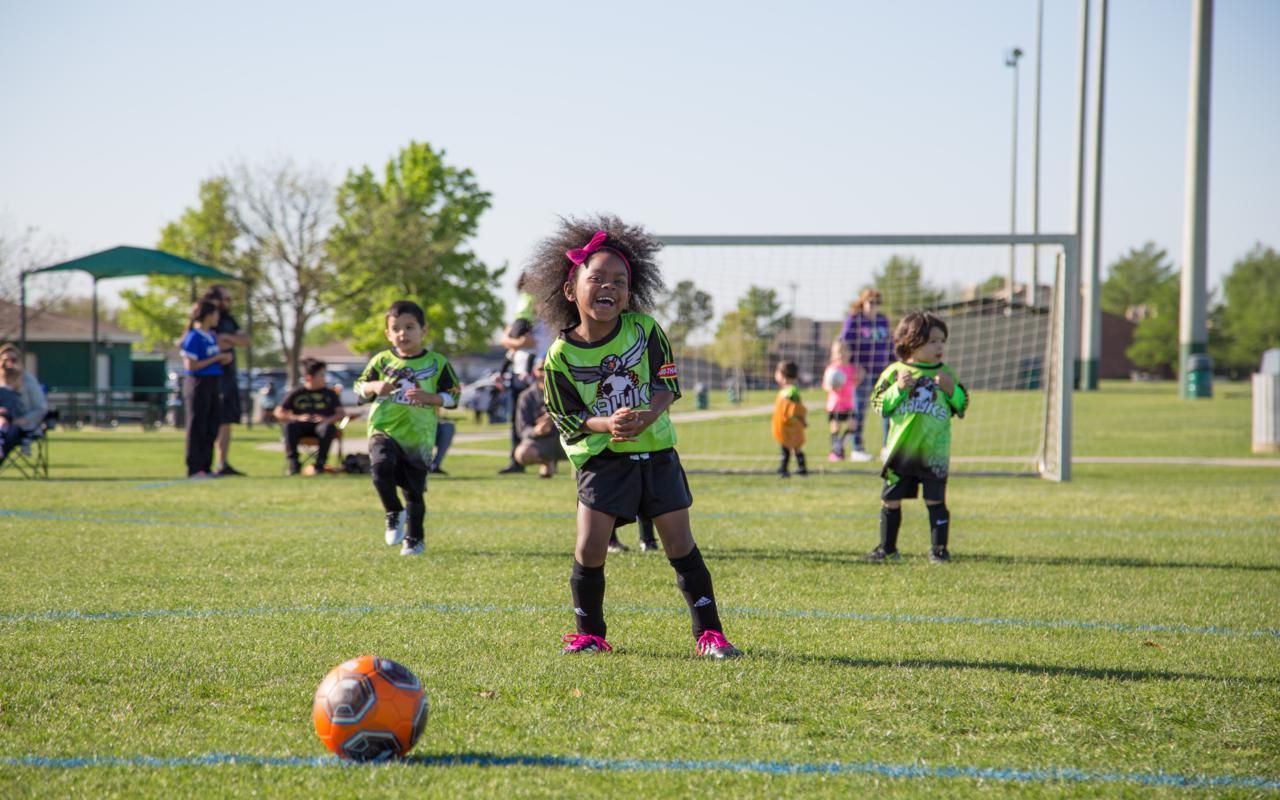 Harold Patterson Sports Center
Arlington, TX
The 135-acre Harold Patterson Sports Center is perfect for hosting tournaments and events year-round. The site features 15 multipurpose fields suitable for soccer, lacrosse, kickball and everything in between. Off the field, teams can enjoy picnics at the pavilion, various concessions or the plethora of dining options located across the street at Arlington Highlands outdoor mall.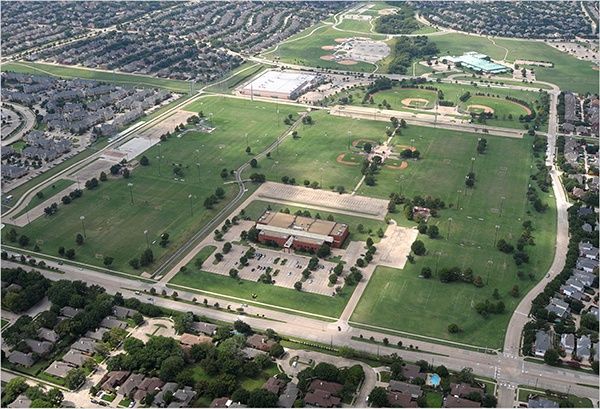 Carpenter Park is a picturesque, newly renovated park that can be used for a variety of sports, including soccer and lacrosse. The park features 11 lighted full-sized fields, including four gated synthetic turf fields. Visitors can also enjoy trails surrounding the park which are great for hikers and walkers year round with ideal weather conditions.
Russell Creek Park
Plano, TX
Although Russell Creek Park is renowned for its dedication to cricket, the park is also home to 20 full-size fields for soccer, lacrosse, rugby or football tournaments and events. The fields range from 70' by 120' or 75' by 120' along with two at 50' by 80'. 10 of these fields are lighted and have shaded bleacherettes.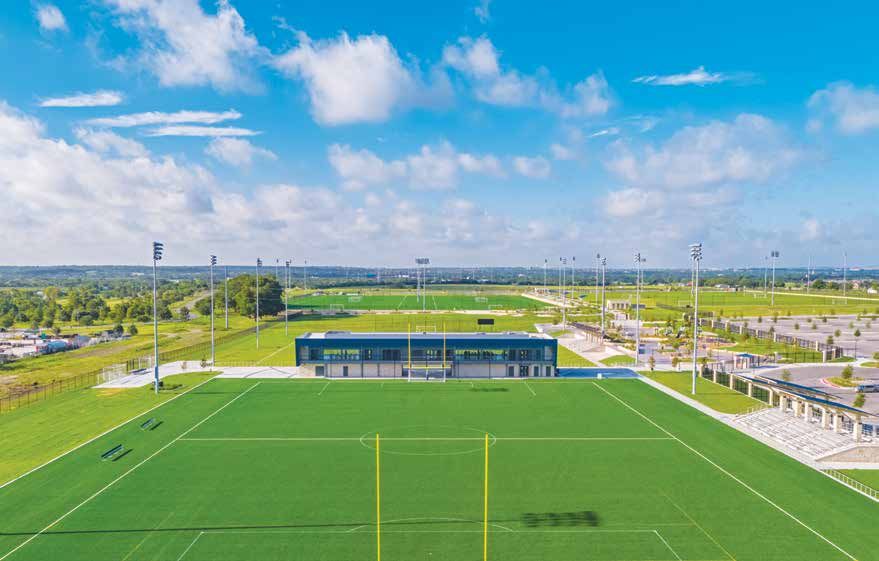 Round Rock Multipurpose Complex
Round Rock, TX
This complex is an elite sports facility that has hosted several major events, including the Big 12 Soccer Championship. It features four natural grass multipurpose fields and one natural grass championship field, four synthetic turf multipurpose fields and one synthetic turf championship field.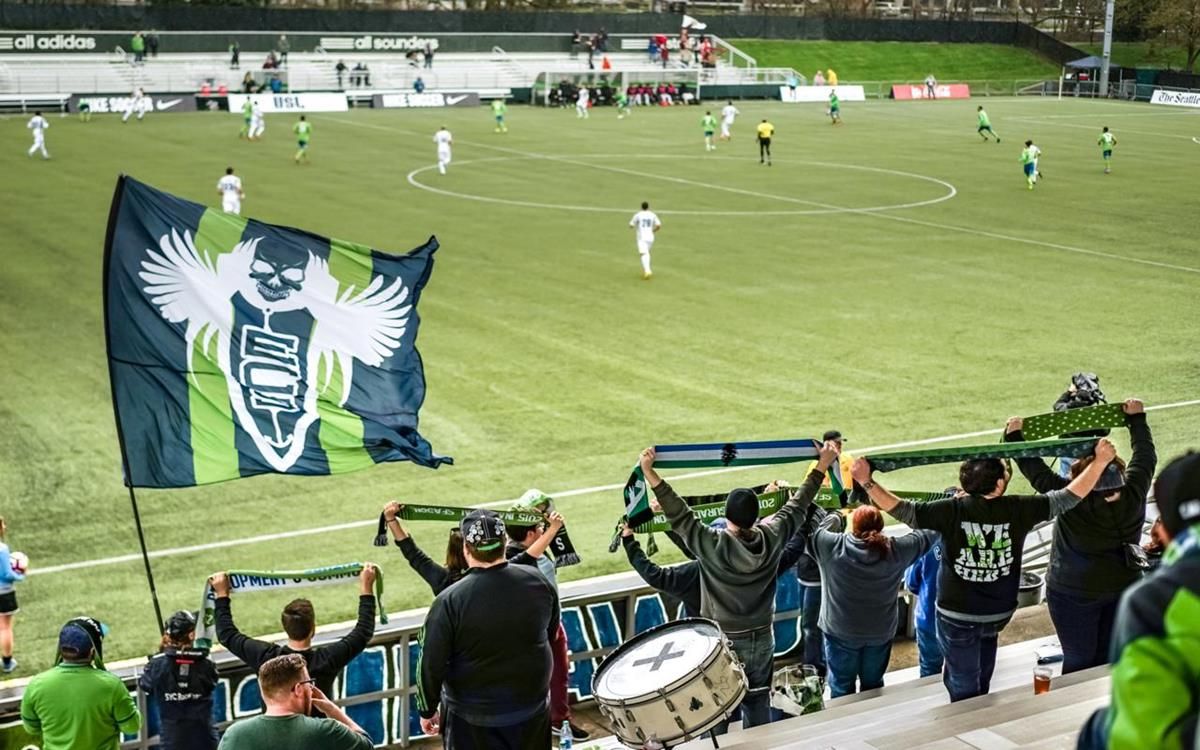 Starfire Sports
Seattle Southside, WA
One of the largest synthetic-turf soccer complexes in the nation, Starfire Sports is the home of numerous soccer and rugby teams, including the practice field of the Seattle Sounders FC and home to Major League Rugby's Seattle Seawolves. Featuring five grass fields, two indoor FieldTurf fields and seven outdoor FieldTurf fields, the complex's main stadium also has a 4,500 capacity.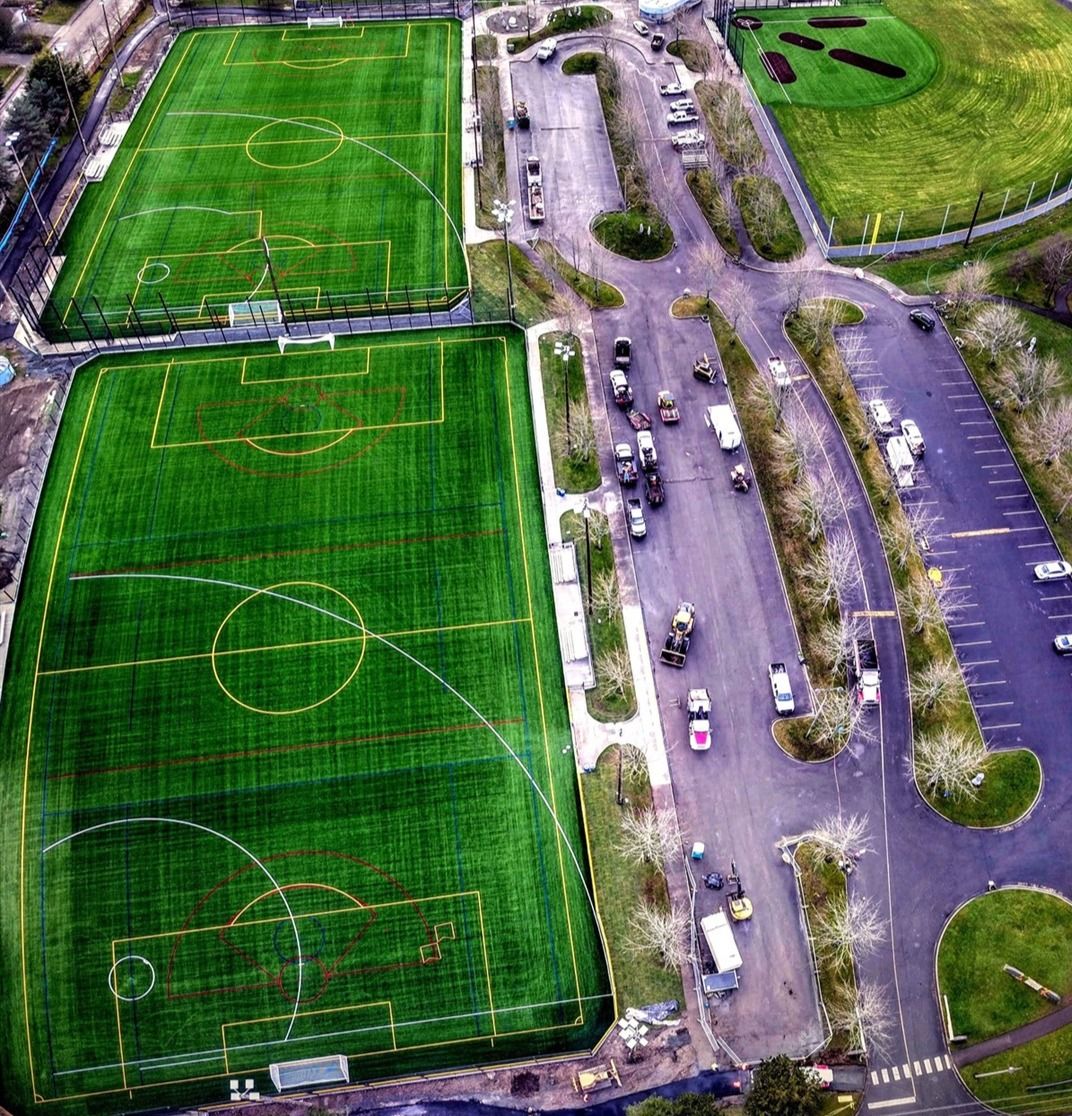 Meadowdale Playfields Sports Complex
Snohomish County, WA
Meadowdale Athletic Complex plays home to many Adult Softball, Youth Baseball and Fastpitch tournaments throughout the year. The complex features two lighted multipurpose turf fields, which are lined for soccer, lacrosse and more. It's also equipped with concession stands, walking trail, play structure, picnic facilities, and plentiful parking.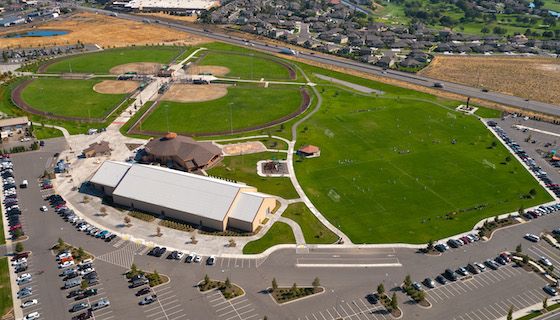 Southridge Sports And Events Complex
Tri-Cities, WA
The Southridge Sports and Event Complex is a 52-acre multi-sport development in Kennewick offers a variety of sporting, recreation and event amenities to enjoy. It offers an indoor sports pavilion and several multipurpose fields for soccer and lacrosse, as well as the Gesa Carousel of Dreams, a world-class piece of art the whole family can experience.
Sozo Sports Complex
Yakima Valley, WA
Sozo Sports Complex is home to 13 multipurpose outdoor fields, making it a powerhouse for any competition throughout the Pacific Northwest hosting tournaments and events in several sports like soccer and lacrosse. The complex also has Sozo Arena, a 90,000-square-foot indoor facility that holds up to four futsal courts.