Where 2 Play Southern Region
Find the hottest soccer and lacrosse facilities in the Southern United States!
Download Issue
Southern Soccer & Lacrosse
America's South is renowned for many things, particularly its rich and distinctive culture, delicious food and great music. Enjoy the best the South has to offer, all while enjoying tournaments and events at some of the best facilities for all ages and skill levels.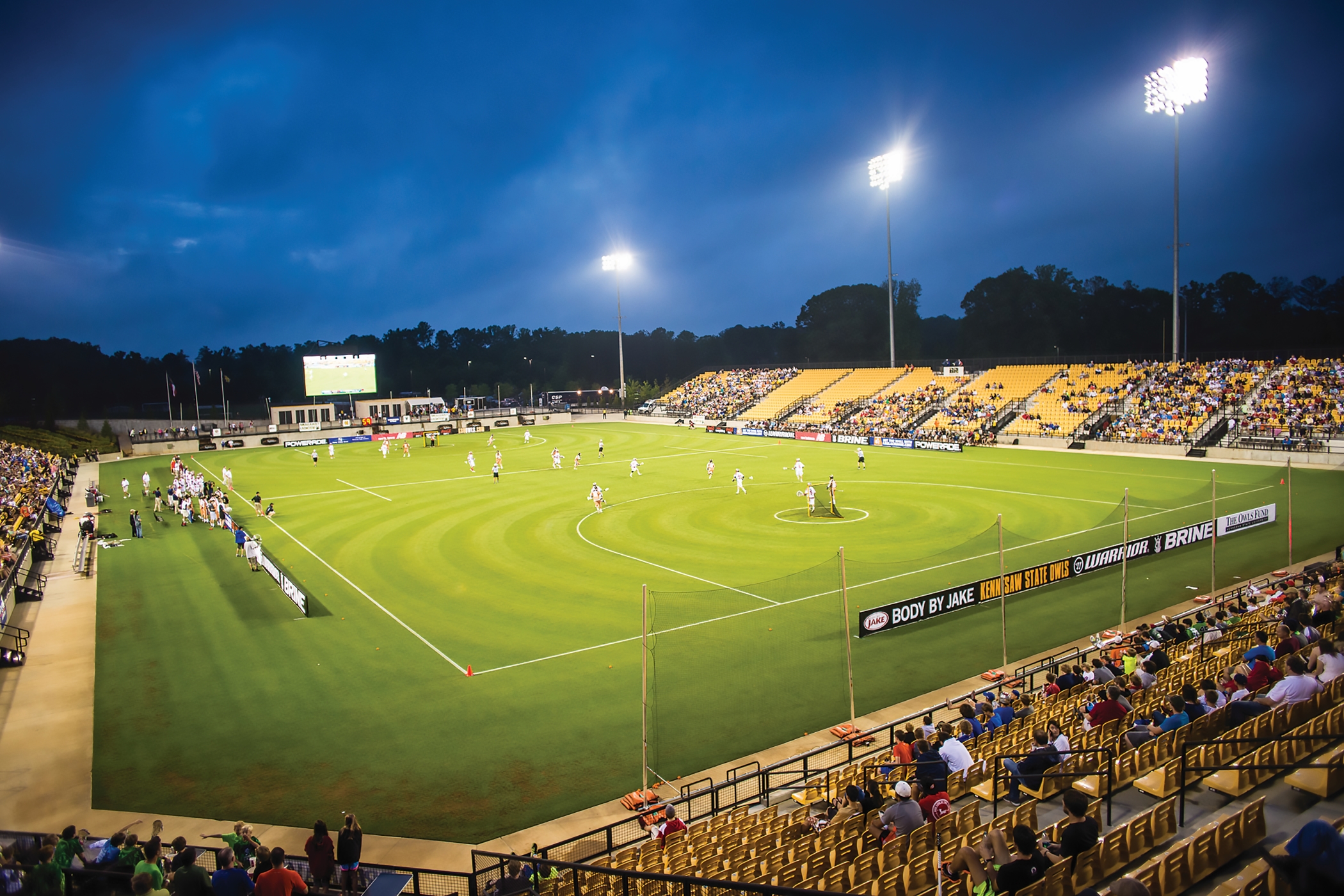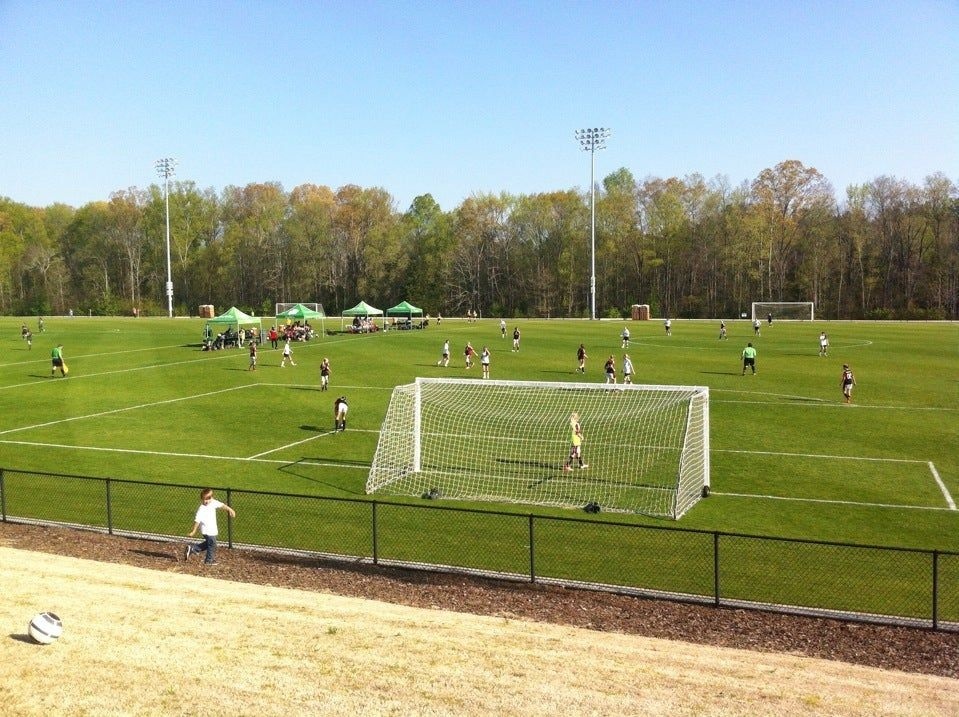 Jack Allen Recreation Complex
Decatur, AL
Jack Allen Recreation Complex features 10 beautifully maintained international size soccer fields, lighting, a playground area, disc golf course, full-service concession stand and an easily accessible walking trail. Situated on 77 acres of manicured turf, the complex has hosted numerous soccer events, such as the NAIA Women's Soccer championships.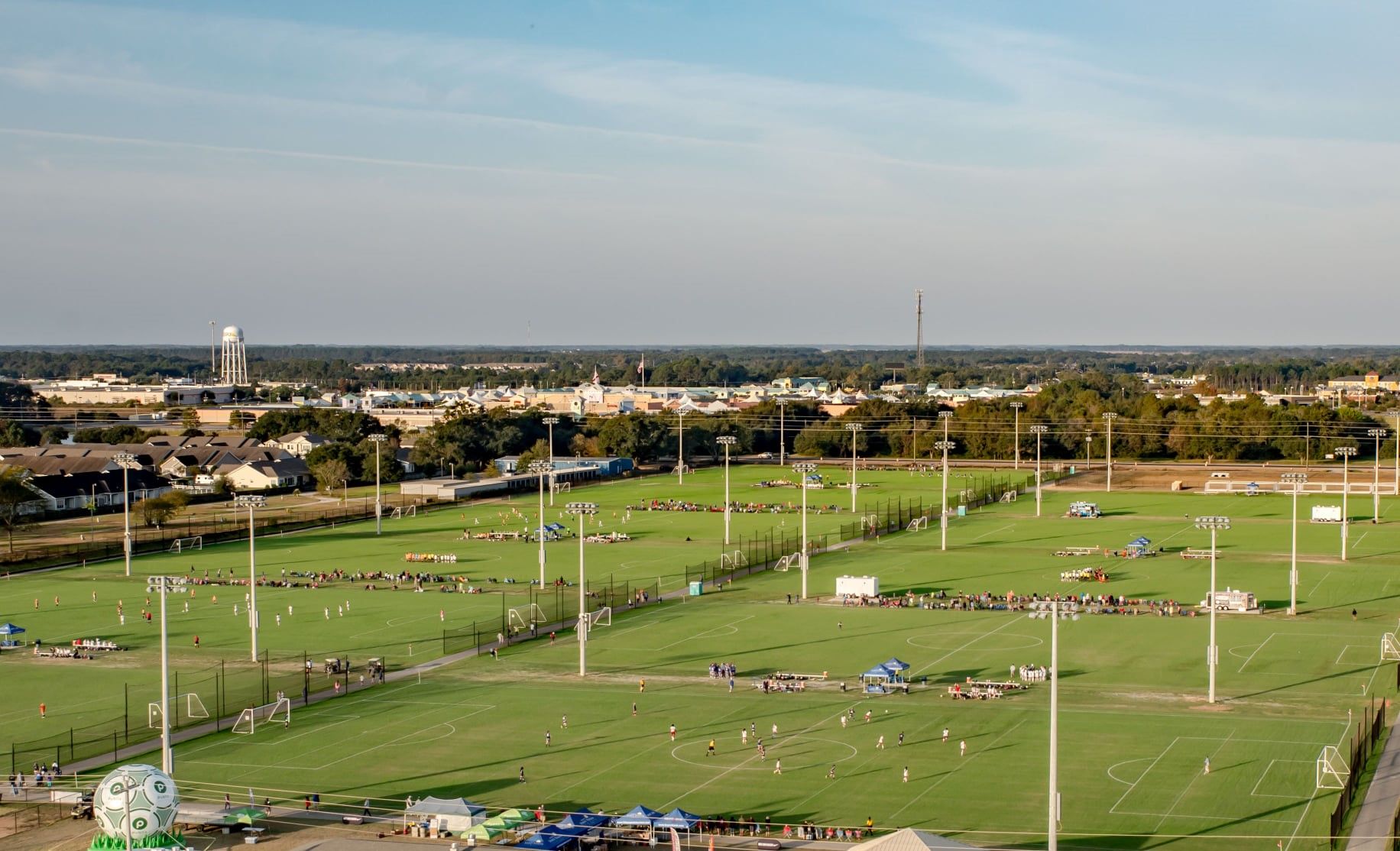 Foley Sports Tourism Complex
Foley, AL
The Foley Sports Tourism Complex includes 15 high-quality grass fields for soccer, lacrosse and more. They include team benches, lighted fields and a lightning detection system. The championship stadium has lighting and seating for up to 1,000. The Event Center offers an additional 55,000 square feet of indoor floor space.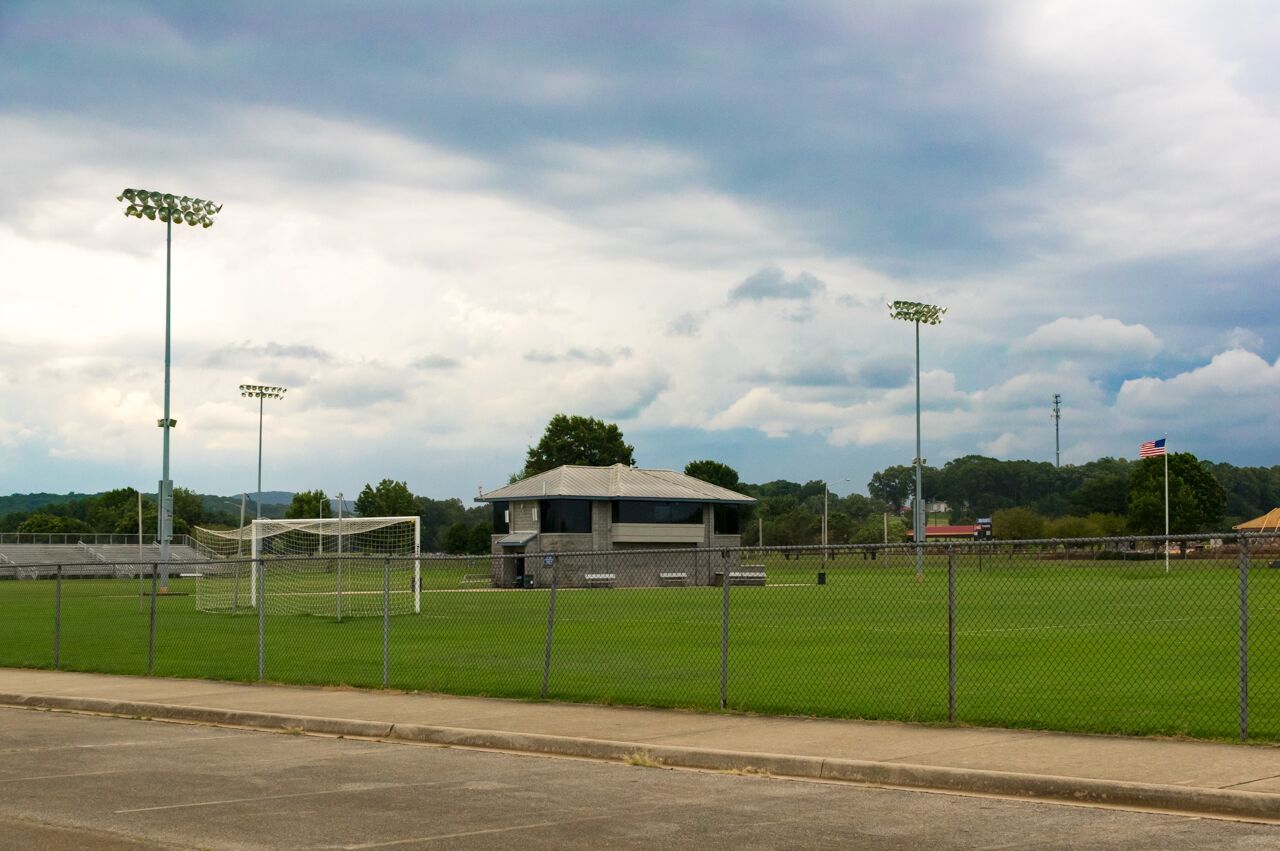 John Hunt Park
Huntsville-Madison, AL
John Hunt Park is the centerpiece of nearly 1,000 acres of recreational facilities in the geographical center of Huntsville. The park has hosted the Alabama High School Soccer Championships since 2001 at its two lush championship fields, with seating for more than 2,000 fans. The park also includes other multipurpose fields well prepared for soccer or lacrosse tournaments.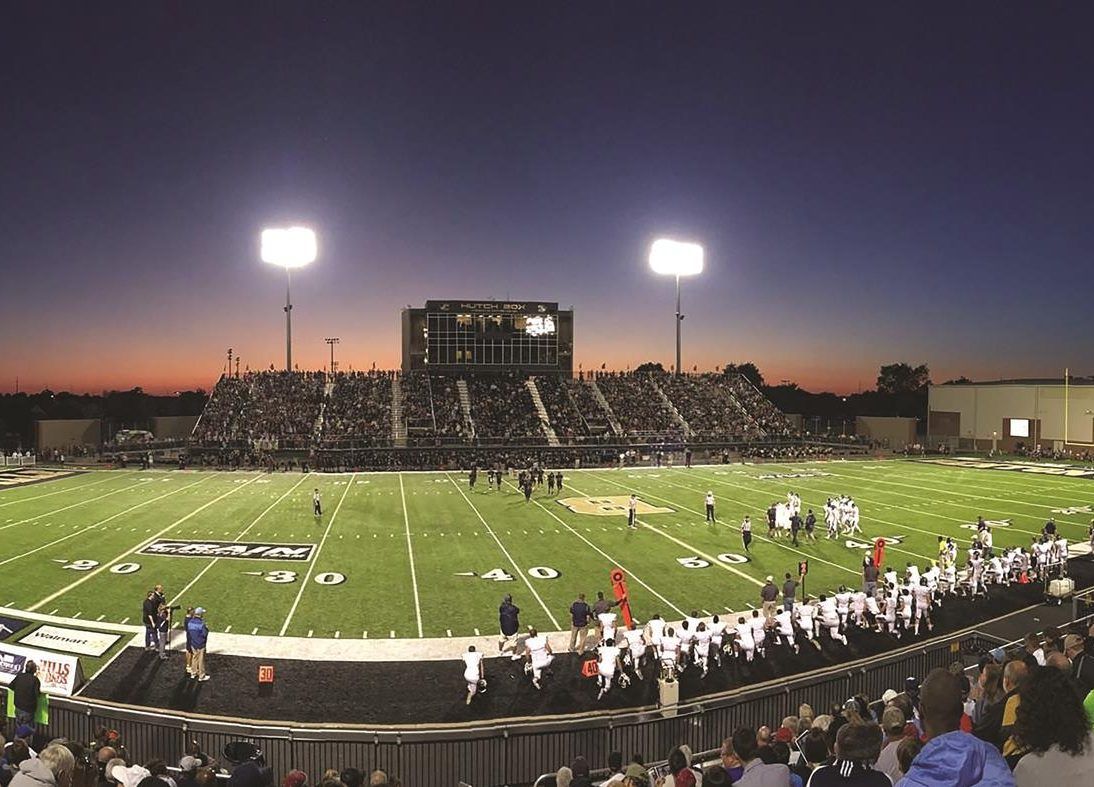 Bentonville Tiger and West Athletic Complexes
Bentonville, AR
Both complexes have numerous facilities, college-like stadiums, and indoor practice facilities. Events can seat over 6,000 people with over 232,000 square feet. Both feature courts, arenas, auxiliary gyms, and hardwood surfaces.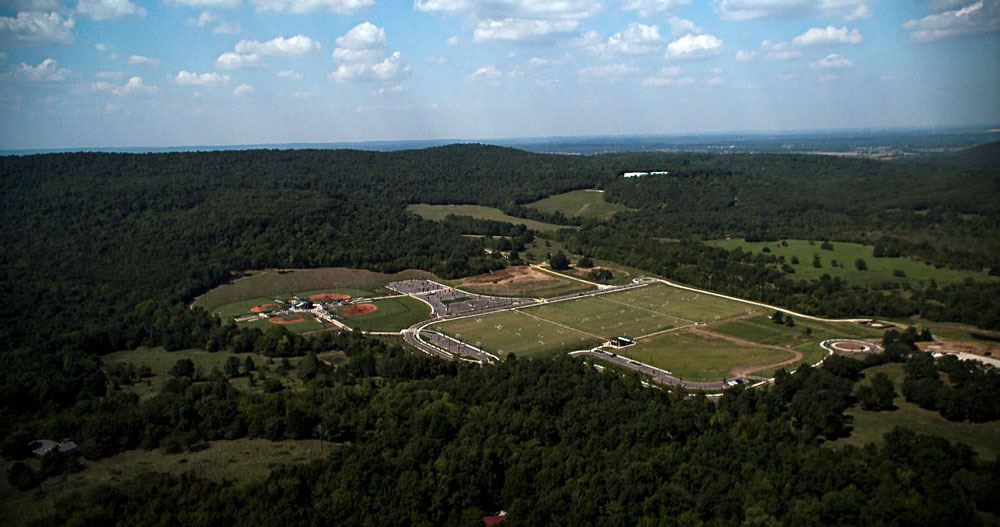 Kessler Regional Park
Fayetteville, AR
This massive regional park is home to six lighted soccer fields that can also be used for lacrosse and other outdoor team sports tournaments and events. On its 620 acres, the park has multiple concessions and is also home to historic Kessler Mountain with trails for mountain bikers and hikers.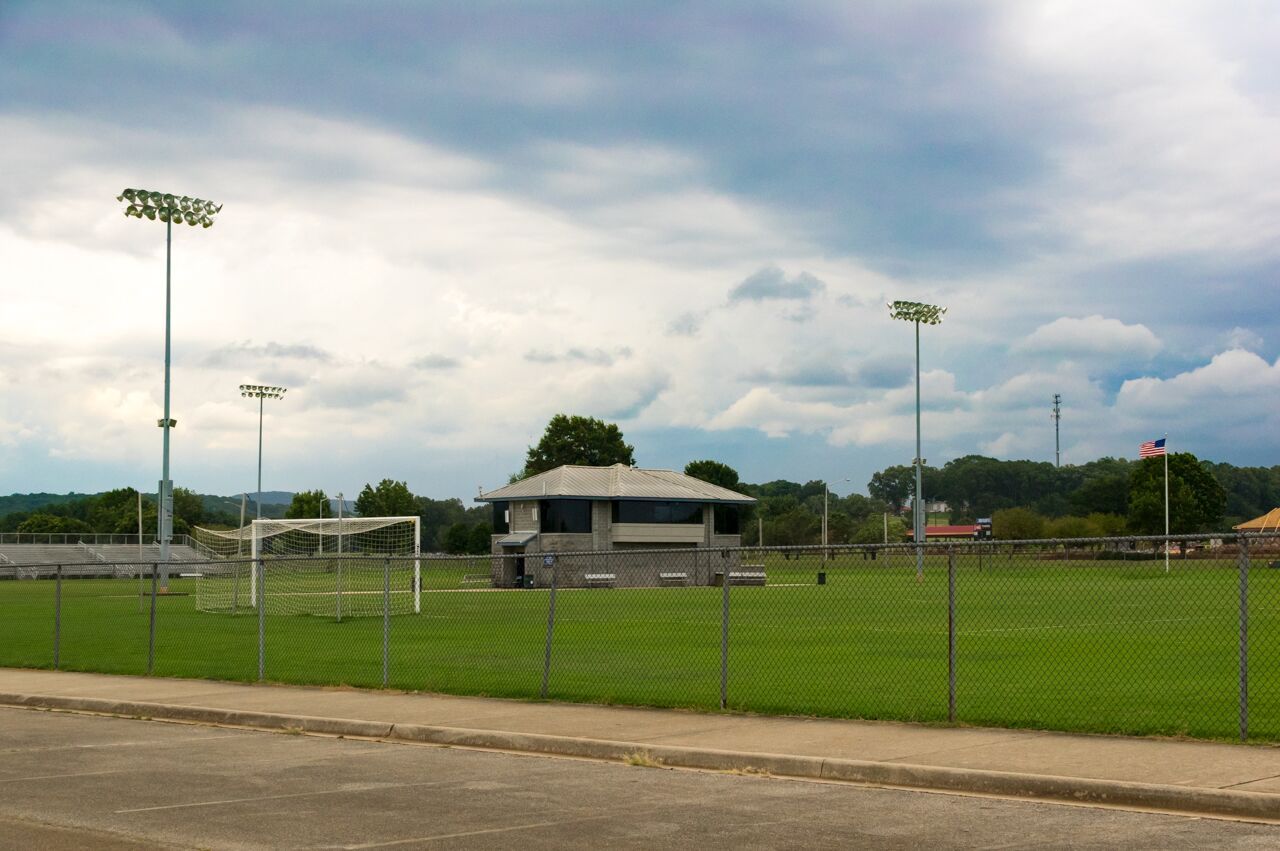 Ben Geren Regional Park
Fort Smith, AR
The expansive Ben Geren Regional Park offers a 12-field soccer complex for multiple age groups, 27-hole golf course, three 18-hole disc golf courses, three sand volleyball courts, and more. It is also home to Parrot Island Waterpark and a miniature golf course for family downtime fun.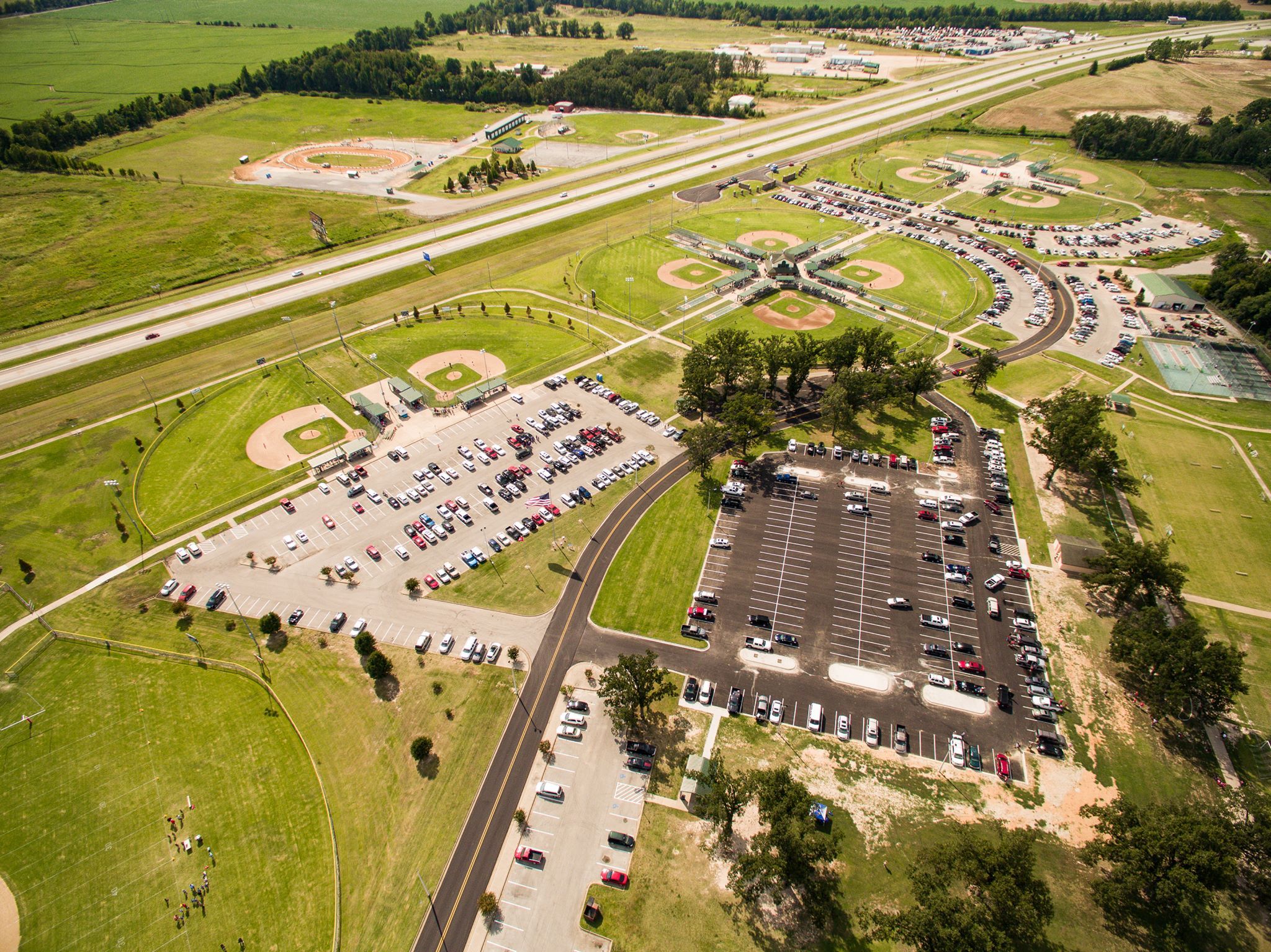 Joe Mack Campbell Sports Complex
Jonesboro, AR
The Joe Mack Campbell Sports Complex is home to 19 soccer fields. Right off Interstate 555, this complex has six micro fields for 6U all the way up to high-school sized fields. Spectators can enjoy watching all the games in designated picnic areas around the complex with 4 concession stands.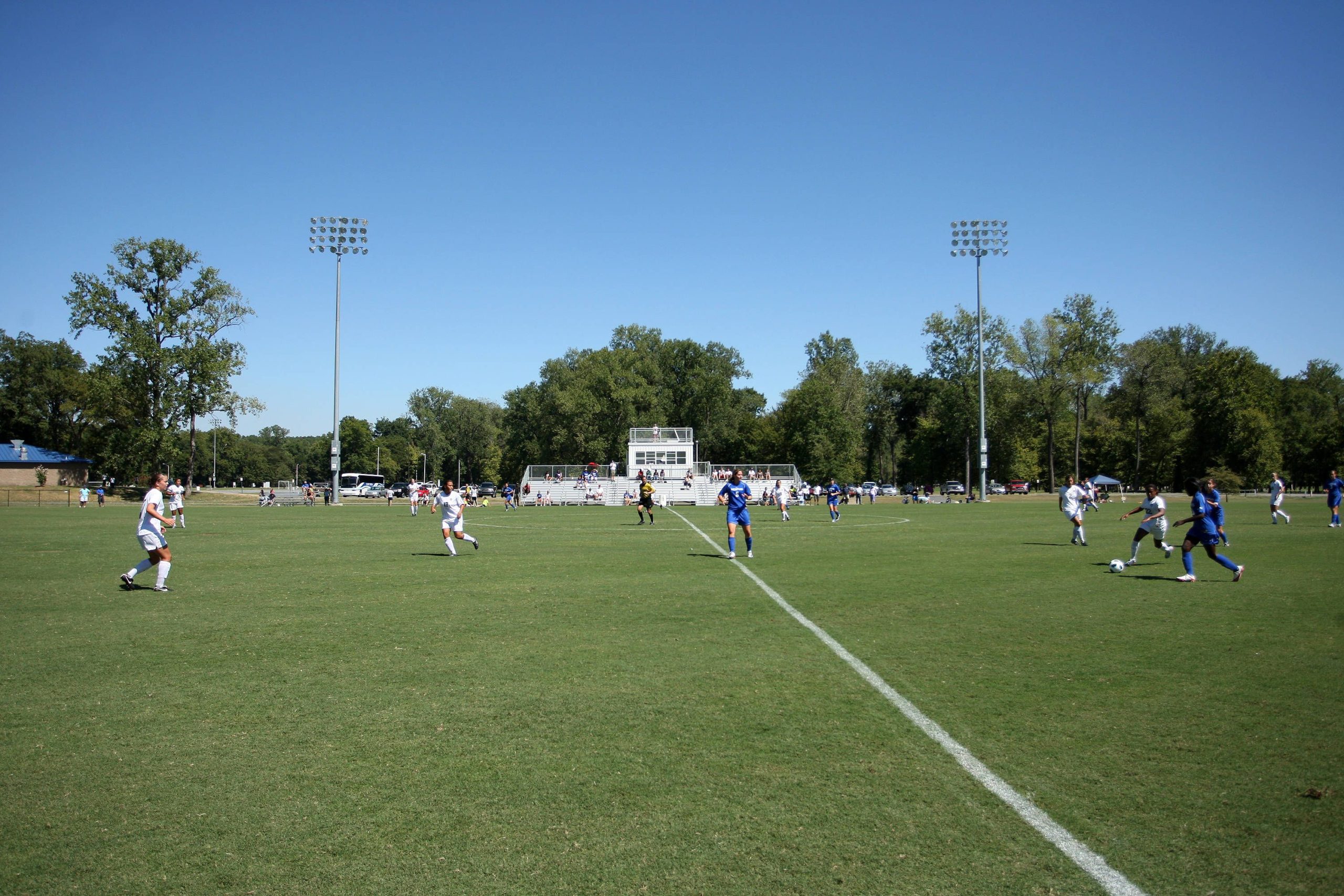 Burns Park
Little Rock, AR
At 1,700 acres, Burns Park is Arkansas' largest municipal park. The Burns Park Soccer Complex boasts 17 irrigated fields with tournament lighting on seven of the fields, along with 1,500 parking spaces. The complex has hosted several US Youth Soccer Region 3 Tournaments and the 2008 USYS National Tournament.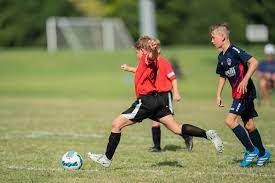 Russellville Soccer Complex
Russellville, AR
Russellville Soccer Complex has three lighted soccer fields for tournament play and plenty of open space for outdoor activities. The park has a 1.1-mile trail that can be used for running and walking. The path is also paved so it's ADA accessible for families to support their players.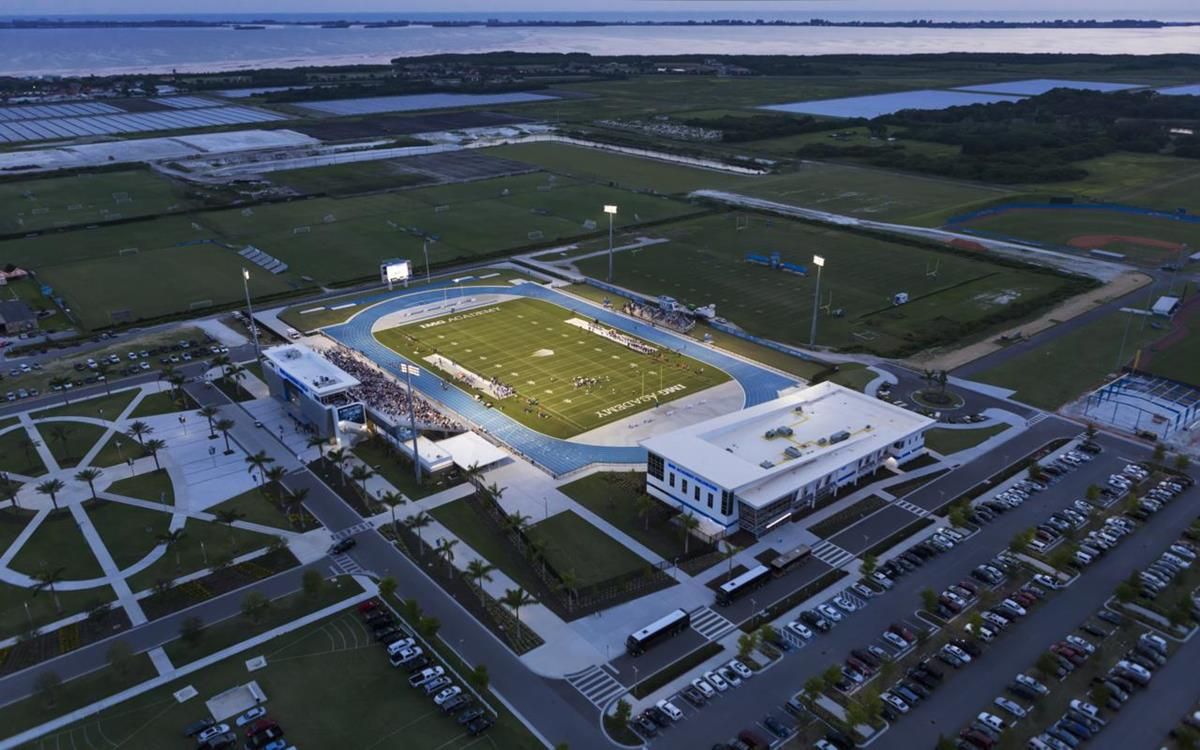 IMG Academy
Bradenton, FL
IMG Academy is the most prestigious sports performance complex in the world, featuring over 20 multipurpose fields for soccer and lacrosse. It also has eight convertible courts for futsal, weight rooms totaling more than 10,000 square feet of space and a 5,000-seat outdoor stadium. The academy annually attracts nearly 200,000 athletes, coaches and spectators from 100 countries.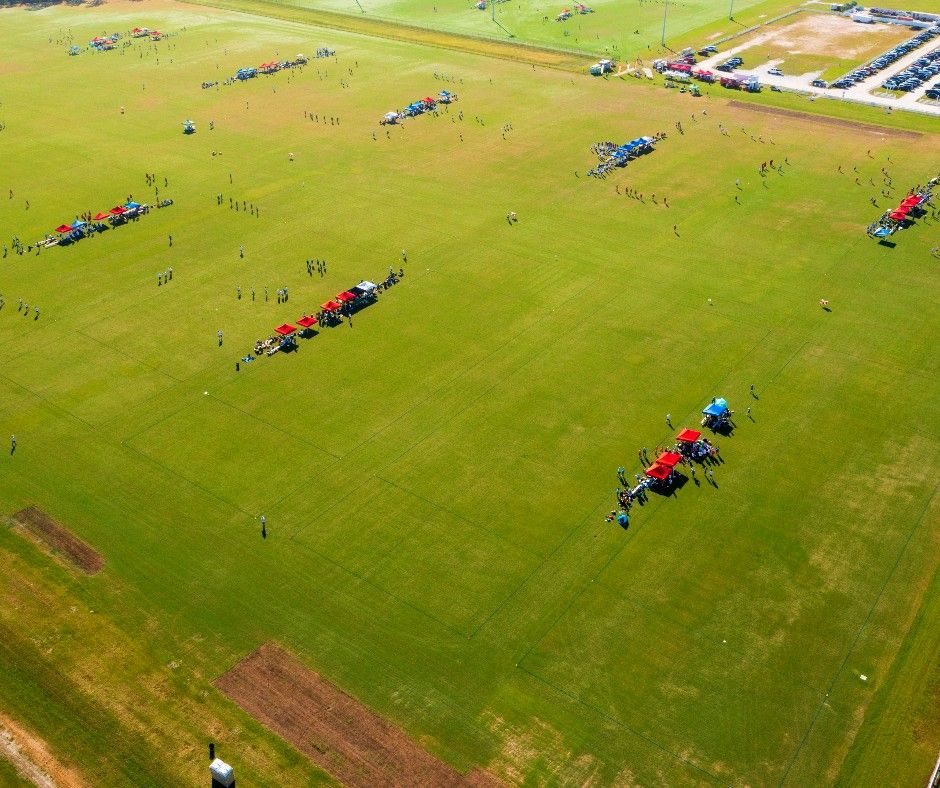 Manatee County Sports Complexes
Bradenton, FL
The Bradenton Area offers a number of pristine, landscaped parks to host your next sporting event. Seven top-notch facilities are designed to accommodate large crowds and multiple events, which include a whopping 23 multipurpose fields for soccer and lacrosse and eight outdoor courts for a variety of sport playing.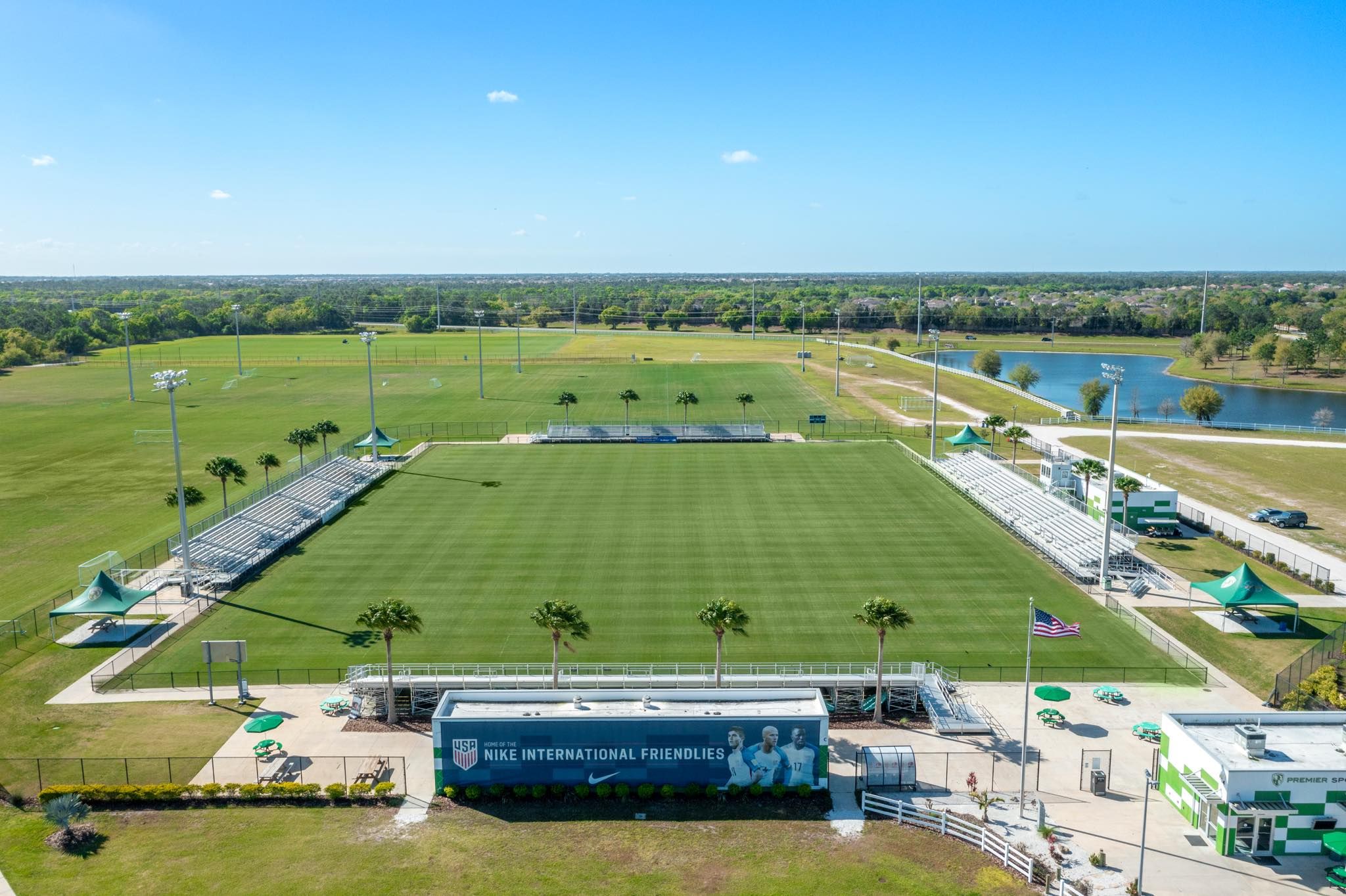 Premier Sports Campus
Bradenton, FL
The Premier Sports Campus in Lakewood Ranch hosts regional and national tournaments throughout the year. The campus holds 23 contiguous FIFA-approved Celebration Bermuda grass fields, eight of which are lighted. A 3,000+ seat stadium completes the facility's offerings. All the fields are equipped with 65,000 square-feet of underground irrigation systems.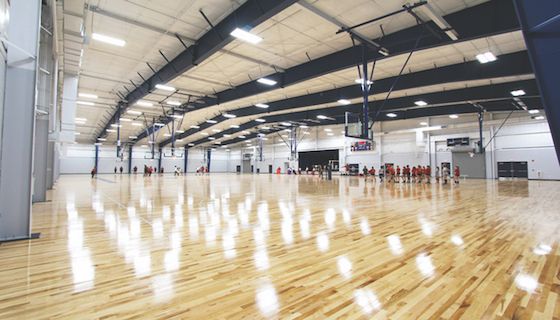 Legacy Park
City of Gainesville and Alachua County, FL
100-acre Legacy Park was awarded the Florida Sports Foundation Mid-Market Venue of the Year Award in 2019. The outdoor part of the complex is joined with the Hal Brady Recreational Sports Complex where six multipurpose fields can be utilized for soccer, lacrosse and more sports tournaments.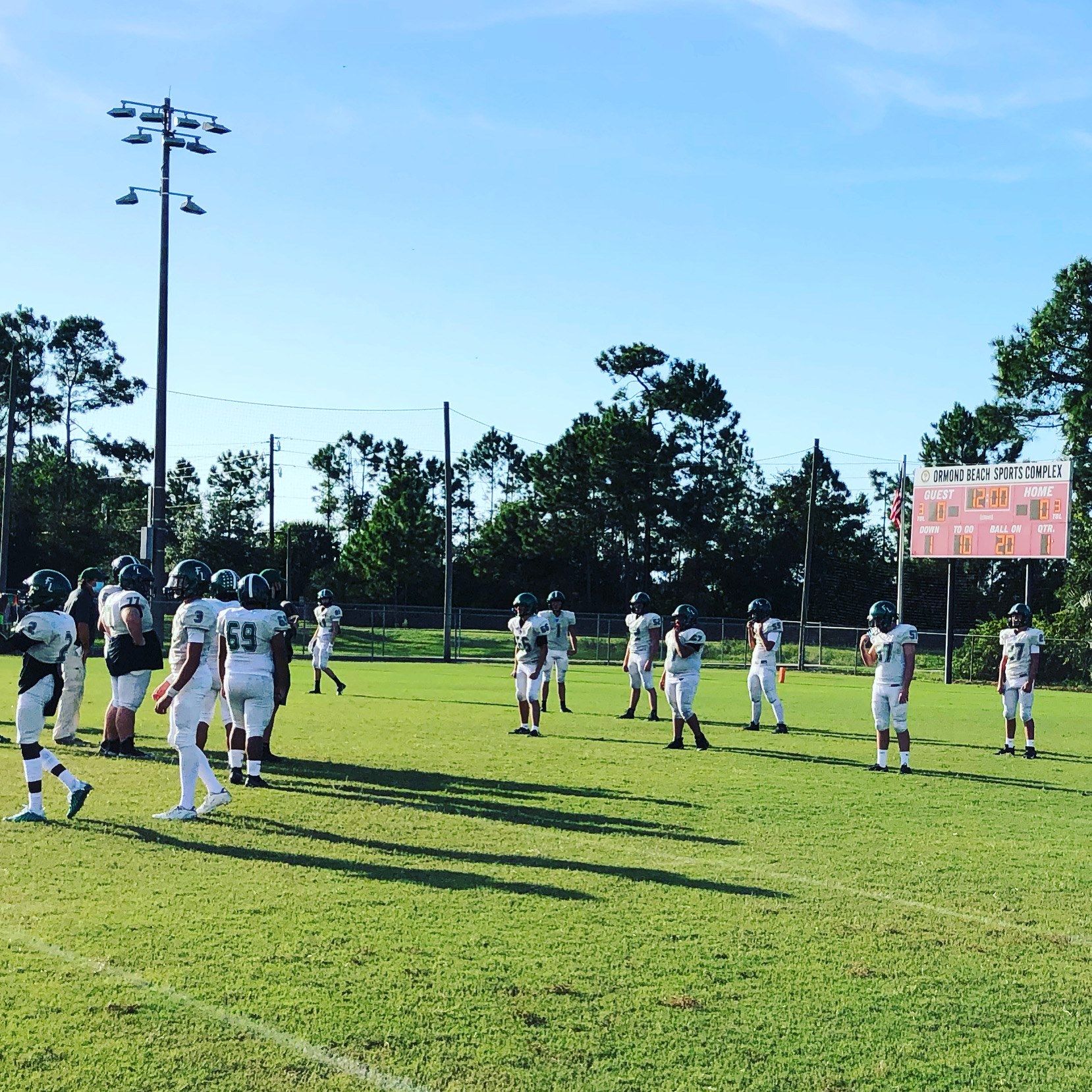 Ormond Beach Sports Complex & Nova Community Park
Daytona Beach, FL
Combined, these two nearby facilities have a total of nine full-sized soccer fields and three multipurpose fields more suitable for lacrosse. The complexes host professional, national, regional, college and high school competitive and recreational events.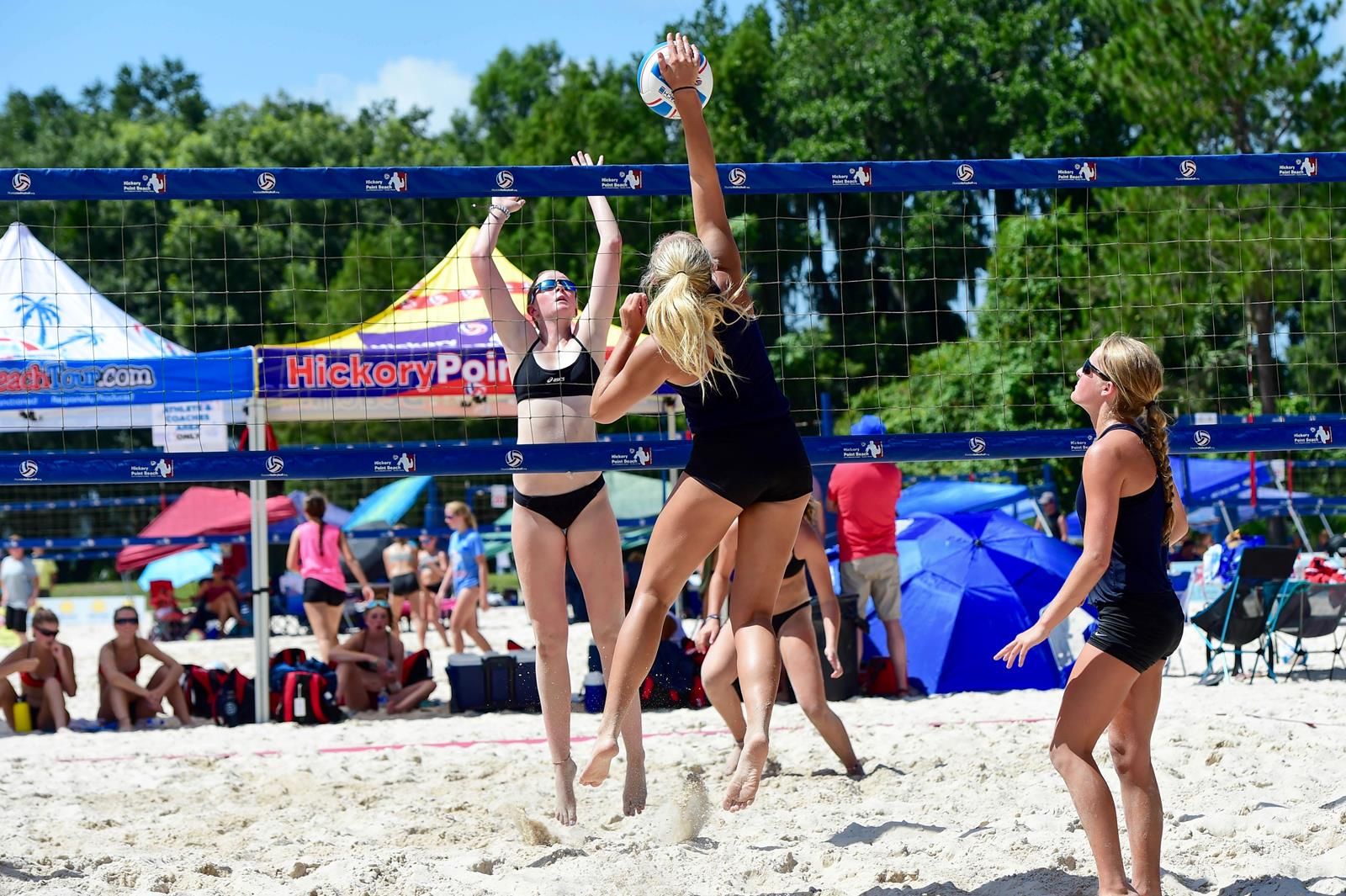 Hickory Point Park
Lake County, FL
Located in Tavares, Hickory Point Park is home to the Mike Stone Soccer complex, as well as a boating complex used for fishing tournaments. The park has a total of six multipurpose fields. Though they are most often utilized for soccer tournaments ranging in age and skill, they can be utilized for lacrosse and other sports.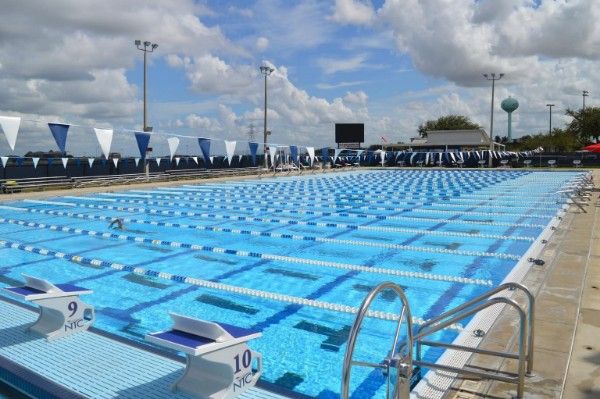 The National Training Center
Lake County, FL
This state-of-the-art training center located in Clermont is nationally recognized as a USA Triathlon Certified Performance Center thanks to the available services in running, swimming, cycling, great coaching, wellness and nutrition. The NTC campus has multiple facilities, including five multipurpose fields for soccer, lacrosse and other sports.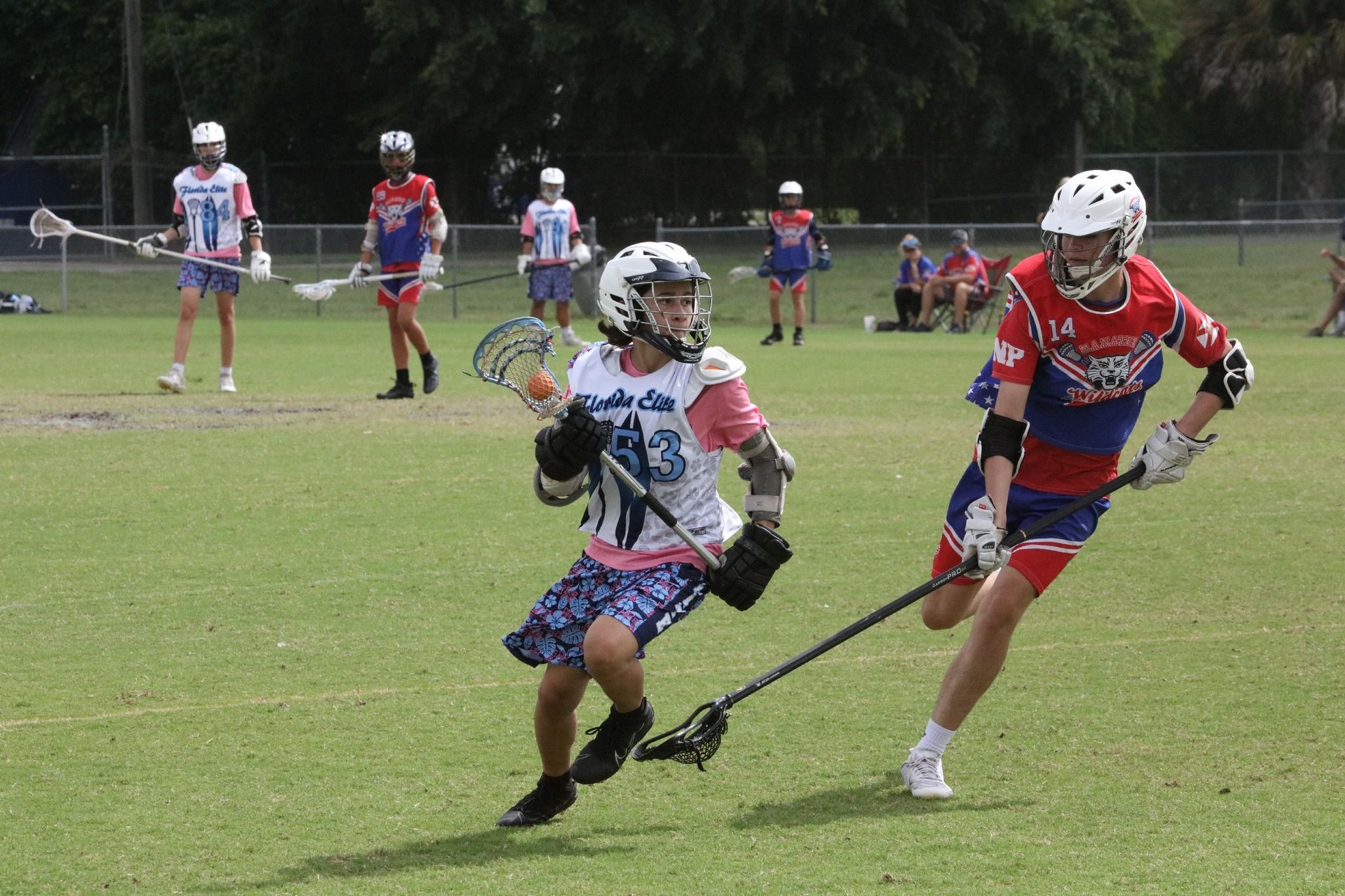 The Ballpark of the Palm Beaches
Palm Beach County, FL
The Ballpark of the Palm Beaches may be most renowned for baseball, being the Spring Training home to the Washington Nationals and 2022 World Series champion Houston Astros, but it's also a prime spot for soccer and lacrosse tournaments with five 120-by-80-yard multipurpose athletic fields covered in beautiful Bermuda grass.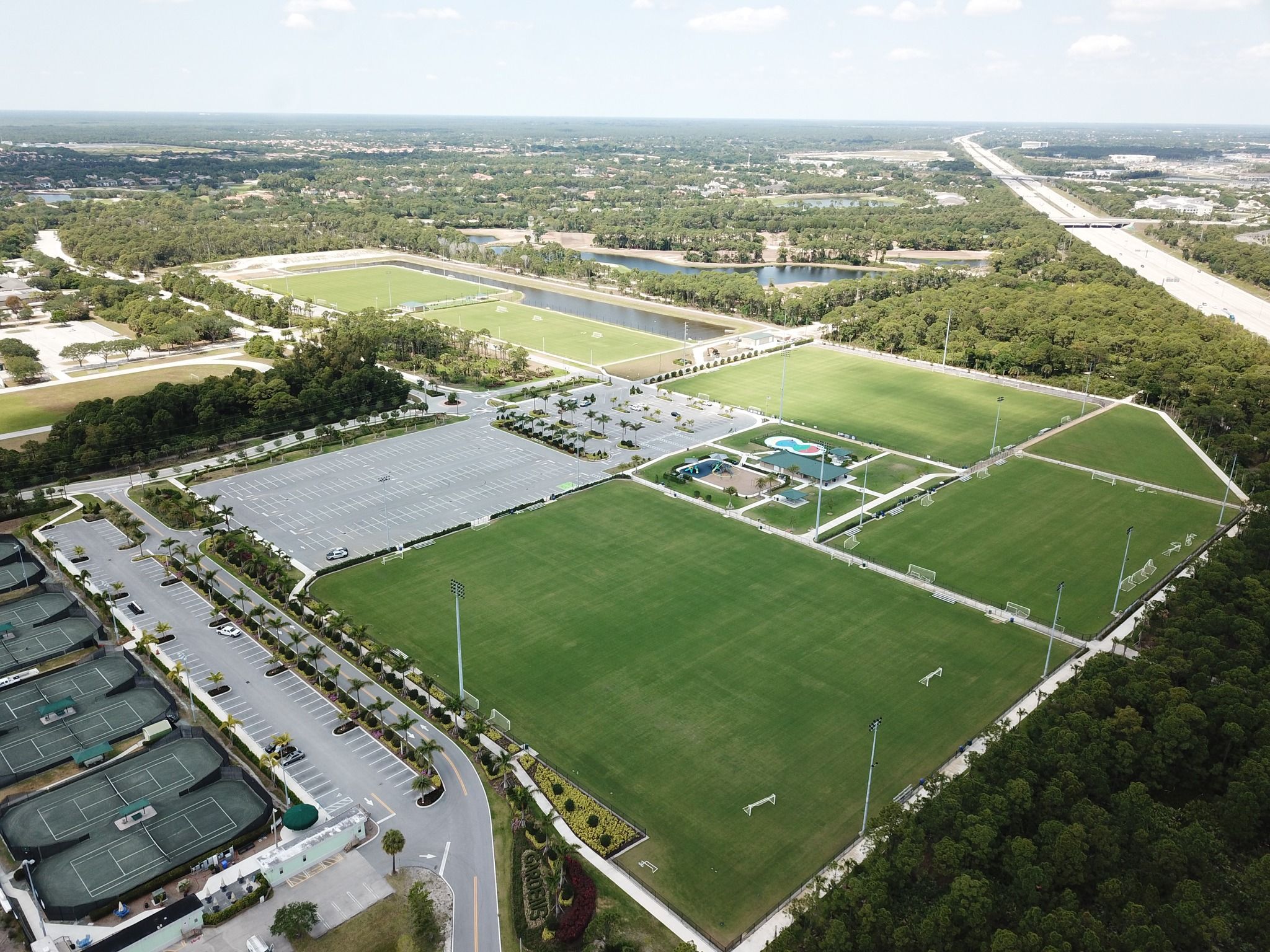 Gardens North County District Park
Palm Beach County, FL
Gardens North County District Park opened in the summer 2019 on 82 acres of land perfect for sports events. In the immaculate and inviting City of Palm Beach Gardens. Soccer players can get their kicks on the 10 lighted multipurpose fields, which are readily available for lacrosse and rugby tournaments as well.
National Polo Center
Palm Beach County, FL
The National Polo Center is the largest spectator-friendly polo facility in the United States. Its seven polo fields can be converted into 47 multipurpose fields that are ideal for soccer, lacrosse, rugby and more to host their next tournament. In 2017, the Florida Sports Foundation named NPC the "Large Market Sports Venue of the Year."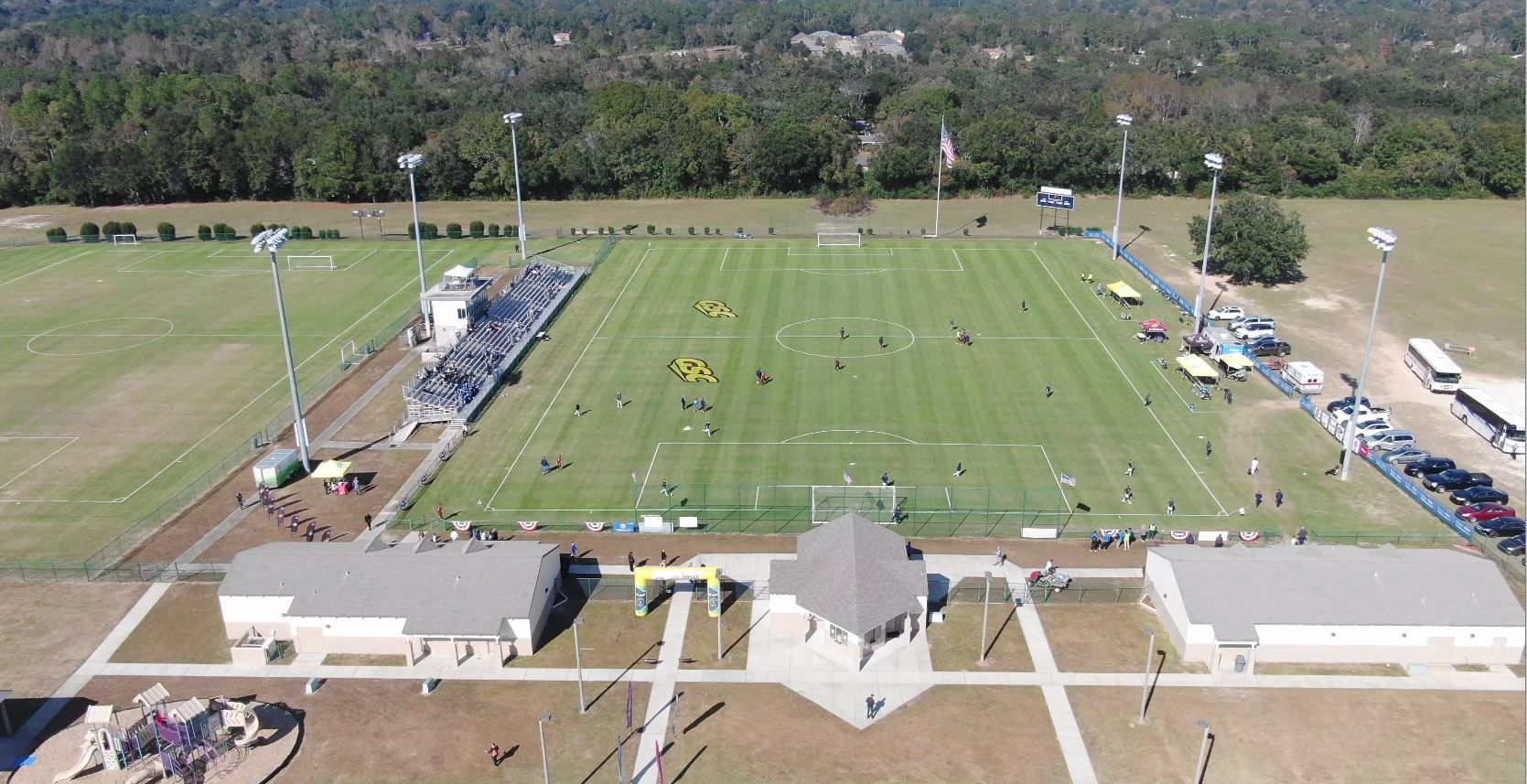 Ashton Brosnaham Park
Pensacola, FL
Along with 13 high-quality soccer fields, some of this 103-acre regional park's many amenities include a dog park, covered pavilion and a picnic area. A partnership with the Pensacola Futbol Club provides a wide range of soccer activities for all ages. Engage in team-building sports with plenty of open space to enjoy.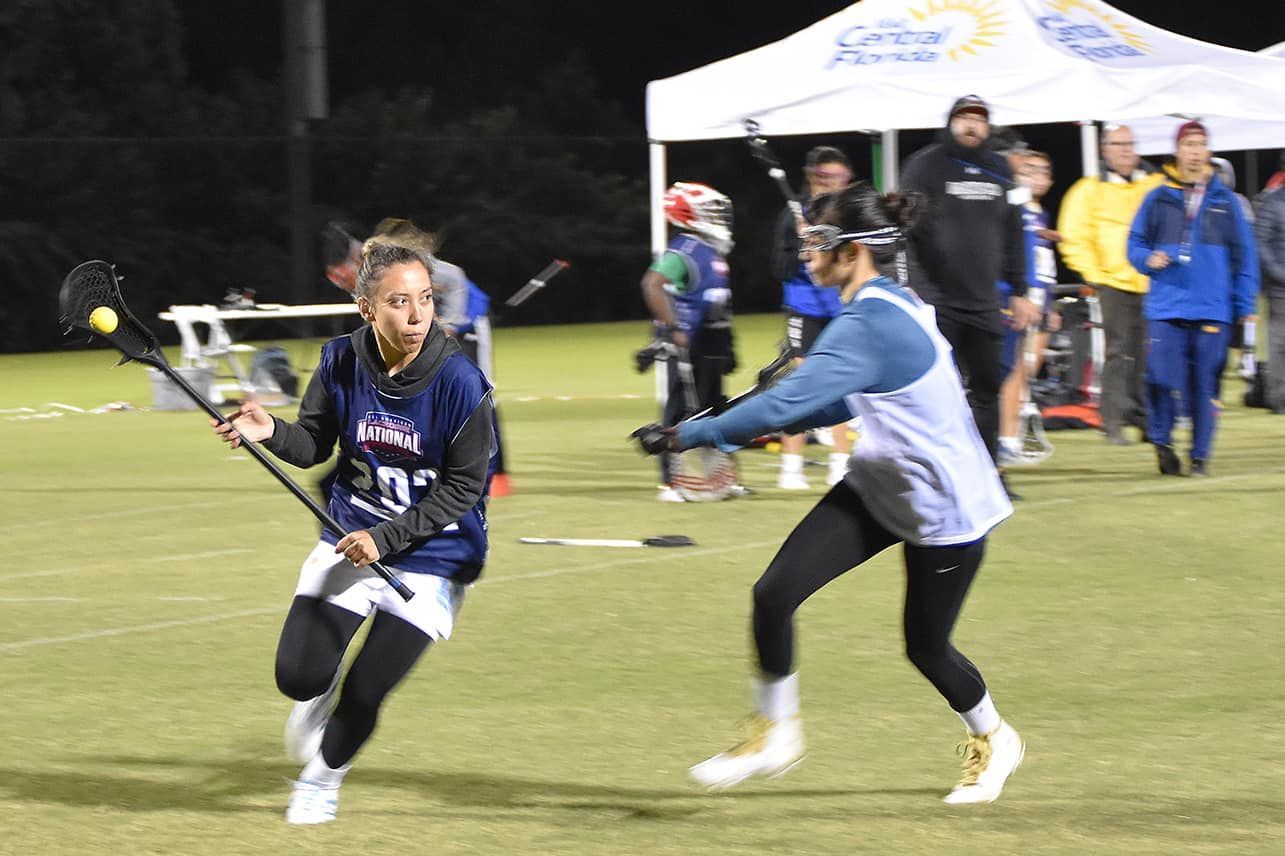 Lake Myrtle Sports Park
Polk County, FL
Along with multiple diamonds, this multipurpose sports complex has 11 lighted fields that are perfect for soccer, lacrosse, rugby and more. Events hosted at Lake Myrtle have varied from regional rugby championships as well as lacrosse tournaments, flag football and the Russ Matt Central Florida Baseball Invitational.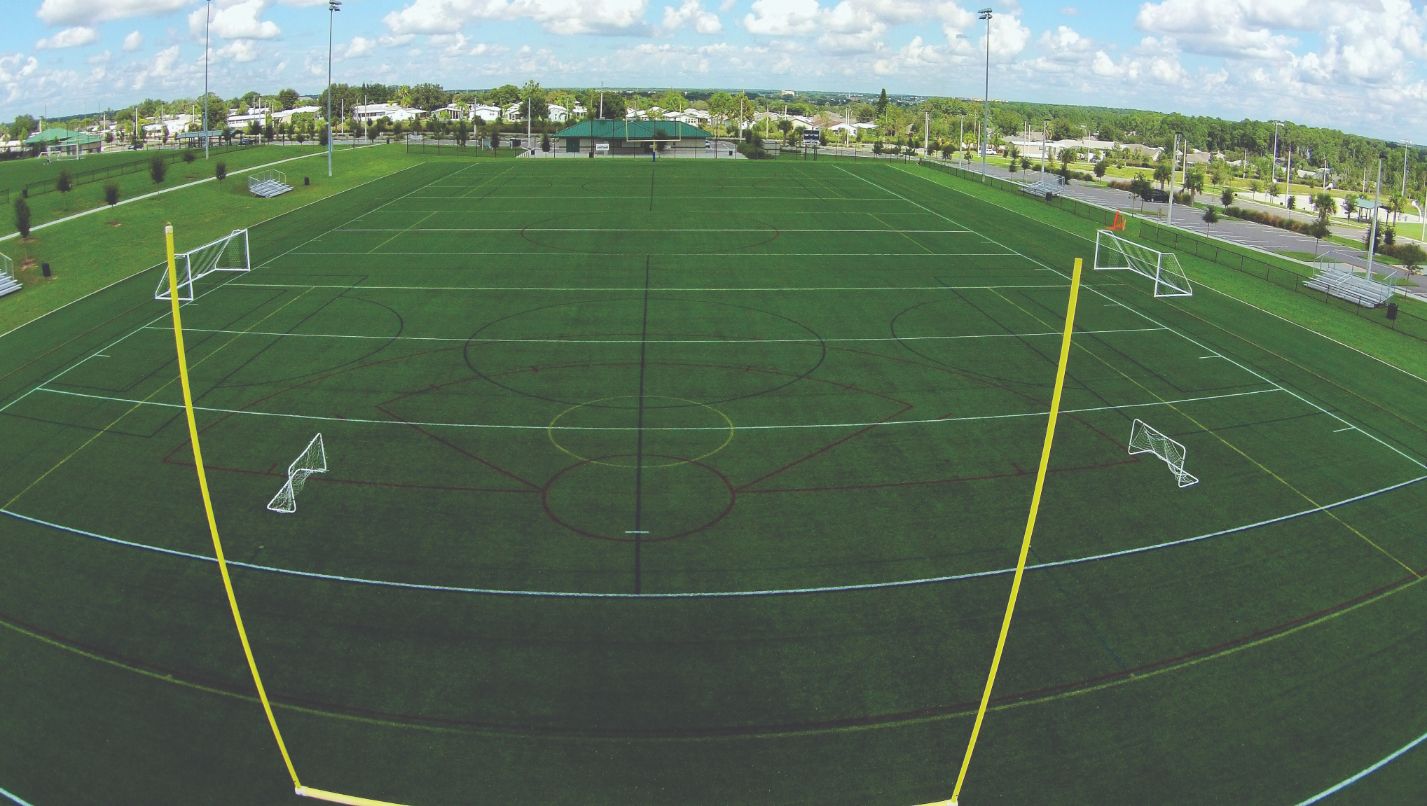 Northeast Regional Park
Polk County, FL
The 83-acre park includes six multipurpose fields that are perfect for hosting soccer and lacrosse tournaments, a concession stand, a pavilion for special events, picnic facilities, an exercise trail and a dog park. It also has lights for nighttime play and seating can be brought in if needed.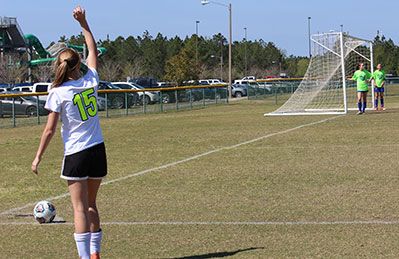 Gulfport Sportsplex
Coastal Mississippi
The Gulfport Sportsplex features six full-size soccer fields which can be divided into 12 half fields for younger players. The facility is a multiple time award-winner, including 2016 Field of the Year by Field Turf Magazine & STMA, and hosts some of the largest and finest local, state, regional and national soccer tournaments.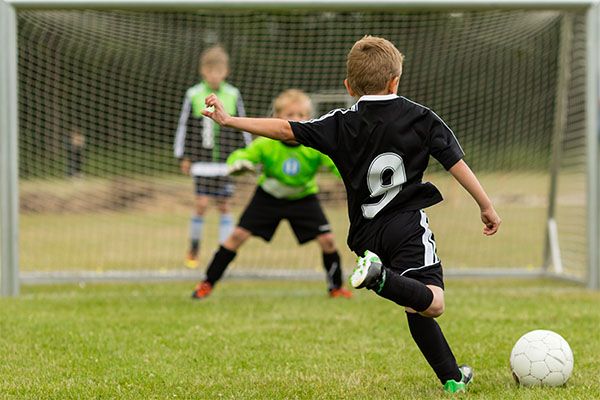 Tatum Park
Hattiesburg, MS
Tatum Park currently offers 18 soccer fields with the potential for adding more in the near future. The park regularly hosts tournaments for multiple sports, and is home to Hattiesburg Futbol Club and Hattiesburg Youth Soccer. The facility also has ample parking and practice facilities for any team to succeed.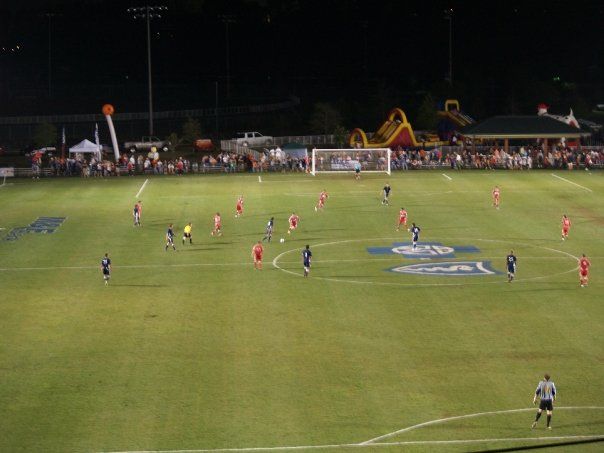 Freedom Ridge Park
Ridgeland, MS
Freedom Ridge Park is a 50-acre complex with four lighted 360' x 225' soccer fields, three of which can be altered into multiple smaller fields for younger age groups in team or tournament play. For family fun, there are two on-site playgrounds that are designed for all abilities.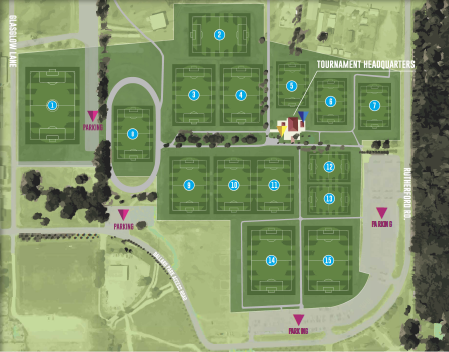 BankPlus Sportsplex
Tupelo, MS
BankPlus Sportsplex at Ballard Park boasts 16 multipurpose fields for soccer and lacrosse tournament play for all ages and skill levels. The park also features a 1.7-mile trail and 1.2- mile cross country course for not only other events, but for exercise for fun between the action.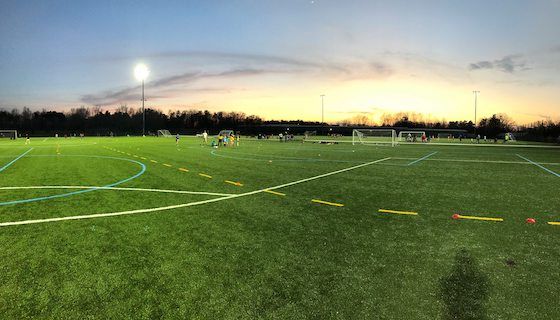 Mebane Soccer Complex
Alamance County, NC
This lovely complex is a fabulous place to host a soccer tournament. Mebane consists of two full-size 11 v 11 soccer fields and two smaller fields used for small-sided games. All of Mebane's fields have Musco field lighting for night use. Concessions and restrooms are also available.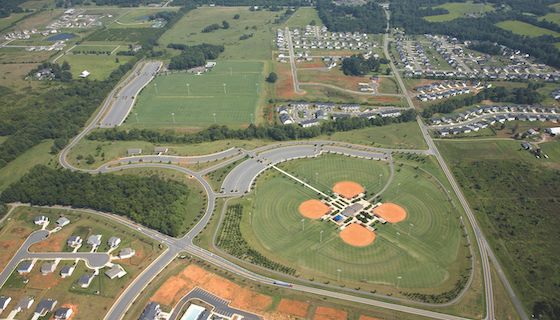 Springwood Park
Alamance County, NC
This 78-acre gem is nestled in the suburbs of Burlington in Guilford County. The park features regulation fields for soccer and lacrosse, among many other sports, two concession/ restroom buildings, two picnic shelters available to rent, a playground, a walking track, disc golf and more for family fun and relaxation.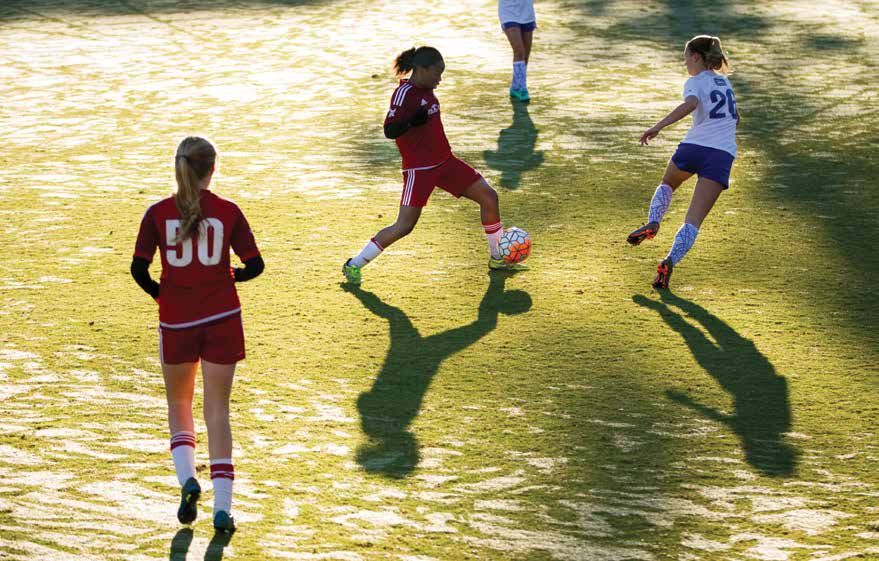 ECU North Recreational Complex
Greenville, NC
Near the East Carolina University campus, you'll find a selection of playing fields, all surrounding a quaint lake that makes for the perfect backdrop to any event. The North Recreational Complex features eight multipurpose fields, one championship field, and walking and jogging trails.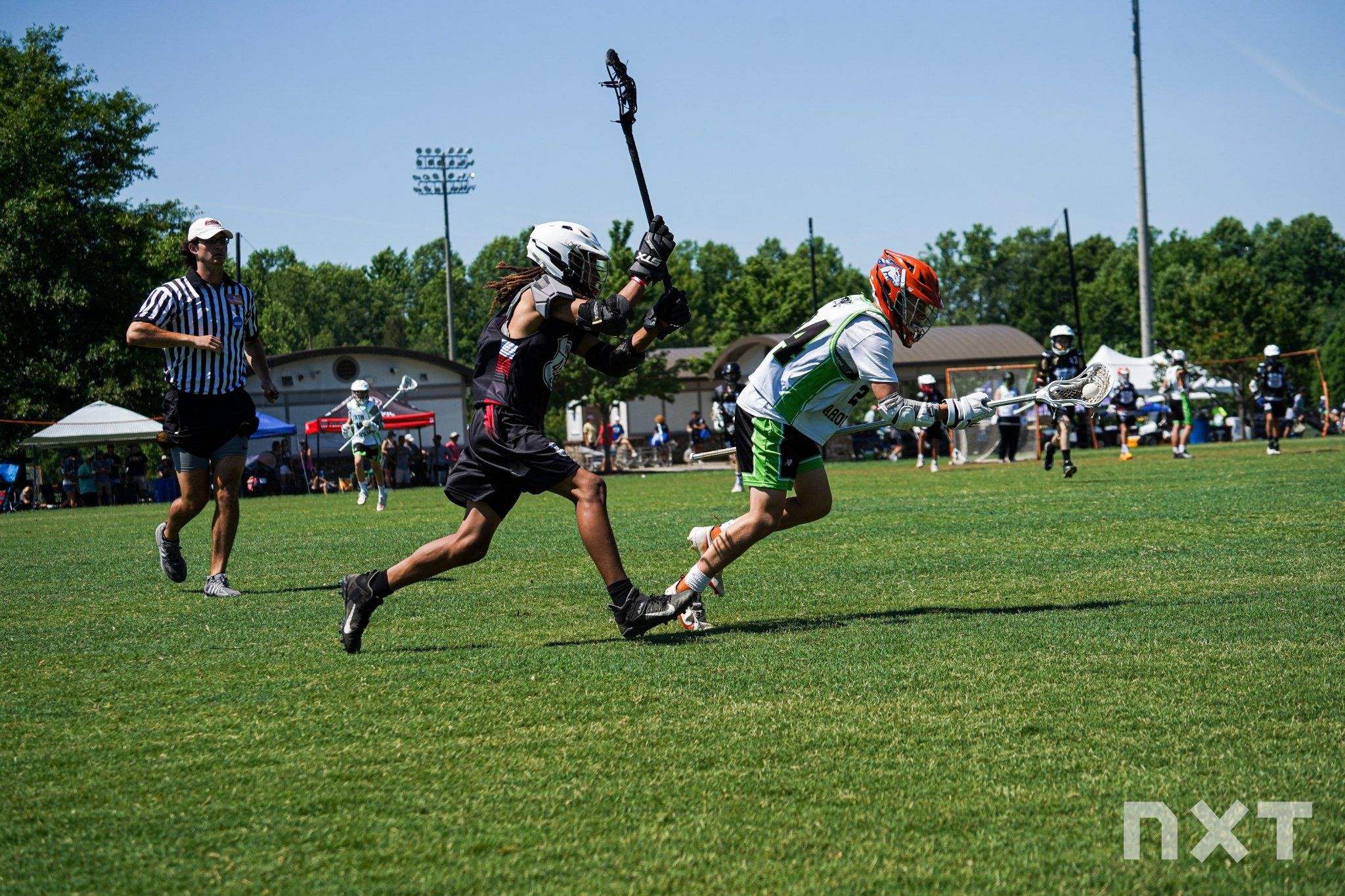 Mazeppa Park
Mooresville, NC
This 163-acre sports complex features six lighted full-size soccer fields, four of which are artificial turf and two are grass for whatever your tournament needs. Mazeppa Park also features reservable and non-reservable shelters with grills, a 5-mile mountain bike trail and plenty of parking to avoid busy season headaches.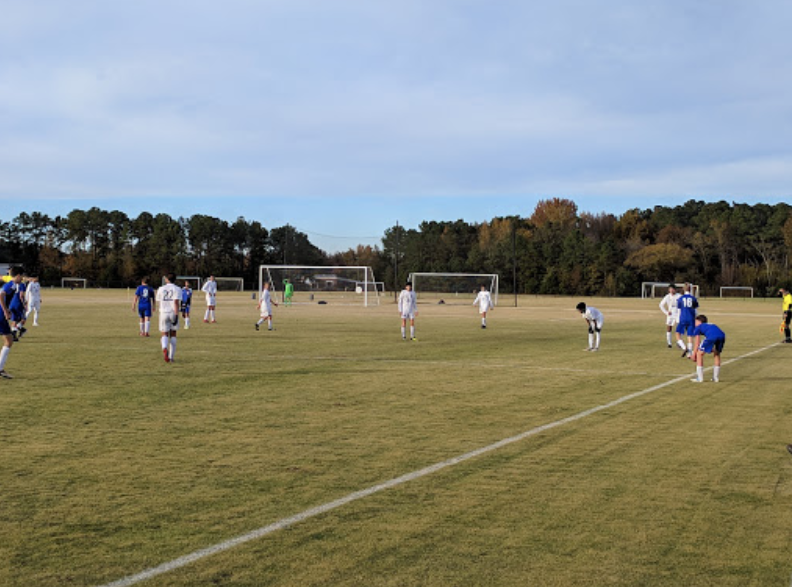 Rocky Mount Sports Complex
Nash-Rocky Mount, NC
Nash-Rocky Mount's leading sports facility is dedicated to providing the highest level of customer service with first-class facilities, outstanding staff and a professional level of maintenance. This 143-acre facility is home to an assortment of recreational programming, and includes eight multipurpose fields for soccer and lacrosse.
nCino Sports Park
Wilmington, NC
nCino Sports Park, formerly known as Cape Fear Soccer Park, is currently undergoing a $16.9-million renovation. When finished, the park will have 11 full-sized fields, one of which will be synthetic turf and include outdoor lighting, add restrooms and improve infrastructure. The Wilmington Hammerheads Youth Soccer Club will manage the new park.
Truist Sports Park
Winston-Salem, NC
Truist Sports Park boasts 13 full-sized fields, including four artificial turf at a total of 450,000 square feet, 11 of which are lighted for many types of event or tournament. The field house provides concessions, office facilities and a multipurpose meeting room with multimedia, audiovisual and seating for 120. Spectators enjoy elevated viewing areas, including the 1,400-seat stadium field.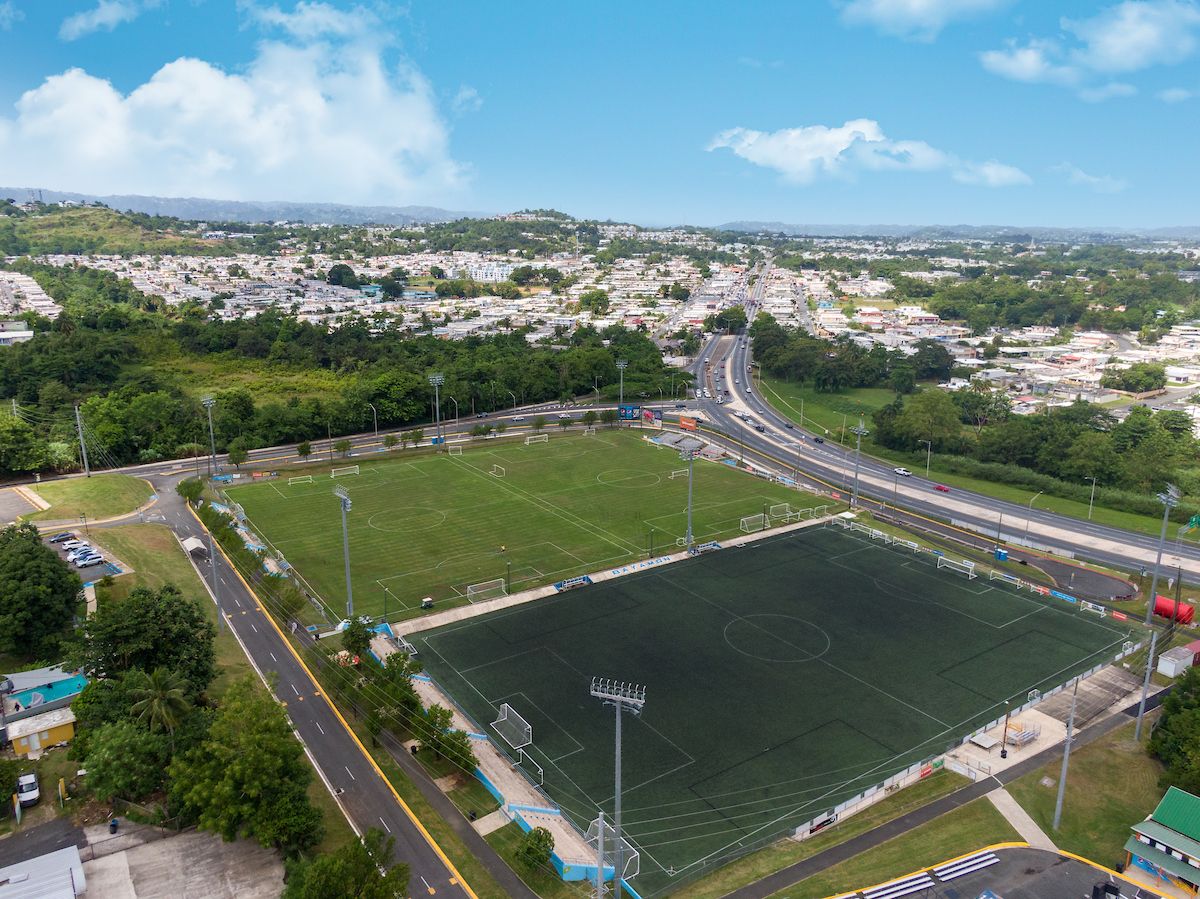 Bayamón Soccer Complex
Bayamón, Puerto Rico
Located in the City of Bayamón, the Bayamón Soccer Complex is a premier facility with five fields for all levels of competition. Field 1, which is professionally-sized with artificial turf and a capacity of 1,000, is home to Liga Puerto Rico side Bayamón FC. Also at the main complex are recreational grass fields and a practice field.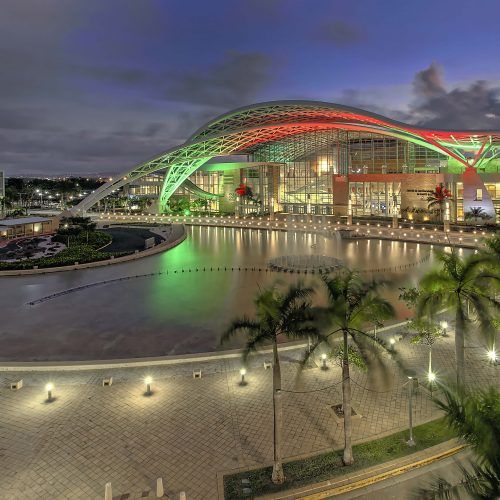 Puerto Rico Convention Center
San Juan, Puerto Rico
Located in the Puerto Rico Convention District in San Juan, Puerto Rico Convention Center (PRCC) is a premier facility for hosting all types of major events. PRCC has a total of 600,000 square feet between three levels and a 152,700- square-foot exhibition hall on a single level that can seat 10,000, making it perfect for tournaments and leagues.
Burton Wells Park and
Recreation Center
Beaufort-Port Royal, SC
The Burton Wells Park encompasses a 300-acre recreational complex that features two configurable multipurpose fields that can be utilized for soccer and lacrosse, a community recreation center and more. Passive use facilities, picnic areas, walking and nature trails, lakes and an interpretive botanical garden are also available for enjoyment.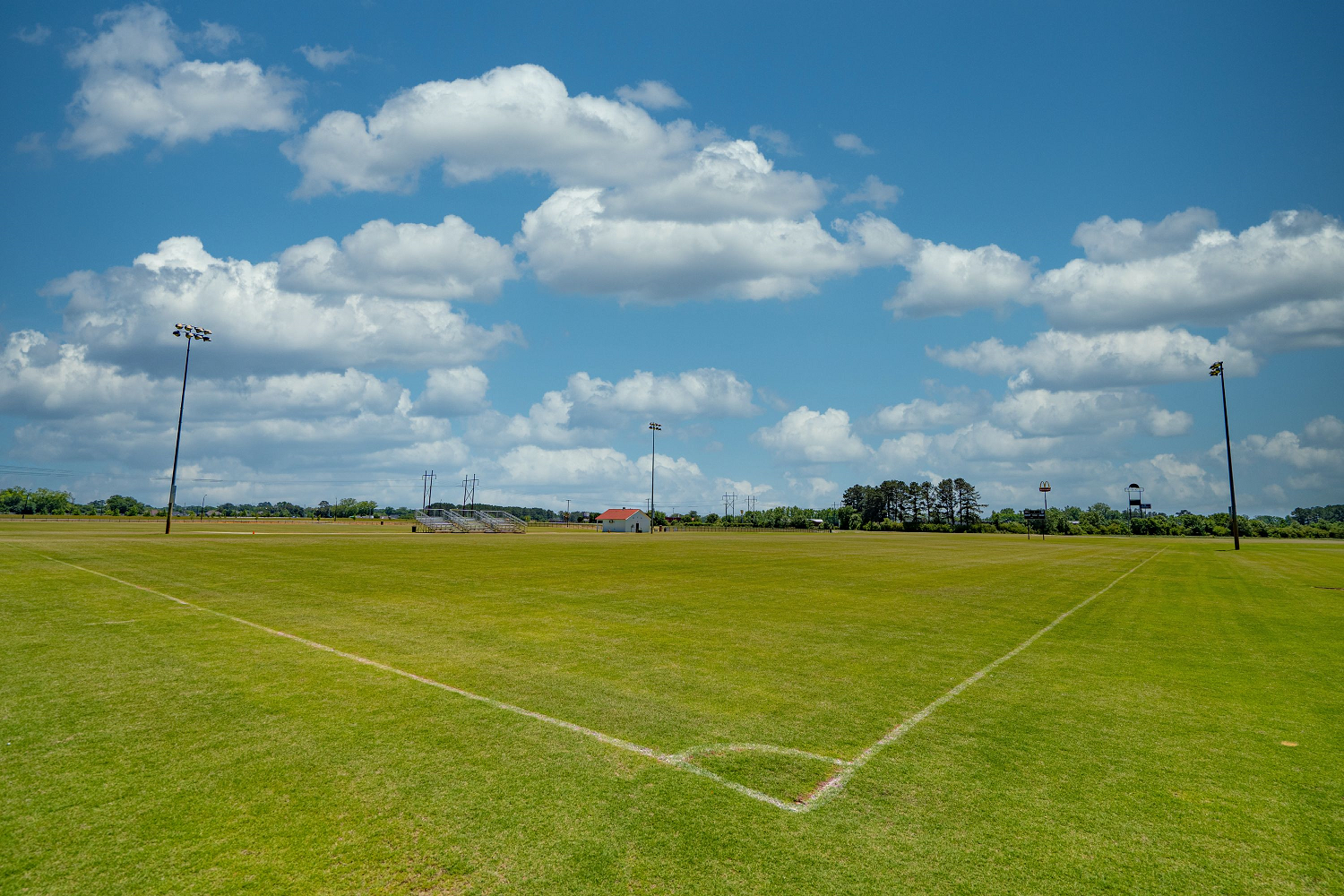 Florence Soccer Complex
Florence, SC
The expansive 80-acre complex opened in February 2018. Perfect for soccer, lacrosse, flag football and more, the complex consists of 10 championship fields, bathroom stations throughout, a 6,000-squarefoot pavilion with meeting space and a two-mile walking trail. Past tournaments include Conference Carolinas Men's and Women's Soccer Championships, among many others.

North Myrtle Beach Park & Sports Complex
Myrtle Beach, SC
This 163-acre park includes two first-class sports complexes. The soccer and lacrosse-specific complex consists of eight natural grass fields, four of which are lighted, and include concession stands, restrooms and play structures. The NMB Sports Complex is set to expand and will add additional rectangle fields, a new family entertainment center and more.
Grand Park Athletic Complex
Myrtle Beach, SC
Located at the beautiful Market Common, the Grand Park Athletic Complex includes nine lighted multipurpose Field Turf fields and two natural youth fields that are perfect for soccer and lacrosse tournaments and events. The facility also provides complimentary live streaming for those who can't make the trip but still want to support their team.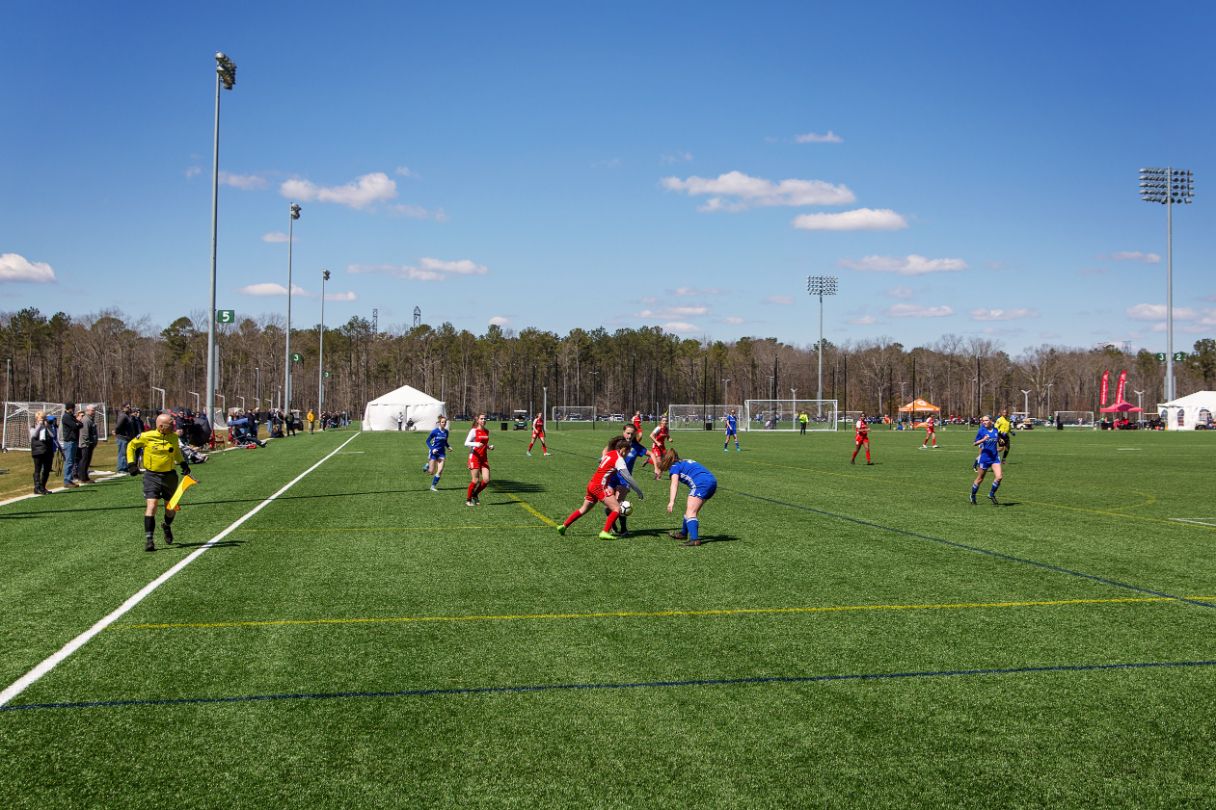 Glover Park
Henrico Sports & Entertainment
Authority, VA
Glover Park features four synthetic turf fields with lights, all of which can be used for lacrosse and soccer, restrooms and plentiful parking. Future construction will add a running trail, playground, additional fields and other features. This tournament-quality complex is consistently used by local schools, recreation leagues and tournament play.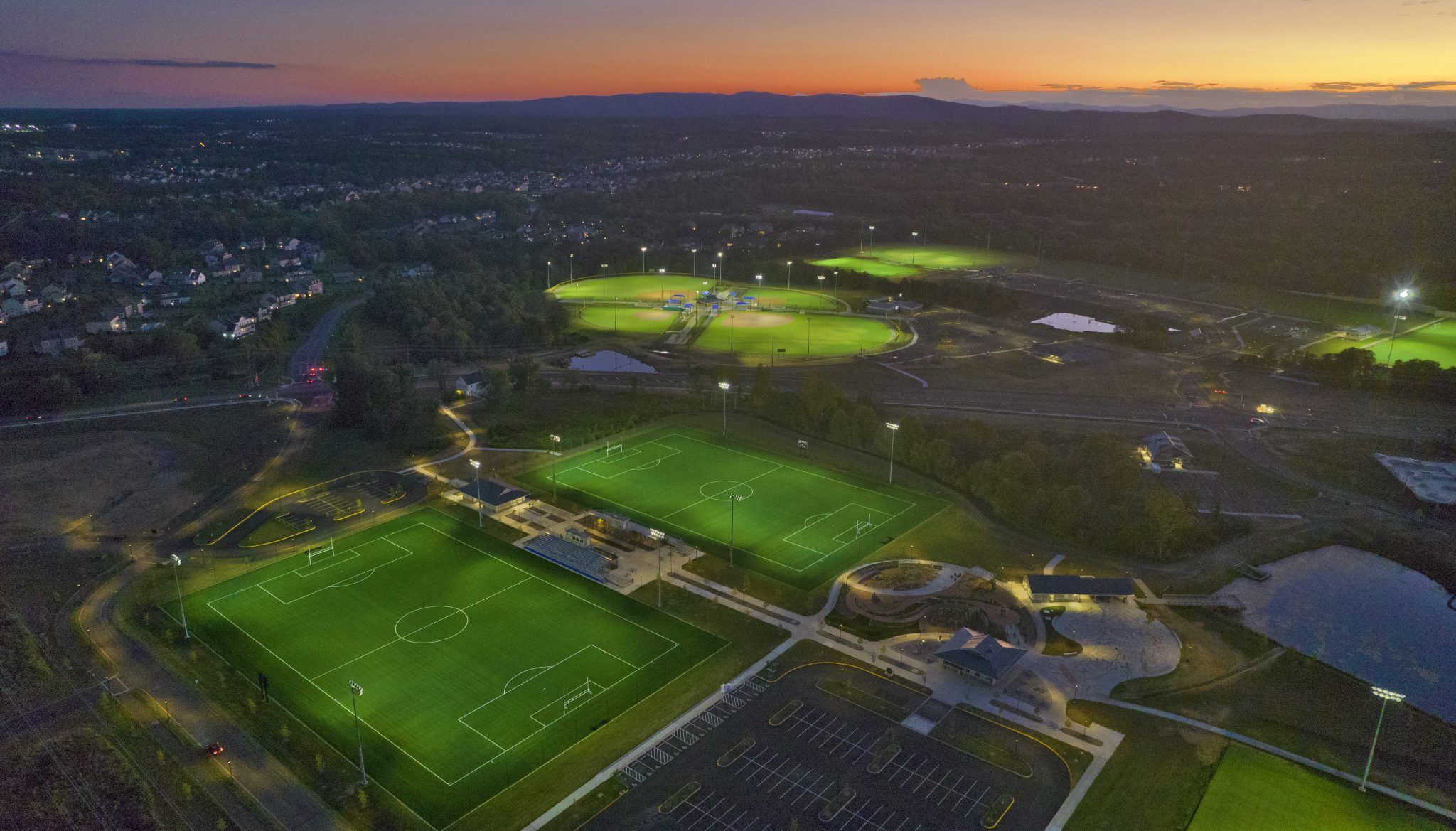 Hanson Regional Park
Loudoun County, VA
Opened in 2022, the 257-acre Hal and Berni Hanson Regional Park in Aldie includes 10 multipurpose fields that are perfect for sports tournaments for soccer, lacrosse, rugby and more. For families or team players, there are 75 acres of passive recreational space and infrastructure for downtime, relaxation and fun after any sports event.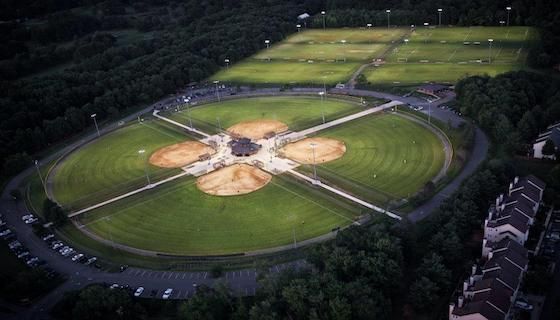 Potomack Lakes Sportsplex
Loudoun County, VA
This 47-acre athletic complex has won numerous national awards, including the 2019 Senior Softball USA Softball Complex of the Year Award. The sportsplex also includes irrigated multipurpose fields for soccer and lacrosse, as well as a large playground, hiking trail, picnic pavilion, concession kiosk, a meeting room and more.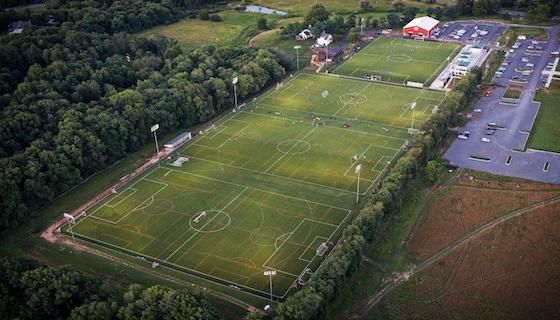 VA Revolution Sportsplex
Loudoun County, VA
The nearly 44-acre facility features four fully lit, oversized FIFA certified, bio-turf fields capable for the use of a variety of sports. The stadium features bleachers and can seat approximately 1,500 people with additional seating in CroppMetcalfe Park.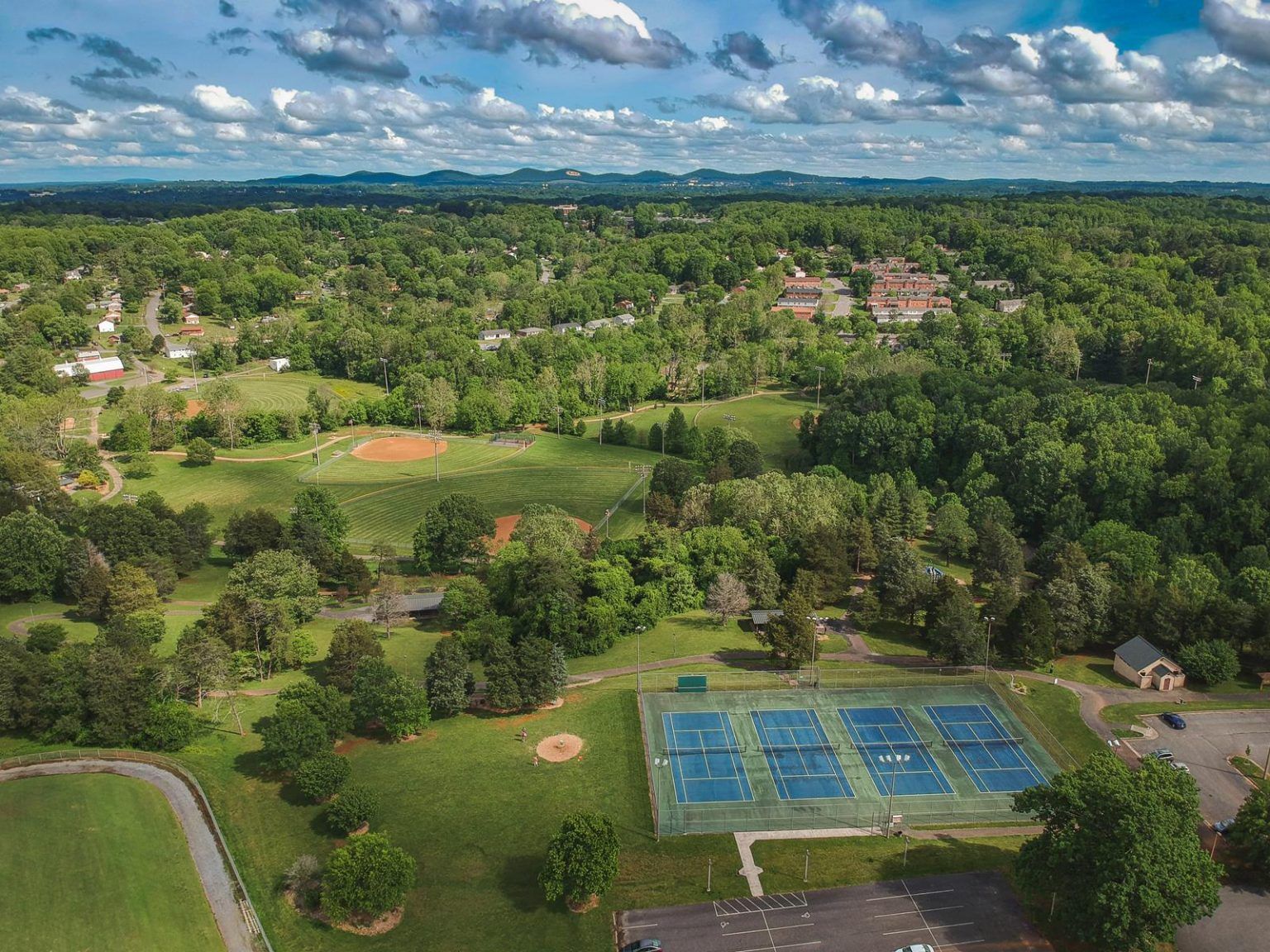 Peaks View Park
Lynchburg, VA
The second largest park in Lynchburg, Peaks View Park, offers both passive and active recreation for the entire family. The park has seven multipurpose fields perfect for soccer, lacrosse and more. The park also has a popular spray ground and is ADA compliant for families to enjoy.
James S. Long Park
Prince William County, VA
Haymarket's James S. Long Park is perfect for outdoor sports, with ample space and quality fields for major events. Seven multipurpose fields of various sizes for different ages make up the bulk of the action here, with three 225' x 360' lighted artificial turf fields and four smaller grass fields.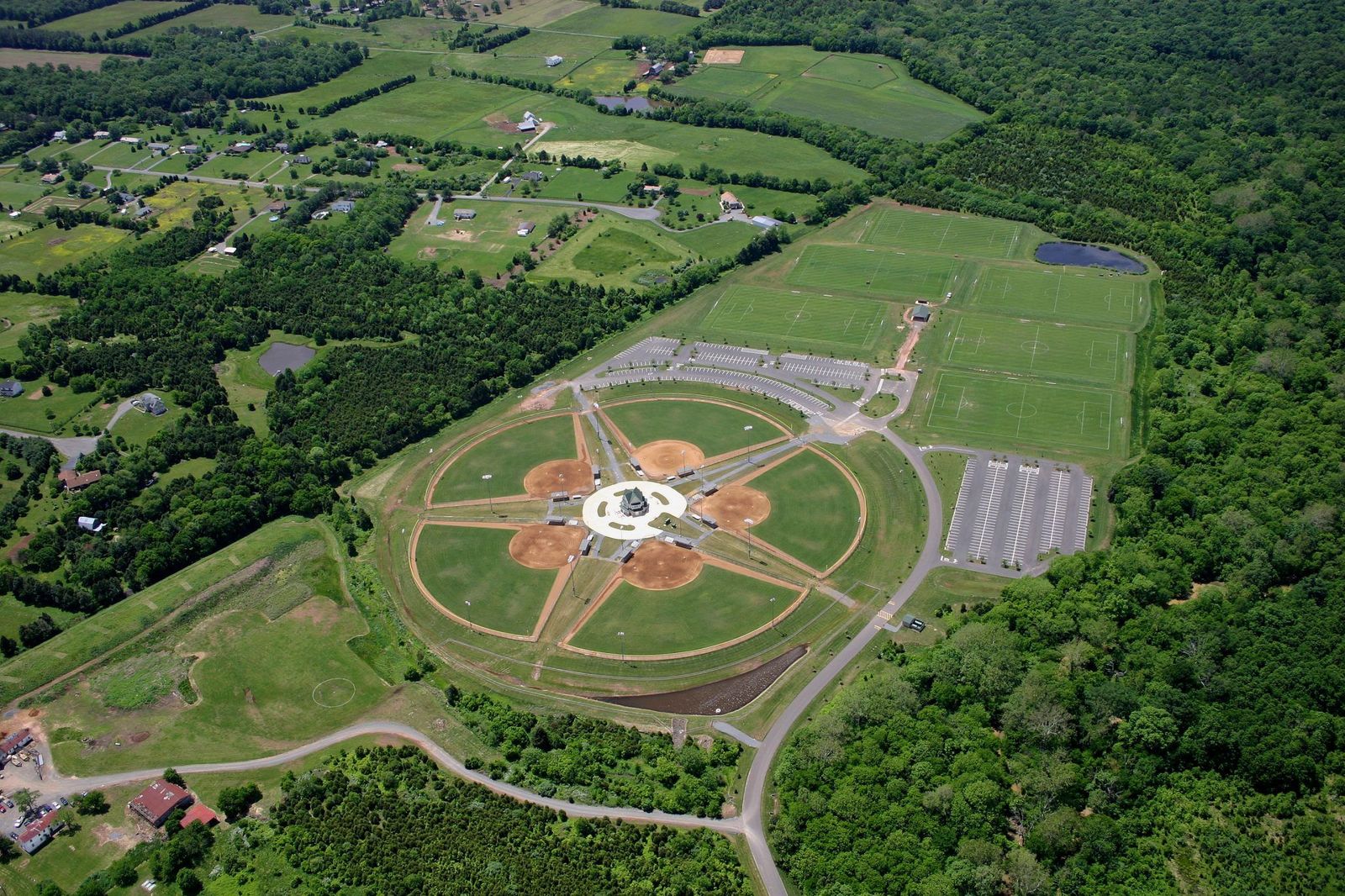 Valley View Park
Prince William County, VA
Nokesville's Valley View Park is a haven for a multitude of outdoor sports tournaments and events. Six 225' x 360' Bermuda grass multipurpose fields are ready for sports like soccer, lacrosse, rugby and more. All of the fields at Valley View Park are irrigated and surrounded by beautiful and natural landscapes.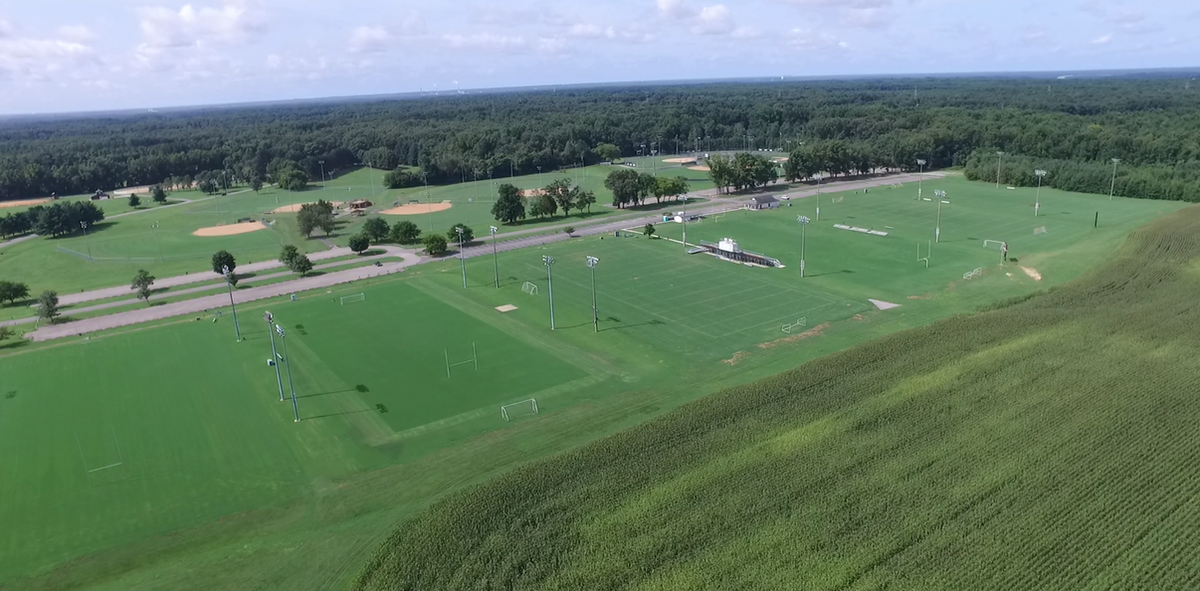 This 400-acre park is conveniently located 10 minutes from Richmond International Airport and features abundant competition fields and amazing amenities for the traveling fan. The park features seven multipurpose fields for soccer and lacrosse with one field featuring a 500-seat grandstand.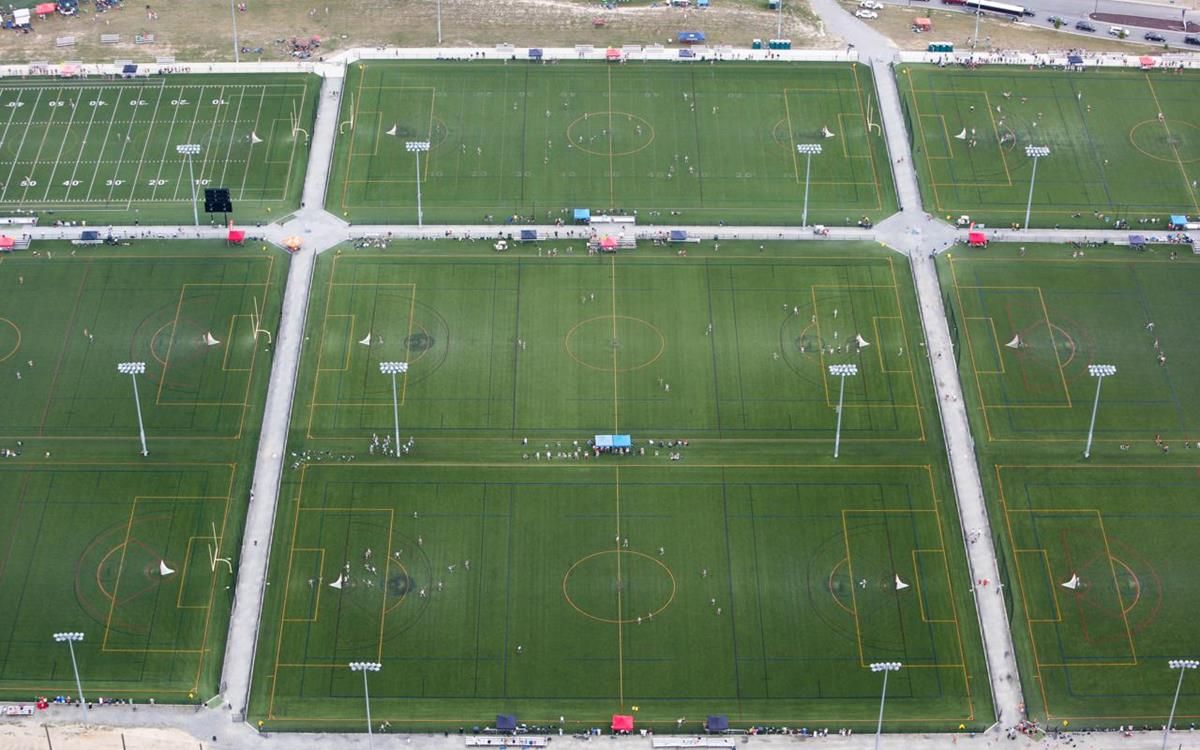 River City Sportsplex
Richmond, VA
River City Sportsplex encompasses 115 acres of top-notch athletic fields, including 12 all-weather turf fields, all of which are fully lighted. In addition to warm up areas, River City Sportsplex includes a plaza and common area with access to electricity, bleachers on both ends, indoor restrooms and a concession stand.
Embrey Mill Park
Stafford, VA
Situated in the heart of Stafford, the stately Embrey Mill Park is conveniently located near the county's major thoroughfares, shopping centers, restaurants and hotels, making it the ideal stop for teams and their families. The impressive complex houses eight multipurpose fields: six synthetic, lighted rectangular fields and two lighted grass fields.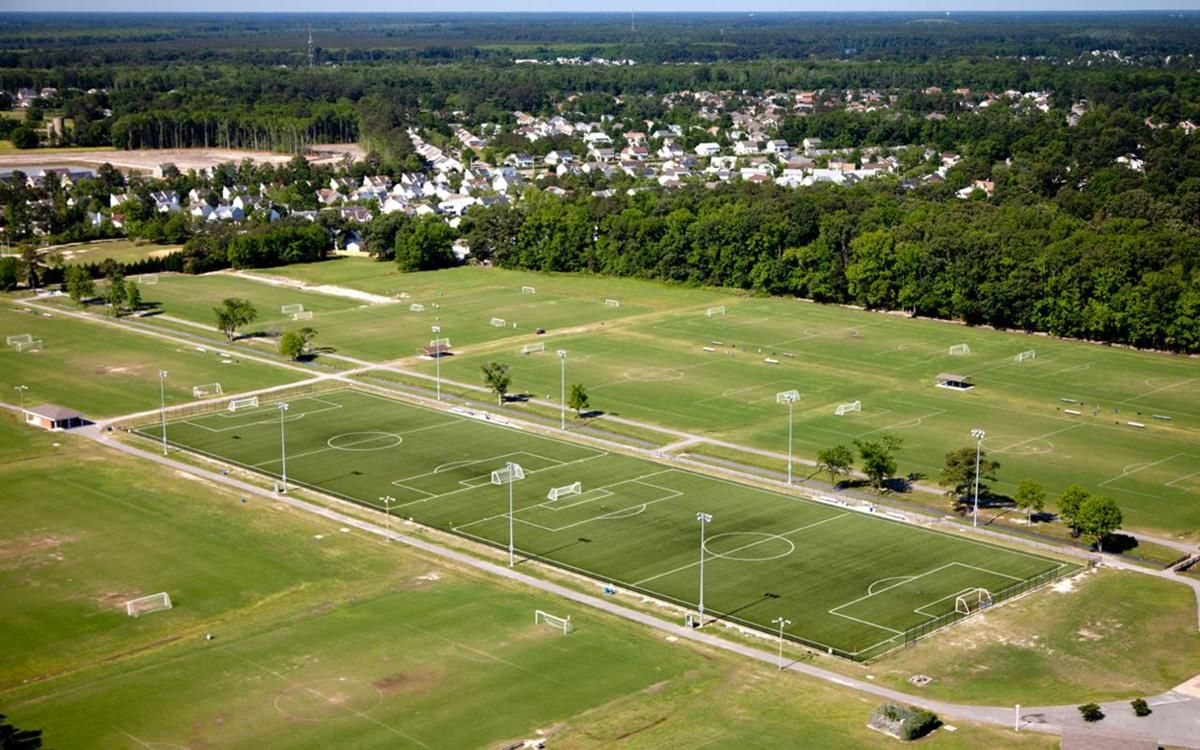 Hampton Roads Soccer Complex
Virginia Beach, VA
This complex is located in the beautiful city of Virginia Beach with easy access to restaurants, attractions, hotels and the oceanfront. It has 22 Bermuda grass fields and hosts more than 7,000 games, practices and clinics annually. It also includes two turf fields, both with Musco lighting, and one with stadium seating for 260 spectators.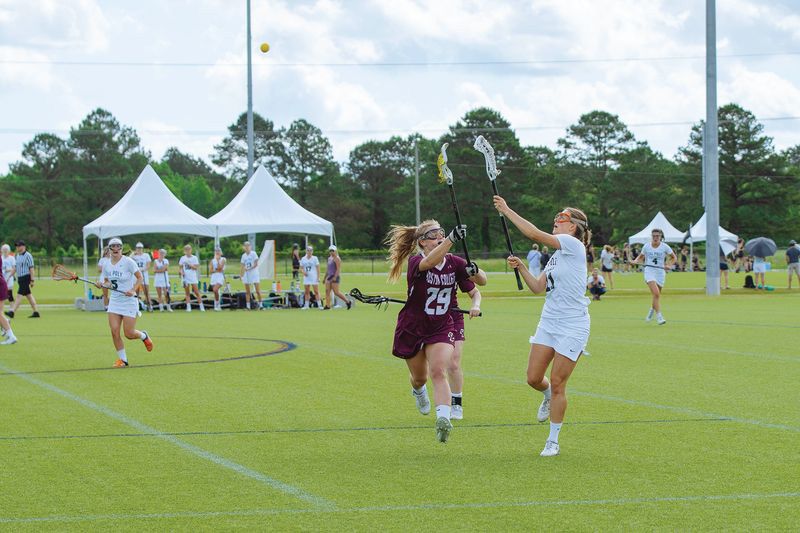 Princess Anne Athletic Complex
Virginia Beach, VA
This complex features 16 Musco-lit, multipurpose fields perfect for lacrosse and soccer, eight of which are fully fenced and equipped with irrigation systems, electronic scoreboards and shaded player benches. Planners can choose between four full-sized synthetic fields and scoreboard or four hybrid Bermuda fields. 
McReynolds Athletic Complex
Williamsburg, VA
The McReynolds Athletic Complex in Yorktown is a 70-acre park with four regulation soccer fields and two instructional soccer fields that are available to rent for games, tournaments and camps. Families will be able to enjoy downtime with dozens of picnic shelters, playgrounds and more.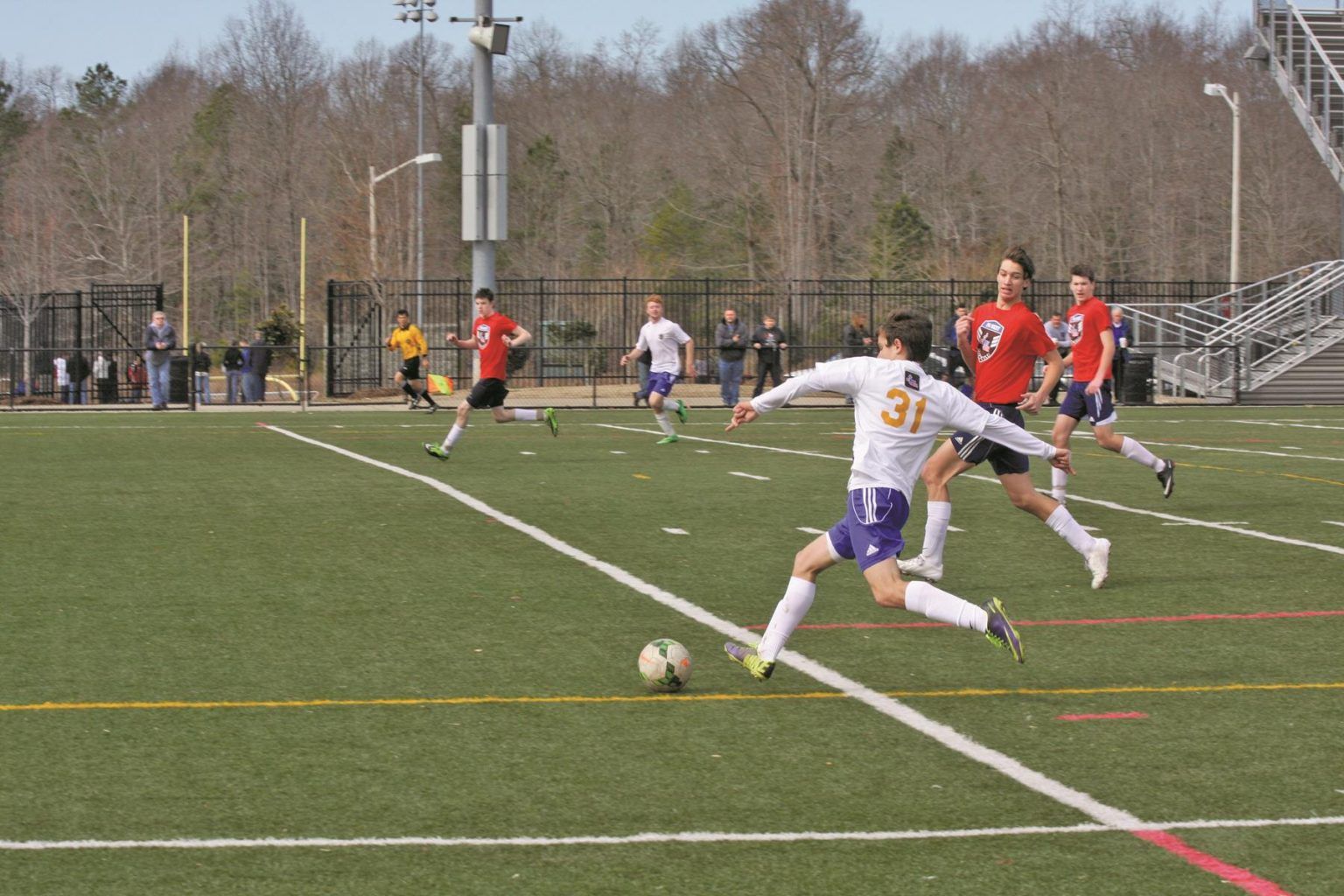 Warhill Sports Complex
Williamsburg, VA
Warhill Sports Complex is an excellent facility for soccer and lacrosse that's within a three-hour drive of Washington, D.C. The complex features four intermediate grass multipurpose fields, four premier full-size soccer fields, six synthetic turf multipurpose fields, a concession building with restrooms and a playground.