Why not Rocky Top? This extensive campus has everything a sports event planner could ever desire. Its 80 acres are rolled out beautifully among the Tennessee landscape, with mountain ridges forming peaceful boundaries as Gatlinburg's city limits. Players love partaking in high-level competition with such a wonderful backdrop, while their families enjoy the town and its surrounding areas after the game ends. And while there are some fantastic and simple ways to embrace Gatlinburg and the Smoky Mountains, a lot of visitors won't want to leave Rocky Top Sports World. From the indoor/outdoor cafe to the state-of-the-art Astroturf fields, tourney planners will have no trouble attracting teams to this ultra-fun, ultra-modern site.
Let us connect you with Rocky Top Sports World

---
Video Overview
Facilities
Outdoor Facilities
Sports: Soccer, lacrosse, football, ultimate frisbee
Get ready for some pretty impressive statistics about Rocky Top Sports World. Its campus spans a total of 80 acres, boasting six Astroturf fields, one natural turf field, ample parking spaces, a children's play area and bleachers throughout. Not impressed yet? There's also a championship field that seats 1,500 spectators, giving players and coaches the perfect chance to win a tournament in style. Six out of seven fields are lighted and can easily be configured to host 14 youth soccer games at a time. Outdoor tourney planners love this site because of its abundance of space and state-of-the-art amenities.
Indoor Facilities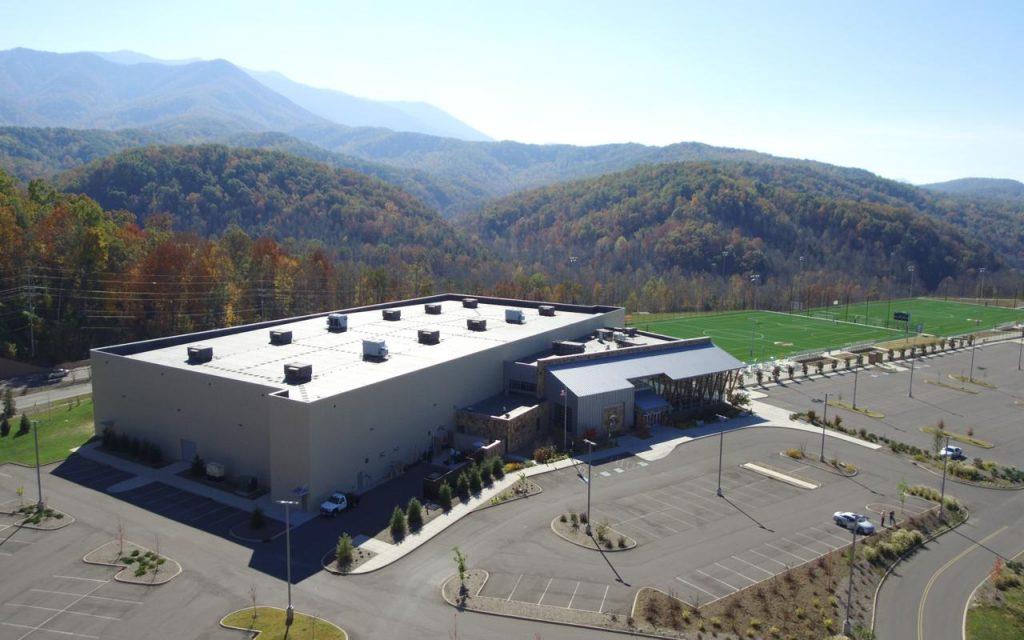 Sports: Basketball, volleyball, wrestling, mixed martial arts, cheerleading
Though the outdoor facilities at Rocky Top certainly are incredible, it is likely that visitors will be equally amazed as they step inside. The 86,000-square-foot indoor complex is gigantic and can be used for a variety of sports and activities. It offers 6 basketball courts (plus 4 more on-site), 12 volleyball courts (plus 5 more on-site), three private team rooms, and hydraulic goals and volleyball nets. This is not your average sports tourney venue. Guests can also enjoy floor-level and aerial viewing areas, a merchandise retail section and an indoor/outdoor cafe. Rocky Top's indoor areas truly are the full package, providing space for almost any indoor sport and boasting the features that keep spectators coming back.
X-Factors
World-class facilities paired with one of the most family-friendly destinations in the country: Gatlinburg, Tennessee. The backdrop of Great Smoky Mountains National Park creates a sports destination rivaled by no other.
Amazing local attractions, dining and shopping, including Ripley's Aquarium of the Smokies, Dollywood, Great Smoky Arts and Crafts Community, and over 100 restaurants within a short drive or trolley ride from the complex.
Where can we go when the game ends?
The main attraction, of course, is Great Smoky Mountains National Park, a UNESCO World Heritage Site and the most visited national park in the United States. The park comprises over 522,000 acres and attracts 11 million tourists annually. Visitors love to take in the views in the observation tower at Clingmans Dome, the highest point in the park, or follow the Alum Cave Bluffs trail to the summit of Mount LeConte. In either location, the scenery is breathtaking. Wherever you choose to go in the park will be a great experience, one filled with waterfalls, streams and sprawling mountain ridges.
Besides the Smoky Mountains, Gatlinburg has some fun places. Ripley's Aquarium of the Smokies boasts 10,000 exotic creatures and 350 individual species. There are actually more fish in the aquarium than there are people residing in Gatlinburg. Additionally, the Ober Gatlinburg Amusement Park and Ski Area provides fun in the both summer and winter, while Sugarlands Distilling Company offers Moonshine tours throughout the year.
Getting to Gatlinburg
Gatlinburg is frequented by tourists due to its close proximity to Great Smoky Mountains National Park. The town is not hard to find and can be accessed through a number of major highways and a few domestic airports.
By Car: The most common way to get to Gatlinburg is by taking US Route 441, which runs north-south through the heart of the town. In addition, Interstate 40 connects drivers to Knoxville and Asheville and runs just north of Gatlinburg.
By Air: The closest airport to Gatlinburg is McGhee Tyson Airport in Knoxville, Tennessee, 41 miles away. This airport, like Asheville Regional—89 miles east of the Smoky Mountains—offers only domestic flights. For international flights, Charlotte Douglas International is the closest option, 194 miles east.
Planner Perspective
Hosting an event at Rocky Top Sports World is such a fulfilling experience for an event planner. The staff at Rocky Top go above and beyond to do whatever it takes to make the experience for the athletes / participants one that is memorable far beyond the sport which brought them there. The Rocky Top Staff take very good care of their guests by offering genuine service to their guests. From the set-up crew, to the food services, to the ticket takers, everyone is on the same page about what the event is about and work alongside the tournament director to assure that the event flows. Rocky Top is such a great asset to the city of Gatlinburg, as the facility brings in customers who in turn are having a great experience not only at Rocky Top but in the city at the restaurants, shops and attractions

–Shannon Mincey, Signature Volleyball
We love using Rocky Top Sports World because of the facility and the first-class staff. Rocky Top is one of the easiest places to run tournaments because you know your customer will have a terrific time!

– Jon Schneider, National Soccer Events
We have absolutely loved working with Rocky Top Sports World to host our annual volleyball tournament.  The staff goes above and beyond to take care of every little detail of hosting a great tournament which has allowed our tournament to grow from 63 teams the first year to over 96 the second year. Families love coming to RTSW and the kids love competing at the venue.  It's one of the best run facilities I've seen in a long time and we hope to run more events at RTSW in the years to come.

–Troy Helton, Ethos Volleyball
As a tournament owner, Rocky Top Sports World is absolutely a 'state of the art facility' offering the convenience of 10 courts within walking distance and a staff that is second to none…always willing to do whatever it takes to help make your event successful. I use RTSW for all of my events since there are no other facilities in this area that can start to compare!

– Brenda Huff, Tennessee Miracle Basketball